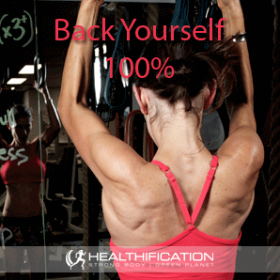 Podcast: Play in new window | Download
Subscribe: RSS
When I was 18 I decided I wanted a tongue piercing. 
At the time I was living with my 4 best friends in our inner city flat unaffectionately known as the cest-pit. I only saw mum and dad about once a week. However for some reason rather than just going and getting it done (like I did with my belly button piercing) I excitedly mentioned my new piercing intention to my decidedly conservative parents.
I'm sure you can imagine how well it went down?
About as sweetly as the delicious smoked-trout-and-fish-row-soup that turned me vego for 20 years!!!
A lovely Sunday dinner at home turned into a tense stand off between dad and I.
I'm sure I dropped my share of choice comments however the lasting remark that sticks with me was: "No daughter of mine is getting around with that – if you do I'LL DIS-OWN YOU."
That was it.
I was outta there faster than you can say "It's-my-body-I'll-do-what-I-want-and-if-being-Your-Duaghter-has-conditions-I'm-never-talking-to-you-again!"
And true to stubborn form I didn't for two full weeks.
In today's show I'm covering: Do You Want To Be Right Or Happy?
Dad and I we're both in the wrong.
We were both focused on being right. We were also both fairly UN-happy – as was poor mum – for two weeks.
Until dad rang, asked to take me out for lunch and apologised.
The piercing?
It never happened. As much as dad's comment hurt me, I decided I wouldn't get the piercing if it meant that much to him.
You may be thinking, so what exactly does this have to do with Body Gain?
A lot I think.
There is huge value in being able to:
One: Admit when you have better information.
I'll admit I hung on to some old ideas because that was the information I knew. The information I'd said was right.
For example, 6 smaller meals a day is the best-only-most-effective way to eat to lose fat.
Now to be clear the 6 meal approach can work however it's not the best or only way. It's certainly not for everyone.
Two: Acknowledge when have changed your mind.
I've absolutely changed my mine on no carbs for dinner… or after 4pm… OR after 12pm.
What, so there's some magic time when eating carbs is fine and then as the clock ticks over to 4.01pm ALL your carb fuel is going to be stored as fat?
Now, I believe it's about the quality of the fuel you eat more than the timing. Timing is a factor… like before or after an intense weights session is a better time to consume your carbs however that's not always doable and that's ok.
Oh, and in case I get better information at some point in the future: I reserve the right to change my mind!
Three: Accept when you were wrong.
Plenty to choose from here, however in a word:
SOY.
In a few more words: estrogen-mimicking-lean-hips-and-thigh-diminishing-SOY!
I believed soy was quality lean body fuel to feed my body. I consumed large amounts of soy milk and tofu for years until I got better information, I changed my mind and YES, I'll accept I was verywrong.
Here's the thing: Being alright with being wrong is pretty FREEING.
Waiting for right is procrastination.
It's information gathering rather than taking action and making imperfect progress.
If you're ok with not being right from the outset you get to improve on implementation…. in fact you'll likely get better results as you can work with the feedback you're receiving as you make process.
Needing to be right means you'll resist change and miss opportunities.
It's staying stuck with an approach which isn't working or at the least ignoring the approach that might work even better because you're too attached to protecting your ego and stuck in your limiting comfort zone.
If this sounds harsh you know I'm speaking to ME as much as to YOU right?
I'm still stubborn to a fault. I am working on it though. The thing is, and I know you'll recognise this too in the areas of your life in which you excel you're not stubbornly stuck in right.
=> You're able to admit when you have better information.
=> You acknowledge when you've changed your mind.
=> You can accept when you are wrong.
Basically HAPPY is even more important then right.
To get actionable today, do you have a: Do You Want To Be Right Or Happy situation jumping out at you for the changing?
=> Perhaps the food you're still eating even though you now have better information?
=> Maybe the type of exercise you're still avoiding even though you've changed your mind on how valuable it is?
=> Possibly the thing you need help with that you believed you could achieve on your own?
I'll finish today's show with a quote from Lao Tzu: "When I let go of what I am, I become what I might be." 
I'll be back tomorrow with the Tuesday Tucker show and: VICE.
If you liked this you'll also like: 4 ways to Choose Your Mood.
If you're yet to share the Healthification love – just click here to zip over to iTunes and leave an honest rating and review. It'd help me out big time. With gratitude, Kate.