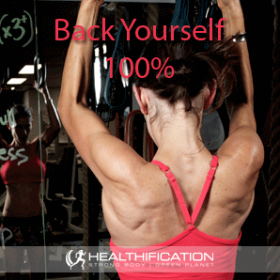 Podcast: Play in new window | Download
Subscribe: RSS
I always get a little nervous when a client proudly declares: "I'm giving up chocolate for a month!"
Or "That's it I'm off the booze till my birthday!"
Not because I think a life without chocolate or booze is not worth living – in fact I really don't rate chocolate… more so because, for sustainability in the fat loss and body gain game I believe there IS a nice amount of vice.
An attraction to VICE is natural and normal and human.
Depriving yourself of something you love… something that very likely gives you great pleasure… that might be a simple, time and cost effective little indulgence is really not a long term solution.
Who wants to be that boring human that always plays by the rules anyway?
In today's tucker show I'm covering: VICE… How to have your cake and meet your body gain goal too.
Let's take two dear clients as examples.
One has given up chocolate for a month.
Every time I see her she's demolished multiple servings of other treat food in a single sitting. To quote choc-free-chick: "ALL I think about is chocolate." She's miserable. Feeling restricted and at the same time guilty for the discipline battle she keeps loosing with other non-chocolate-fake-food-fixes.
It's the worse of both worlds scenario: Restriction + Guilt + ZERO RESULTS.
I can absolutely relate. When I go totally alcohol free I always end up eating unnecessary food. Nothing bad. However more than my body needs. I also think about Shiraz more than I need to.
I feel restricted and guilty… and you know what?
When I do the extreme No Alcohol thing I don't even see any results for my suffering. Now whether this is because I'm compensating with extra food calories or what I'm not sure… I just know I'm miserable and the NON-results are not worth it.
My approach now?
And YOUR solution if you've got a vice that you're having a little more than a nice amount of is this 3 step advice I've given to another client.
This lady wants to cut back on the wine.
She's hit a plateau with her fat loss however even beyond that she's worried that she shouldn't need to have wines every night. Fair call, having multiple serves of your vice every single day is not going to work for most of us.
Let's roll with 3 Steps To A Nice Amount Of Vice:
Step One: The Better Bad.
So, we're thinking long term right? In that case there is no need to assault your body with the most toxic, nutritionally void crap-o-la vice when absolutely 100% there are alternatives that will satisfy every single little need the nasty vice was satisfying.  You just need to give them a chance. You crave what you eat. I guarantee in no time the better bad vice will be just as enjoyable as the rubbish vice and you won't have to waste energy with guilt.
=> So this is red wine or vodka soda instead of beer or vodka lemonade.
=> It's 70% plus dark chocolate instead of milk or white.
=> It's quality pizza or ice-cream or baking instead of mass produced rubbish.
Choose the BETTER BAD.
I chose 'Bad' with volition too. Sometimes you want bad right? And that's ok – you can get away with it – as long as you have step two set in place….
Step Two: Boundaries.
Boundaries are not restrictions you impose on yourself… that's not FUN!
Rather, think of these as the helpful little guidelines that allow you to both enjoy your vices AND ALSO enjoy rocking a body you love.
=> Perhaps it's the weekly alcohol limit you set yourself. So skipping the wine Monday-Thursday nights means you get to enjoy it Friday, Saturday and Sunday night? I'm a fan of choosing a set amount for the week… because a bottle each weekend night likely isn't going to work so well!
=> Maybe it's the only eating the best of the best… so you order dessert when it's your fav however not just for the sake of it. Or you have the muffin at Sunday brunch when it's your fav however not just because they're sitting there right in front of you.
=> Possibly it's a vice week equals a perfect exercise week. This is one of my guidelines. If I'm going to indulge in my weekly wine and my weekly cheat meal then I'm also going to exercise every day. Non-negotiable.
Step Three: Beyond The Vice.
This is my secret weapon. Yes I have vices however beyond the vice I LOVE every other meal I eat.
I'm not relying on my vices alone to for-fill every desire for comfort or reward or indulgence. Now in an ideal world we might not turn to food to meet these needs. We'd just go for a walk… call a friend… or crack open a bottle of (wait for it!) gorgeous sparkling mineral water!!!
However, that doesn't always (ever!) cut it!
The vices that are the toughest to cut back on are those that you believe are: All I Have. Everything. My ONLY indulgence.
If you put too much on that one vice you're going to feel way too much loss when you try to cut it back – let alone ever give it up completely. If your every meal is so crazy-strict-restrictive-perfect then for sure you're going to want a wine every night.
How about adding a little bit of nice into every single meal so that you can release that tight hold you've got on vice?
=> Perhaps this is the bought coffee you have each morning.
=> The roasted nuts and guacamole in your salad.
=> The better quality meat or fish you have at dinner. Or if you're vego, the kale crisps you bother to make… sometimes I can't be bothered however I always feel like it's been a more enjoyable, satisfying meal when I've made a delish side to go with my main.
To get actionable today are you paying the lack of body gain results price for something that is a little more than: A Nice Amount Of Vice?
Your action step is to go with the solution that fits best for you. To recap that's:
Step One: The Better Bad.
Step Two: Boundaries.
Step Three: Beyond The Vice.
That's it for me today. In tomorrows Wednesday weigh-in show I cover: Overcoming Daily Adversity.
I hope you can join me.
If you liked this you'll also like: My best Fuel, Move, Life advice for out-smarting weight loss overwhelm
If you're yet to share the Healthification love – just click here to zip over to iTunes and leave an honest rating and review. It'd help me out big time. With gratitude, Kate.