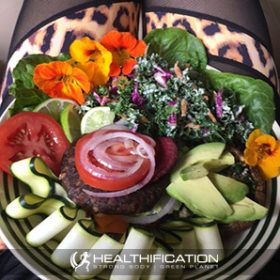 Podcast: Play in new window | Download
Subscribe: RSS
Let's get straight to it and admit that you have food weakness's.
I do too.
This will be an Eating Game Changer! It means giving up on the self-deceiving approach of expecting to one day miraculously wake up more disciplined, more motivated and less emotionally attached to food.
I never woke up insanely disciplined and if you've struggled with your health, your weight or just spending too much time and energy on the emotional roller coaster of ALWAYS THINKING ABOUT FOOD for years then I'm pretty sure it'll never happen for you either.
What CAN happen is you'll out plan your old weakness's and old excuses.
It all starts with what you let into your home. In todays show I'm sharing how to:
Stop Supermarket Sabotage in 5 Simple Steps.
Step 1. Choose set shopping day/s each week to allow for less temptation time. 
It's a given the supermarket experience is structured to tempt and entice you. Even if you can resist the obvious crap-o-la flaunting it's "two for one" or "half price" specials at the end of the aisles… even if you stick to farmers markets and health food stores there's always the opportunity for temptation: fresh bread, roasted nuts, bliss balls, vegan brownies… so much deliciousness.
By limiting your shopping to one or max two days per week you're also protecting your limited daily discipline quota. I'm a firm believer that even if you don't buy the product not aligned with your health goal, that decision still took (and arguably wasted) discipline. In the same way that interacting with annoying people (yet maintaining your cool) still eats up discipline.
Step 2. Have a solid general idea of the meals you / your family consume on a weekly basis.
Now in case you feel huge push back at the thought of this it's really NOT that hard.
You're investing a little time and energy up front, to gain yourself a whole lot of time, energy and results in the future. 
You work out a general framework and then the variables within it change… what type of #plantstrong protein (perhaps: lentils, tofu, chickpeas and mixed beans) / fibrous veg / salad greens / good fats etc.
So breakfast might look like oats and frozen organic berries with nut milk.
Lunch could be a huge mixed fibrous and leafy veg salad with avo and homemade hummus and pesto.
Dinner could alternate between lentil, cauliflower curry with edamame noodles or marinated tofu with abundant fibrous veg plus mixed hemp / pumpkin seeds or bean and mushroom burger bowls with roast pumpkin, baby spinach and macadamia cheese salad.
With fruit, nuts and seeds for snacks.
Step 3. Create a shopping list around these meals, for that once or twice a week shop… ideally at a time when you are not hungry or stressed.
Again, the difference between the person who makes the purchasing decision they later regret and the person who does not is not a lack of discipline. It's pretending you have more discipline than you do.
Once you admit your lack of discipline, you're much better placed to not test it in low value ways. Like arriving at the supermarket starving.
Side note: For items on special that you're tempted to buy extra of it's important to be real so far as your trigger foods. 
I'll buy extra almond milk, frozen berries and bean burgers when they're on special.
I've learnt the hard way that HUGE bag of roasted nuts that could last a month? It won't ever last a month and I'm really not saving money I'm just demolishing much more.
Step 4. Armed with your list, have flexibly in relation to what fruit and veg is seasonal / on special / looking awesome.
However, an awareness of your health goal and what achieving it means to your ideal life is vital when it comes to all those tempting little extras. Be clear on what you are there to buy before you hit the shops and be just as clear on why you are not buying the crap-o-la that does not support your goals.
On note on frozen: It's fine! There are only a couple of staples I'll pay ridiculous amounts for all year round. I think that's just mushrooms and avocado as they are two of my favs that don't freeze so well. Though mad shout out to dehydrated mushies!!!
I'll pretty much year round buy frozen organic berries and actually canned organic tomatoes. I just can't justify the exorbitant fresh food organic prices for those two.
Step 5. Be ok with spending a little more on those quality items that allow you to feel satisfied while still fuelling your body with nutritious food.
For example: the frozen berries, your fav out of season veg, sparkling mineral water (though I try to keep it to soda stream now) organic green leaves… spending a little more in the short term on these quality items saves you in the long term.
The half price addictive-assembly-line-packaged-obesity-additive-infused-CRAP is never a bargain! 
I find the quality fuel is actually vasty more satisfying too. When I purchase activated nuts (I know they are a rip off) however I genuinely eat (and feel satisfied by) 1/2 as many.
I've been a little lax in the actionable component of these solo shows so let's change that today!
Here are 3 simple actions to maximise your supermarket success and I'm going to structure them around the fuel, move and life (or time) format that I use in my non podcast related emails. If you're interested in receiving those emails jump onboard with my weekly newsletter via the 3 Day Easy Vegan Plan here:
1)  FUEL: There's already some stuff living in your house that doesn't support your goals right?
If it's there you'll eat it.
If not now, then at a later more tired-stressed-moody-ill-prepared-time. So please, ditch it now, and rather than "a waste" see it as evidence of just how committed you are to your (and your families) best health.
2)  MOVE: Move your obligation mindset to off.
What do I mean?
In the same way that it is your choice what you allow into your house, it is your choice what you allow into your mouth. It is NOT a huge personal insult to the very core of someones' being if you politely decline their homemade cookies or cake. It is your right and responsibility to align your eating choices with your goal.. and of course your values and beliefs.
3)  LIFE: Now you have a house full of amazing fresh food, allocate a couple of blocks of time where you can cook on mass.
Perhaps 2-3 hours on a Sunday and a Wednesday to make a lentil curry or vegan burger patties to freeze in portions. Or perhaps a few days of salads plus roast veg and the sauce or dip you add on serving.
Here's to silencing supermarket sabotage and creating a fit, strong, heathy, happy vegan world!
That's it for this week in Healthification. Huge thanks to YOU for sharing this week with me. If you've enjoyed this show and gotten value out of it I'd super appreciate it if you pop over to iTunes or wherever you listen to the show and leave me a review. It really counts in helping this little show achieve some visibility in the HUGE world of 1,000,000+ podcasts and it really counts in making my week! Thank you.
The Healthification podcast is proudly bought to you by my FREE 'Easy Vegan' plan. It took me 25 years to transition from a meat eater to a happy, healthy Vegan! You can do it in just 3 days with my simplified 'easy vegan' plan!  Get the fit, strong, and healthy plant based body you deserve… while avoiding ALL the mistakes I made along the way!
Till next time, remember Creating a body and life you love is Freedom. (If this ex-carb queen, non genetically gifted, naturally uncoordinated vegan chick can do it – so can YOU!!!)
If you liked "Stop Supermarket Sabotage in 5 Simple Steps" you'll also like: E547: The Ultimate Vegan Food Pyramid For Getting and Staying Lean.
If you liked "Stop Supermarket Sabotage in 5 Simple Steps" you'll also like: Smart Simple Fat Loss: Define Your Goal.
If you liked "Stop Supermarket Sabotage" you'll also like: Smart Simple Fat Loss: Align Your Goal.