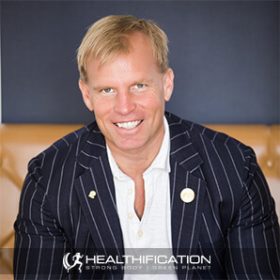 Podcast: Play in new window | Download
Subscribe: RSS
Wade Lightheart is Co-Founder and President at BiOptimizers, a nutritional supplement company with one mission, to: help humans shift from a sick unhealthy condition into a peak biologically optimized state. 
Now incase you think a conversation about supplements might not be for you, please bare with me! Todays chat has nothing to do with popping a pill – or 20 – and complacently figuring "yep, there's that box ticked!"
You know I'm locked and loaded as a whole foods plant based vegan. It's what I will always advocate. However the sad fact is, the state of our world right now means the foods we consume even with the best possible intentions – even on our most ideal eating days – are still not as nutrient dense as they once were. Our food and water now delivers more than just nutrients and deliciousness, with unwanted toxins and chemicals seemingly becoming unavoidable. Environmental and emotional stressors in our lives are real and constant.
Beyond that, it's not as simple as what you put in your mouth getting assimilated and utilized effectively by your body.  
In this chat Wade and I discuss how to create optimal nutrition and a gut microbiome tailored individually to help you boost your immune system and build a fit, #plantstrong, healthy body. We pay special attention to optimizing sleep and mental performance.
For a little official bio: Wade Lightheart is a 3-Time Canadian Natural Bodybuilding Champion where he competed as a vegetarian and advisor to the American Anti-Cancer Institute. Wade majored in Sports Science at the University of New Brunswick, has authored numerous books on health, nutrition and exercise which have sold in over 80 countries and is sought out by athletes and high-performance oriented individuals worldwide for his advice on how to optimize their health and fitness levels.
Ok, let's learn:
How To Fix Digestion, Eliminate Gas and Bloating and Enjoy AWESOME Health with Wade Lightheart.
In this interview we cover:
What set Wade on this journey in the direction of trying to understand health.
The AWESOME health system. You can't supplement your way out of bad lifestyle! Wade shares the 7 components to AWESOME health:
Air. 2. Water.3. Exercise. 4. Sunlight. 5. Optimizers. 6. Mental beliefs and attitudes. 7. Etc. Education, Testing and Coaching.
We discuss the 5 stages of digestion:
Preparation. 2. Secretion. 3. Breakdown. 4. Absorption. 5. Elimination.
If you're wondering what the quality of your digestion is: how do you know what's good – ok – bad?
The single biggest 3 things you can do to fix your digestion.
How to fix digestion and eliminate gas, bloating.
Optimizing mental performance.
Optimizing sleep.
I really enjoyed that conversation and hope you did too. I was initially a little hesitant to have the president of a supplement company on the show however I found Wade to be a congruent fit and generous guest in that he leads with the whole foods and positive habits (which are generally free and accessible to all) or non supplementation ways to achieve awesome health first.
Talking of that fab acronym: here's a quick recap and I'll have you linked up in the show notes so far as the free AWESOME health course, the "Healthification10" 10% discount for all BiOptimizers products and all the other resources and recommendations Wade mentioned.
Here's the AWESOME acronym again:
Air. 2. Water.3. Exercise. 4. Sunlight. 5. Optimizers. 6. Mental beliefs and attitudes. 7. Etc. Education, Testing and Coaching.
I'm currently excited to be taking several BiOptimizers products including:
COGNIBIOTICS: A BREAKTHROUGH PROBIOTIC FORMULA FOR ELEVATED MOOD AND OPTIMIZED MIND.
MAGNESIUM BREAKTHROUGH: GET ALL 7 FORMS OF MAGNESIUM AND TRANSFORM YOUR STRESS AND PERFORMANCE.
and you can bet I'll let you know my thoughts after more than just a few days.
This is the product Wade mentioned in relation to helping digestion especially for my fibre fuelled #plantstrong friends: MASSZYMES DIGESTIVE ENZYME SUPPLEMENT FOR WOMEN AND MEN): CRANK YOUR MUSCLE GAINS TO NEW HEIGHTS BY TRANSFORMING 1 GRAM OF PROTEIN INTO 3 GRAMS WITH THE BEST SUPPLEMENT FOR DIGESTIVE PROBLEMS.
In closing I'd like to emphasis that I appreciate it could seem somewhat overwhelming as you become aware of everything there is to be either avoided or optimized so far as your health and happiness. I would urge you to aim for constant and never ending improvement rather than an all or nothing approach. Whether we're talking nutrition, exercise or anything – ALL can seem so daunting you might choose nothing instead.
The alternative I'm choosing right now is to focus on building one new positive habit for optimizing my health, happiness and life and also revisiting one old successful habit that I've let slip.
Check out BiOptimizers.com
Download the Free Awesome Health course:
Wade T. Lightheart is also the host of the AWESOME Health Podcast:
Connect with BiOptimizers via Facebook:
Connect with BiOptimizers via YouTube:
Connect with BiOptimizers via Instagram:
The resources Wade mentioned:
Enzyme Nutrition book by Dr. Edward Howell
Food Enzymes for Health & Longevity book by Dr. Edward Howell
That's it for this week in Healthification. Huge thanks to YOU for sharing this week with me. If you've enjoyed this show and gotten value out of it I'd super appreciate it if you pop over to iTunes or wherever you listen to the show and leave me a review.
The Healthification podcast is proudly bought to you by my FREE 'Easy Vegan' plan. It took me 25 years to transition from a meat eater to a happy, healthy Vegan! You can do it in just 3 days with my simplified 'easy vegan' plan!  Get the fit, strong, and healthy plant based body you deserve… while avoiding ALL the mistakes I made along the way!
Till next time, remember Creating a body and life you love is Freedom. (If this ex-carb queen, non genetically gifted, naturally uncoordinated vegan chick can do it – so can YOU!!!)
If you liked "How To Fix Digestion, Eliminate Gas and Bloating and Enjoy AWESOME Health with Wade Lightheart." you'll also like: 5 Health Mistakes To Avoid As A New (or old!) Vegan