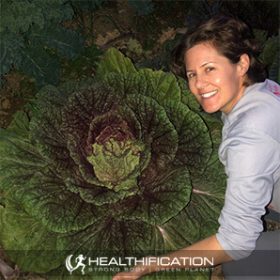 Podcast: Play in new window | Download
Subscribe: RSS
Recent studies have found commercially grown food has 25% less vitamins, minerals and nutrients than 30 years ago.
The main reason? Soil depletion. Modern intensive agriculture methods prioritize fast growing, pesticide resistant crops – a short term focus that yields huge, unnatural mono crops while stripping increasing amounts of nutrients from the soil.
As our soil health diminishes, so too does our own.
A landmark study published in the Journal of the American College of Nutrition compared U.S. Department of Agriculture nutritional data from both 1950 and 1999 for 43 different vegetables and fruits. It found "reliable declines" in the amount of protein, calcium, phosphorus, iron, riboflavin (vitamin B2) and vitamin C over the past half century. The researchers explain this declining nutritional content to the prevalence of agricultural practices "designed to improve traits (size, growth rate, pest resistance) other than nutrition."
It's a part of our broken food system I've been wanting to explore further since my conversation with Greg Litus back in E626. Yes, animal agriculture is a total disaster. Undeniably cruel, utterly unsustainable, devastating for both local ecosystems and global biodiversity… I could go on and yet we need to get better at how we grow our #plantstrong food too. Both the crops we funnel inefficiently though the bodies of animals and the food we eat directly.
For human health and for the health of our planet.
My guest today, CEO and co-founder of Nutrition for Longevity Jennifer Maynard, set out to create a farm that would "revolutionise the food we eat by returning it to its purest form, nutrient-rich and delicious."
I'm excited to explore with Jennifer why regenerative farming is key to planetary health, how it's different than modern farming, and how plants and humans are interconnected.
Of course, I'll be asking: Does regenerative farming have to involve animals? 
We'll also discuss Jennifers farm-to-table meal delivery service, Nutrition for Longevity where meals are formulated aligned with Professor Valter Longo's Longevity Diet based on decades of research in the areas of the world where people live longest.
Side note before we start: the Longevity Diet, is a plant based diet which includes small portions of sea food periodically and fasting a few times a year. I personally advocate for a 100% plant based diet. However I still wanted to have this conversation because I know Jennifer has so much value to share and her farm-to-table meal delivery service absolutely caters to the vegan community deliciously.
Alright, let's discuss Nutrition for Longevity and Regenerative Farming with Jennifer Maynard. 
In this chat we cover:
Jennifer starts by defining regenerative farming and discussing how it is different to current, modern farming practices.
How is regenerative farming key to human and planetary health? How does soil biodiversity and soil health impact human health and how can it heal the planet? 
What are Phytonutrient Rich Foods and why are they important for our health? The importance of diverse fruits, vegetables and healthy fiber in relation to our gut health.
How does gut health affect our daily lives and influence everything from our immune system to our mood.
Why do fruits, vegetables, and healthy fibers support a healthy immune system, especially in people over 65.
Many Regenerative Agriculture proponents include livestock in their vision of an agriculture that increases soil fertility over time. As an ethical vegan, against any animal exploitation I want to know: Does regenerative farming have to involve animals? 
Could we just move to Veganic agriculture and "rewild" vast quantities of land so there's no need to "mimic" the actions of wild animals by enslaving "food" animals? 
How are plants and humans interconnected, how have we lost this connection and what effect does it have on our bodies?
Jennifers farm-to-table meal delivery service created to revolutionise the fast food industry to provide people with healthier food and a longer life. Check out United 4 Longevity here:
The newly founded non-profit that focus's on healing acute and chronic illness with food and right now is donating meals to the front line workers fighting the COVID-19 crisis. Check out Nutrition for Longevity here:
WOW, that was a lot right?
Jennifer is certainly an expert in understanding and communicating a complex yet fascinating subject. I felt both out of my depth and also so eager to learn more.
I couldn't help but draw the dire connection between an 80% loss of insect bio mass in the last 30 years and as Dr Sailesh Rao shared in E681, Healing The Earth's Climate and Creating A Vegan World 2026, a 52% loss of wild vertebrates in 40 years.
I think an important take away with any of these HUGE and potentially daunting topics is to start where you are and just focus on one step at a time.
If you're keen to include more plant based diversity in your regular eating, how about simply asking yourself: How do I get 5 colours on my plate? I know my mum always wins that competition. Dad's plate looks depressingly brown… mine is VERY green – so much diverse fibrous love, and mum wins the rainbow!
Or how about Jennifers suggestion to reconnect with your plant based food by growing even one edible plant on your windowsill?
I love the sound of Jennifers huge, ambitious and beautiful vision to spread both nutrient rich, delicious health giving foods and also to spread the regenerative farming practices that sustainably and ethically produced such food in harmony with the land.
To connect with Jennifer and Nutrition for Longevity across the socials: Facebook | Instagram | YouTube.
Also to learn more about the farm-to-table meal service Nutrition for Longevity, also the non-profit United 4 Longevity, and the work of Valter Longo and his Longevity Diet I have you all linked up.
That's it for today in Healthification. Thank you so very much for trusting me with your time and attention today. It means so much.
For help adopting a vegan lifestyle please check out my FREE 'Easy Vegan' plan. It took me 25 years to transition from a meat eater to a happy, healthy Vegan! You can do it in just 3 days with my simplified 'easy vegan' plan!  Get the fit, strong, and healthy plant based body you deserve… while avoiding ALL the mistakes I made along the way!
Till next time, remember Creating a body and life you love is Freedom. (If this ex-carb queen, non genetically gifted, naturally uncoordinated vegan chick can do it – so can YOU!!!
If you liked "Nutrition for Longevity and Regenerative Farming with Jennifer Maynard" you'll also like: Dr Neal Barnard and Optimising Hormonal Health with Simple Diet Changes