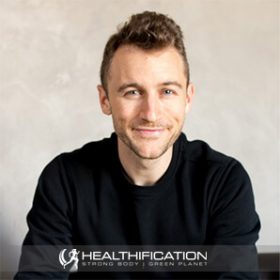 Podcast: Play in new window | Download
Subscribe: RSS
Todays conversation with Keynote Speaker and Life Coach TJ Loeffler is a little diversion away from my usual focus on animal rights and veganism however it's absolutely aligned with creating a healthy body and mind.
TJ is Founder & Lead Coach at Loeffler International where he and his team guide clients through personal awakening and professional transitions both via a signature 6 week boot camp and also one on one coaching.
We'll talk about what success looks like. Not what society deems "success" rather what it means and looks like for you.
For TJ it meant leaving a successful career on Wall Street and starting over in California. With a stint as a Pizza Intern in Italy – that's relevant, we'll talk about the hidden benefit to bread making too – beyond the deliciousness of course!
Before we get rolling, I want to touch on the term "life coach" in case it brings up a little resistance in you.  
I don't lead with it, and if I chose a label, it'd be vegan health coach or even animal rights activist however I studied life coaching gosh, almost 10 years ago now and without doubt the strategies, frameworks and upgraded belief systems I've implemented as a result have been hugely impactful in my life. I might have judged some of the techniques I now turn to daily as "light weight" or "airy fairy" in the past. 
In fact, I used to "judge" many things and many people easily and harshly. It wasn't a fun way to live.  
I really appreciated and valued the opportunity to dig in today with the mindset component of creating a healthy body and happy life with TJ. I hope you find value in our chat too. Let's discuss,
The 6 Core Pillars Of Basic Health and The Biology Of Stress With TJ Loeffler…
In this chat:
I ask TJ, do you think some people are constantly chasing / striving for "the right path" even "the vision" and maybe some people are happy to be?
The 6 core pillars of basic health: Diet, Sleep, Movement, Active rest, Reflection and Connection.
Tips to prioritise the 6 core pillars of basic health and make each a part of your weekly or daily routine.
The Biology of Stress and its impact on your life.
How do we know if our stress levels are too much / more than normal?
It's not fear of the future, it's a desire to control the future.
Check out TJ's podcast: TJ Loeffler's Audio Channel.
Connect with TJ via: Instagram.
Via his website: https://www.tjloeffler.com/
Or purchase, Back to Basics: How to Get More Out of Life by Doing Less Than You Think.
We forgot the 7th pillar! TJ tells me it's covered in his upcoming book "Back to Basics" so I guess we'll have to wait for that!
So far as the first 3 pillars of health that TJ and I didn't focus on today I write a lot about them via the blog. Especially #plantstrong food and movement. Here are a few of the most popular posts:
6 Primal Movements: fat blasting moves and how they relate to your best fat loss mindset.
Primal Movements Part 2: fat blasting moves and how they relate to your best fat loss mindset.
E652: 6 Steps To Eliminate Emotional Eating.
E618: How To Stay Motivated To Eat Healthy Plant Based Meals. (Part 1)
E578: No Fuss Vegan / The Advice I'm Giving My Mum!
E547: The Ultimate Vegan Food Pyramid For Getting and Staying Lean.
If you're keen to dig in more with the concept of values and beliefs I have you covered there too. It's one of my favourite subjects. In a nutshell, your core values and beliefs guide every decision you make, for better or worse. The great news is, you are in control of the values you prioritise and the beliefs you choose. Your personal identity beliefs – that is everything you believe to be true about you, are of vital importance.
Let's take your identity beliefs for a spin in relation to nutrition. What if you were to believe something along the lines of:
"I'm naturally big boned and genetically predisposed to be carry a little extra padding – so I might as well eat whatever I want, whenever I want as there's no point forcing down boring salad and veg!" 
Or in contrast: "I'm a person who prioritises micronutrient rich whole plant foods that keeps me feeling, functioning and looking great and I'm getting better every day at also ensuring that food tastes amazing!" 
HUGE difference right?
Your beliefs and your values can make it natural to take the actions that get you the results you're seeking. They pretty much eliminate the decision making process. It's a matter of first Defining your goal, your values, your beliefs and next Aligning your goal with your values and your beliefs.
I've devoted an entire 6-part blog and podcast series to exactly this process. I also discuss eliminating limiting beliefs, designing successful strategies and so much more. Here's the series starting with: Define Your Goal.
That's it for today and for this week in Healthification. Huge thanks to YOU for sharing this week with me.
If you've enjoyed this show and gotten value out of it I'd super appreciate it if you pop over to iTunes or wherever you listen to the show and leave me a review. It really counts in helping this little show achieve some visibility in the HUGE world of 800,000+ podcasts and it really counts in making my week! Thank you.
The Healthification podcast is proudly bought to you by my FREE 'Easy Vegan' plan. It took me 25 years to transition from a meat eater to a happy, healthy Vegan! You can do it in just 3 days with my simplified 'easy vegan' plan!  Get the fit, strong, and healthy plant based body you deserve… while avoiding ALL the mistakes I made along the way!
Till next time, remember Creating a body and life you love is Freedom. (If this ex-carb queen, non genetically gifted, naturally uncoordinated vegan chick can do it – so can YOU!!!)
If you liked "The 6 Core Pillars Of Basic Health And The Biology Of Stress" you'll also like: 11 P.L.A.N.T. S.T.R.O.N.G. Standards For A Fit, Healthy, Mind and Body.