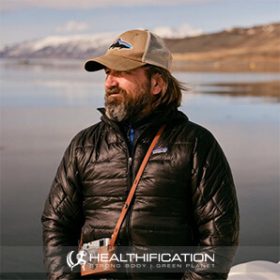 Podcast: Play in new window | Download
Subscribe: RSS
To my activist friends I want to share a consideration up front. I'm super aware that as animals rights activists we can often draw a clear line in the sand. We can get pretty black or white. I can get very black or white.
Animal exploitation is bad. Unnecessary. Cruel, immoral and utterly unacceptable. That is, and always will be my line in the sand. However there are areas I want to better understand, so many areas where I'm not the expert and I think there's value in having conversations with the individuals who are expert in that area.
It will never mean I'm wavering on my zero exploitation, 100% abolitionist stance. It just means I want to be better educated in relation to each issue. Today is such a show. I was both enlightened and devastated by the documentary Artifishal | The Fight to Save Wild Salmon.
I've asked Artifishal, Director Josh "Bones" Murphy on the show to discuss the devastating reality of fish farming.
I'm grateful to Josh for his work in directing the feature documentary ARTIFISHAL for Patagonia the climbing gear company "in business to save our home planet" and for his commitment to putting such crucial information out into the world to try and open our eyes to the dire impact human interference is having on natural ecosystems.
I don't want to eradicate farmed fish so that wild fish can be freely caught. I don't care if there's a sustainable way to hook fish in their face and yank them out of the water. I do realise I'm ignorant as to the cultural significance and traditions involved and yet culture and tradition can and should evolve if there's a more compassionate alternative. Which there now is.
Alright, caveats covered! To quote the film exert: Artifishal is a film about people, rivers, and the fight for the future of wild fish and the environment that supports them.
It explores wild salmon's slide toward extinction, threats posed by fish hatcheries and fish farms, and our continued loss of faith in nature.
Our primary goal with the film was to shine a spotlight on these issues, to spark dialogue and encourage changes in the way we think about river and fish conservation and fishery management. The common ground we all seem to share is a love of rivers and an interest in seeing wild fish return in greater abundance. 
In this chat we cover:
Our human tendency is to both think ourselves superior to nature and also think everything in nature is there for us.We are slowly un-wilding the planet. What does that mean for humanity? 
Why do people love the story of salmon?
Artifishal examines both the problems with fish hatcheries and fish farming. Josh covers some of the issues with first fish hatcheries and then fish farming.
As a passionate environmentalist is there anything Josh changed his mind / beliefs on during the making of this doc, regarding the role humans play in engineering the life cycle and now genetics of wild salmon? 
Is it possible for us to just step out of natures way now or have we created too many obstacles for wild salmon stocks to recover without our interference?
We discuss the problems when the power of the narrative becomes more important than the power of science and fact behind it.
The huge financial interests at play in fishing farming.
Josh talks about the Native American community, the Yurok people and their connection to wild salmon.As an animal rights activist who believes in zero animal exploitation as much as possible I think that culture and tradition is not reason enough to take the life of another feeling being. That we can evolve and change especially when we have access to alternatives. I ask Josh is this view is too simplistic?
Do we want a world with wild things or not? I feel like some people might not care if we have a world with wild things or not. I ask Josh, Have you seen people change? 
I loved that chat. I found Josh to be such a gracious guest and an exceptional story teller.
Speaking of which, if you're yet to see it I hugely recommend Artifishal. It's easy to find online and also all linked up below. You can find Josh via his full service production company Liars and Thieves.tv.
These conversations leave me part hopeful that there are so many individuals who care out there. People using their unique skills, resources, energy and passion to (and I'm quoting the business philosophy of the company behind Artifishal, Patagonia) to "not only do less harm, but more good."
The other part of me knows it can seem daunting. Yet another hugely impactful issue where humans are destroying the planet for financial gain. Where perhaps, if we're overly generous the original intentions were indeed "good" and yet now, it's pretty infuriatingly-crazy-clear that the intentions and incentives are purely profit focused… and yet, when a situation seems daunting or overwhelming the solution is always to take action.
To take any action. To be a part of the solution. After watching Artifishal, there are steps you as an individual can take to have a positive impact in protecting wild rivers and wild fish. In protecting and keeping a world with ANY wild things. Again I'll have you linked up in the show notes if you're interested in getting active with Patagonia Action Works.
Of course there's also always the action you take several times a day in keeping all animal body parts and excretions off your plate.
Watch Artifishal via YouTube: or Via iTunes:
Check out Josh "Bones" Murphy and the rest of his work via Liars and Thieves here:
Connect with Josh via Instagram here:
Check out the 1% For The Planet podcast here:
Shop at Patagonia the climbing gear company "in business to save our home planet."
Get active with Patagonia Action Works working to protect wild rivers and wild fish here:
Josh mentioned the amazing book by Yuval Noah Harari Sapiens: A Brief History of Humankind.
That's it for this week in Healthification. Huge thanks to YOU for sharing this week with me. If you've enjoyed this show and gotten value out of it I'd super appreciate it if you pop over to iTunes or wherever you listen to the show and leave me a review. It'll take 60 seconds and it'll make my day!
The Healthification podcast is proudly bought to you by my FREE 'Easy Vegan' plan. It took me 25 years to transition from a meat eater to a happy, healthy Vegan! You can do it in just 3 days with my simplified 'easy vegan' plan!  Get the fit, strong, and healthy plant based body you deserve… while avoiding ALL the mistakes I made along the way!
Till next time, remember Creating a body and life you love is Freedom. (If this ex-carb queen, non genetically gifted, naturally uncoordinated vegan chick can do it – so can YOU!!!)
If you liked "Artifishal, Director Josh "Bones" Murphy and The Devastating Reality Of Fish Farming" you'll also like: Jacy Reese and The End Of Animal Farming.
If you liked "Artifishal, Director Josh "Bones" Murphy and The Devastating Reality Of Fish Farming" you'll also like: The Last Pig Film with Allison Argo.