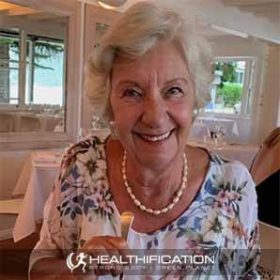 Podcast: Play in new window | Download
Subscribe: RSS
As I write this intro my mum has just celebrated her 12 month plant based anniversary.
It's also the end of a lovely family holiday that started with me heading up to Noosa for Christmas and New Year and has now seen mum and dad spend a few days with me at a dear clients amazing house in Pearl Beach.
If you listened to E655: Festive Season Vegan Deliciousness with Annie Galli (Mum's Top Christmas Tips!) you'll be familiar with the intentions mum and I were carrying in to our family Christmas, as the 2 vegans in a family of non-vegans.
My goal was to lead with love and compassion.
Mum was intent on it being a special family time where ideally "Veganism" wasn't even discussed.
Todays catch up with mum is the perfect chance to check in and see how we did! Did we (I!) manage to avoid the heated discussions that have put a dampener on family meals in the past? What were our learning's and maybe how we could have done better?
Importantly, what were our fav new plant based recipe wins?
Just a little bit of context first for you if you're thinking, "Wow, Kate you're so lucky to have your mum on board with plant based!"
Perhaps you're the ONLY vegan in your group of close friends and family. Maybe like many of my activist friends you couldn't face sitting down at a table with your family where flesh and excretions were on the menu?
Hopefully it's helpful and hopeful to hear a quick before and after of 13 months ago verses today:
13 months ago mum had listened to I think '2' of my podcasts.
13 months ago mum had not watched any documentaries related to plant based eating and especially not related to animal rights.
She enjoyed animal products in at least 2 meals a day. And LOVED cheese, eggs, chops, bacon – the list goes on…
Mum was an amazing "animal product reliant" cook and especially excelled at making delicious desserts dependant on eggs, butter and dairy.
Today I'm so super grateful and proud that mum:
Listens to nearly all my podcasts (some twice!) and is my most regular and very loved repeat guest!
Mum has watched soooo many documentaries– from the first, What The Health to the horrifically impactful, Dominion and most recently, The Game Changers.
Gets huge pleasure from delicious #plantstrong meals and zero animal products.
Gives huge pleasure with her amazing "animal product free" cooking including desserts such as: carrot cake, Anzac biscuits, Christmas cake, shortbread, banana bread and home made chocolates.
It's a short chat today, I didn't want to eat into too much of mum and dads last morning however I hope you find it of value and if you're thinking of a particular loved one right now (or many) that you'd love to share the plant based journey with yet you're not so confident they'll get there… I'd say have hope and patience. I'm still super hopeful for my dad.
Anyway, lets power on with this chat:
12 Months Plant Strong and Festive Season Deliciousness Recap with Annie Galli.
In this chat we cover:
The things that went well.
Specific food wins.
Our top learnings.
What (if anything!) we could have done better.
Here are the links I mentioned in the show:
I'm back on my own and I don't really have anymore to add to that lovely little chat with mum however I do have a non festive season deliciousness learning I'd love to share. By the time this goes live I'll be back in Sydney town – back at work, at activism, podcast interviewing and everything else that fills my days so thoroughly and that I love. I'll have just taken the longest break – 3 weeks – in many, many years (I think 14 years) and I really did switch off.
I'm sure it's not just my dear Aussie friends who are so painfully aware of the climate crisis and the unprecedented bush fires decimating our country right now. It's so terrifying and yet I've been incredibly lucky to be able to keep myself in a bit of a news and social media free bubble of self imposed ignorance with volition just for these few weeks.
I needed to recharge. To come back stronger in 2020. My learning and my passionate advice to you if you feel you need time out from all the horrors in our world right now: is to take it. It feels a little selfish for sure. I've felt a little guilty. And yet, actually I'm of no value feeling sad, hopeless, overwhelmed and useless and neither are you. It's important to take the time we need to come back refreshed, focused and ruthlessly intent on fighting long term and sustainably for what is most important to us. 
That's my intention for 2020. To continue advocating for the animals, for the environment, for the health and happiness of my fellow human brothers and sisters and to do everything within my power to help create a compassionate Vegan World.
That's it for this week in Healthification. Huge thanks to YOU for sharing this week with me. If you've enjoyed this show and gotten value out of it I'd super appreciate it if you pop over to iTunes or wherever you listen to the show and leave me a review.
The Healthification podcast is proudly bought to you by my FREE 'Easy Vegan' plan. It took me 25 years to transition from a meat eater to a happy, healthy Vegan! You can do it in just 3 days with my simplified 'easy vegan' plan!  Get the fit, strong, and healthy plant based body you deserve… while avoiding ALL the mistakes I made along the way!
Till next time, remember Creating a body and life you love is Freedom. (If this ex-carb queen, non genetically gifted, naturally uncoordinated vegan chick can do it – so can YOU!!!)
If you liked "12 Months Plant Strong and Festive Season Deliciousness Recap with Annie Galli." you'll also like Plant Strong Blueprint: 6 Steps To Prevent Weight Gain Over Christmas and New Year (Part 1)
If you liked "12 Months Plant Strong and Festive Season Deliciousness Recap with Annie Galli." you'll also like Plant Strong Blueprint: 6 Steps To Prevent Weight Gain Over Christmas and New Year (Part 2)