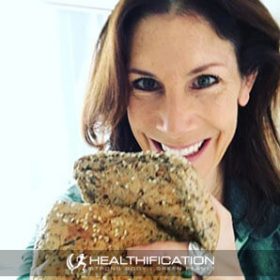 Podcast: Play in new window | Download
Subscribe: RSS
Todays month in review show goes live just before the October "3 Day Easy Vegan Plan" so I've taken this opportunity to pick 5 of my fav underestimated tips from my 30 Day Plant Strong Jumpstart… which is the natural progression from my FREE 3 Day Easy Vegan Plan and is available to any of my dear Patreons who support me for any monthly amount.
For now I want to power on with todays content as I have a lot to cover. I'll chat a little food, a little exercise, I'll share what's been rockin this past month and what's been a tad more struggle-street. I'll also check in with mum via an instalment of Annie's Cooking Corner! Above all, my intention is to make this content applicable to YOU and creating and keeping a fit, healthy plant strong body.
Let's start with,
How To Make Your Best Eating and Exercising Choices Easy (5 Underestimated Tips).
Tip One: Ensure your house is a Trigger Free Zone.
I'm talking about those foods that once you start you can't stop. We All Have Them! It's a simple case of if it's not in the house you can't demolish it! My intention is that you create the environment that makes it easy to succeed.
No trigger food in the house = Zero reason to feel guilt at eating aforementioned tricky trigger food.
If you have trigger foods at work they need to go too. Make it easy on yourself and take comfort in the knowledge that you can enjoy ANY of these foods on your weekly cheat day. Guilt. FREE.
This is the level I need to take it to as I'm an emotional eater and have lots of trigger foods, so even healthy, nutritious foods can result in excess consumption if I let them hang-out at home.
Multi-grain bread. I eat it on the weekend and I only buy the amount I want to consume on the weekend. No lethal leftovers!
Nuts. True trigger trouble! They're banished from home and I buy a weeks worth at once, keep it at work and when it's gone its gone.
Nut / seed butter. I only buy tahini even though I love cashew / almond / pecan more I can't trust myself to not attack the jar with a fork! This is also a good trick if you have family / flatmates who choose to eat biscuits / chocolate – find a flavour they still enjoy that you're less tempted by.
Underestimated Tip Two: The Reframe.
We're delving deeper into the mindset side of healthy living here. Certainly one of my favourite tools when it comes to – well Life in general – and for today's purpose, eating and exercising to create your best plant strong body, is The Reframe.
If your gut reaction is that's just airy fairy feel-good talk, my question to you is do you want to make keeping this fit, healthy body you're creating EASY on yourself or a constant battle?
I want to make it as easy as I can for myself. To Clarify: the workouts aren't easy. Prioritizing time to plan my meals Is not easy. However, the daily decisions I make to DO exactly the above – are easy. It wasn't always the case.
Reframes are one of the tools I use consciously to train my mind to think in the way that most supports me getting my workout groove on. Or eating awesome plant strong food. After making the conscious decision enough times it becomes unconscious.
So alone the learning curve you will progress from:
Unconscious Incompetence: I've just bumped you off that if you're starting to become aware of the self-talk you have that limits your inclination to eat and train as you would want to to get the best possible results.
Conscious Incompetence: Your reframes are going to feel a little contrived for a while. Stick With It!
Conscious Competence: You're becoming aware that the way you're consciously training your mind is really starting to benefit you.
Unconscious Competence: The End Game! You 'naturally' think in the way that supports your ideal health.
Thoughts => Decisions => Actions => the Results you want.
Here are 2 questions to get the ball rolling; (1st write your current natural response. Next reframe to a more helpful response.)
"What is Exercise to me?" ________________________________________________________________
Reframe: _______________________________________________________________________________
"What is Plant Strong Food to me?" _______________________________________________________
Reframe: _______________________________________________________________________________
Underestimated Tip Three: Find a person to model.
This is the person who is already where you want to be with your fit, healthy plant strong body. Although internal motivation is the more powerful fuel for most of us I want to give you every possible tool to use to your advantage.
Sometimes it's hard to imagine 'our' body looking and feeling 'that' way. If you want to get in the best shape of your life – you need to know what that looks like to YOU.
My models likely won't cut it for you because thankfully 'the ideal' is different for each of us. I know that if all I'm focusing on is myself – it can get a little old! I want to have something to aspire to that pulls me through the inevitable 'struggle-street' times… often that person isn't conveniently within my sphere of influence 24/7. So I consciously seek them out before I need them.
Here are some quick points to consider:
Choose a person to model that is your age or older.
Consider the lifestyle they lead. Would you like to lead that lifestyle?(Do they train 90 minutes a day 6 days a week? Are they a non-drinker? If you're not open to that, you need to find someone that has a routine you are willing to commit to.)
Back yourself. At the same time choose someone you can really imagine you can transform your body / your health to look like. With time. And with 100% commitment.
Focus on what the person you're modelling does that you CAN do. The things that CAN fit in with your plant strong lifestyle. There's no value in looking for what 'makes it easier' for them or what 'makes it harder' for you. My challenge to you, is to purely focus on the positive.
Remember that consistency is key. One small step at a time. In the areas of your life that you currently excel what you do more likely comes naturally. This is going to take a little more effort. Have patience and faith in the outcome. Celebrate and build on every single little reference point for success you have.
Underestimated Tip Four: Use negative associations to help farewell something you no longer want to be drawn to eating.
I'm asking you to use a little NLP (Neural Linguistic Programming) on yourself.
It's all mind games right? The sad fact is, too many of our mind games set us up to fail. In this tip I'm going to ensure that your mind games are setting you up to succeed. It's not only about the power of positive associations. Negative associations are at least as powerful.
Anything you feel with emotion can be intensified – consciously – and used to your benefit. An example is the best way for me to explain:
A few years ago I wanted to give up fake food. Specifically Diet Coke and Protein Bars. I felt like a hypocrite eating them and then harping on about clean food. My "trigger" to eat them was whenever I felt stressed. I also felt weak whenever I'd resort to fake food just because I was feeling stressed.
Here are the steps I took:
Think of a food that you no longer want to eat. Or drink.
Identify your "trigger". What happens? What are you feeling? Or When / Where is it when you consume this food?
Identify the Pain eating this food is costing you. Or the Pleasure not eating this food will give you. For me I was feeling a lack of integrity and weak when I ate the fake food. Energy wise it was sapping my energy however that wasn't the kicker… and it wasn't affecting my weight. My pain was at a higher level because it related to not being the person that I respected and expected of myself.
That's an important point. The higher the purpose you elicit as a reason for making a change, the easier it'll be.
Second important point! If you can link the food / habit to a personal value it'll become undeniable.
Inject some emotion to really solidify your resolve. Here you're going to take something (or someone) you have an immense dislike of that in some way can relate to the food you no longer want to eat. For example:
For me in this instance I chose to consciously associate a really Fake person that I have ZERO respect for (put delicately) with the fake food. Whenever I thought of the food I made myself think of him. I did it consciously and every time I did it it made me want to stop thinking of the food because I hated thinking of him! I created a belief for myself that eating fake food = that fake person. Yuk! The possibilities are limitless. It's down to how much leverage you need on yourself to make this change.
The final step is to consciously practice this association – until it becomes a habit.
If I've opened up more questions than I've provided solutions, let me know via strongbodygreenplanet across the socials or via email kate@strongbodygreenplanet.com and I'm happy to go into a whole more detail.
Underestimated Tip Five: Focus on 7 Things You Love / Could Love About The Process of Making Your Best Eating and Exercising Choices.
Ok. It CAN be more than 7. That's just a start. Pick your 7 and make a conscious effort to focus on how much you Love them.
Rapid Fire examples:
You're feeling tighter and your clothes are feeling looser.
You have the energy to power through much more each working day and party harder each weekend.
You Love that you're an inspiration to your children / partner / friends who are also embracing a more plant strong lifestyle… and loving it!
Faking it examples:
When you think of interval training you focus on Loving the results it's getting you.
You Love that eating broccoli is helping counter any estrogen imbalance that causes extra fat round your hips and thighs.
You Love that something that used to be daunting and intimidating is feeling more natural each time you step onto the weights floor.
Your turn!
Talking about being an inspiration to your children or partner (ok maybe not partner so much YET!) or friends who are also embracing a more plant strong lifestyle… and loving it, let's check in with my mum and Annie's Cooking Corner!
Listen to my chat with mum here:
Let's talk EXERCISE and I want to revisit my own learnings from just last week in case they're of value to you. Specifically I'm referring to the value of getting clear on the type, timing and location of some form of exercise that you're struggling to lock and load as a regular habit.
Although there's certainly a degree of discipline involved in exercise – there's also a point where if you keep missing the same planned session perhaps you need to reassess your approach. It might not be that you're lacking discipline or you just "Don't want it enough!"
I'm a fan of finding something – actually even better something(s) to enjoy about any habit you want to commit to.
So if you hate cardio equipment. And the vibe at your gym makes you self conscious. And you find high intensity interval training really uncomfortable. And exercise after work is always such a drag…. then it's time to try mixing up some of all of those variables.
It's amazing how long we'll keep trying to adopt a habit that is really HUGELY unappealing.
Maybe you enjoy walking in nature. Or exercising down at the beach as part of a group. Maybe exercise first thing in the morning with a full daily discipline quota is much more doable. Possibly although you can't imagine ever liking exercise you can find a gym environment where the team and clients are friendly and make you feel welcome. Gosh, maybe you even enjoy catching up with the other regulars.
Is it time for YOU to try mixing up the type, timing and location of some form of exercise that you're struggling to lock and load as a regular habit?
I have little story to introduce this months struggle-street… 
This morning at the gym another trainers client was feeling especially sluggish and "foggy headed."
"How's the Keto going mate?" his trainer inquired.
"Are you just on meat and eggs?" another trainer chimed in.
My blood started to boil… If you're familiar with the detrimentally popular very high fat, very low carb Keto diet (designed as a medical intervention – now aggressively marketed for fat loss) you'll know why this gym conversation was feeling struggle-street to me. Personally I define K.E.T.O as:
K.ruel (with a capital K)
E.thically abhorrent
T.otally unsustainable
O.bnoxiously selfish.
For a less emotional much more scientific coverage of Keto I turned to Dr Michael Greger of nutritionfacts.org. Dr Greger has an extensive Keto series where as always he links to the numerous sources cited. One of his more recent videos (Sept 2019) titled: "Are Keto Diets Safe?" cited the inadequate intake of 17 micronutrients on a strict Keto diet. To be clear, the diet only works if you keep to it strictly. I stopped watching after learning Keto was bad for your gut, your heart, your muscles, your bones and that those following low carb diets (especially those focused on animal based fat and protein) suffer a higher risk of ALL CAUSE mortality and live significantly shorter lives.
The thing is this gent is one of many clients in our gym looking to lose a little weight. He's turned to Keto and he's struggling with energy and focus. He laughed about the important client meeting later that day which he's in no shape mentally for.
All this to SHORT TERM shift a little fat while drastically increasing your consumption of food that increases your risk of heart disease (among so many lifestyle related diseases), is grossly inefficient and environmentally detrimental to produce and oh Yes, was a living, thinking, feeling being before it died to help you shift some fat.
The alternative (gosh – get ready to be surprised!) is to eat whole food plant based.
To eat HUGE, abundant meals that leave you satisfied and craving free.
To eat a diverse range of nutrient dense macro and micronutrients, that GIVE you the energy to up the anti in your workout regime if you choose to (as I just have) and that let you think and function clearly and effectively.
Talking of abundant energy and athletic awesomeness, let's move on to my recommendation this month: After a long awaited build up, finally the film The Game Changers hit international screens this month.
It exceeded my HUGE expectations. Even given I imagine I'm not the target audience. This film will indeed be Game Changing as it appeals to the humans that as yet might not feel any tinge of empathy towards the plight of animals or even the health of our planet. Perhaps even the fit, strong, healthy humans who can't yet imagine how they might age and deal with their own health problems.
Those young men especially who care about their performance and drastically improving their performance (not just athletically which you'll appreciate once you see the film!) are the target market of this film and by all accounts they are going vegan on the spot upon seeing the scientifically backed #truthbombs The Game Changers drops.
If you haven't seen it in theatres it's available online from October 1st and is currently number one in iTunes pre-sales.
Who's Inspiring me this months was a really easy pick: Ingrid Newkirk and PETA.
I'm sure you've heard of People For The Ethical Treatment of Animals, if not by name then certainly by campaign. Soooo many at times provocative and hugely effective campaigns. Ingrid Newkirk is their fearless leader and has been since she co-founded the organisation – which is the largest animals rights organisation in the world – nearly 4 decades ago. Apart from the colossal scope of campaigns, education resources and undercover operations PETA co-ordinates globally the thing that really impresses me is the way the organisation powers forth with laser focus hell bent on creating a world where animals are not used and abused by humans irrespective of all the false news, filth and abuse thrown their way.
This is an attitude quite evidently embodied and modelled by Ingrid who I had the great honour of interviewing in show E638 which excitingly will be published in just a few days.
This is a big call, however my chat with Ingrid may just be my very favourite interview ever! I hope you can tune in for our chat.
Till then that's it for today in Healthification. Thank you so very must for trusting me with your time and attention today. It means a lot.
The Healthification podcast is proudly bought to you by my FREE 'Easy Vegan' plan. It took me 25 years to transition from a meat eater to a happy, healthy Vegan! You can do it in just 3 days with my simplified 'easy vegan' plan!  Get the fit, strong, and healthy plant based body you deserve… while avoiding ALL the mistakes I made along the way!
Till next time, remember Creating a body and life you love is Freedom. (If this ex-carb queen, non genetically gifted, naturally uncoordinated vegan chick can do it – so can YOU!!!)
If you liked "Make Your Best Eating and Exercising Choices Easy (plus Annie's Cooking Corner)" you'll also like: Plant Based Recipe Template, 24/7 Fat Loss PLUS Month In Review.
If you liked "Make Your Best Eating and Exercising Choices Easy" you'll also like: How To Stay Motivated To Eat Healthy Plant Based Meals. (Part 1)
If you're yet to share the Healthification love – just click here to zip over to iTunes and leave an honest rating and review. It'd help me out big time. With gratitude, Kate.