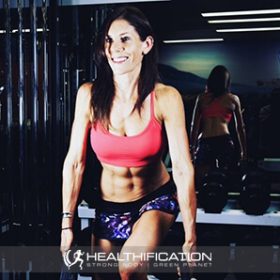 Podcast: Play in new window | Download
Subscribe: RSS
WOW, 2 fat blasting focused podcasts in one week!
Can you tell what's on my mind right now? In all honesty I had to come up with a solo show at short notice so I'm revisiting one of my popular shows from around 550 (!) episodes ago. Heads up I covered the subjects closest to mind in the first 100 shows which are no longer accessible via podcast feeds however are all available via strongbodygreenplanet.com.
"How Quickly Can I Lose My Belly Fat?" 
has got to be one of the most common questions I get asked. However fair warning: I won't lie to you and suggest a timeframe. There really isn't one.
I can 100% give you both the steps to take and the mindset you need to bring to the table to lose your belly fat for good however the timeframe will be dependant on these 3 factors:
One: How Focused Are You Going To Be?
That's so far as your food and your alcohol FIRST and absolutely without a shadow of a doubt most importantly. If you don't believe abs or even the flat belly is made in the kitchen then with respect, you're setting yourself up for disappointment.
Also so far as your exercise.
Equally vitally, your sleep.
Two: How Much Do You Have To Lose?
Perhaps you're like one of my dear clients, who happens to be in awesome shape. She really is fit, lean and well defined… however, she tells me she's unhappy with her belly. I can't see the offending belly however I know it must be there as it's important enough for her to finally cut back on her pasta consumption and even her wine. (more on both soon!)
Back to YOU, a couple of factors to consider are:
Are we talking a couple of kilo's that came to hang out over the past few weeks… OR
Is there a whole lot more that's been steadily, stubborning spreading for a matter of months and years? (that's as close to a timeframe hint as we're going to get)
Three: How Much Do You Have To Change?
So this is the one time when bad habits are helpful! If you've got lot to change – and you change – I'm excited to see your results.
Let's turn back to my client as an example. She's partial to daily processed carbs – not chocolate and biscuits, however still cereal, bread and pasta AND daily white wine. She trains 3 hours predominately weights a week.
So on the food front she's got a bit to play with so far as upgrades:
Perhaps swapping sugary cereal for oats or a dairy-free protein enhanced smoothie.
Ditching a sandwich in favour of a substantial, #plantstrong protein rich salad. 
Trading in her pasta dinners with vino for satay tofu skewers and veg, chickpea and cauliflower curry or lentil and mushroom shepherds pie at least Monday – Friday.
You'll see I'm still suggesting carbs. Fruit, ALL veg, pulses and legumes can be your flat belly friends – it's the more refined options I'm looking to minimise.
My personal guidelines that let me keep the results I'm seeking AND still enjoy the stuff I most love like bread glorious bread is to ditch the refined carbs Monday to Friday. 
On the exercise front she's got less to play with so far as upgrades:
Definitely incorporating some high intensity interval training.
Perhaps working at a higher intensity in her weights sessions.
Maybe adding a finisher to her weights sessions to get the cardio effect while still enjoying all the benefits of lifting heavy weights.
These suggestions will be familiar if you listened to show 635: 4 Fat Blasting Exercise Upgrades To Your Training Plan:
Back to YOU, how does your food and exercise stack up?
Let's get super specific with 5 best case scenario steps to take and also the mindset that makes it possible:
Go a step beyond eating less processed carbs and ditch ALL PROCESSED CARBS except for your cheat meal each week.
The mindset to bring to the table: Focus on what you're GIVING your body rather than restriction. Add as many micronutrient rich, filling fibrous veg to each meal as you can. Aim for a rainbow of colours, a variety of textures and bother to plate your meal in a visually appealing way.
Go a step beyond reading labels to NO LABELS.
The mindset to bring to the table: One ingredient foods are your flat belly friends. Seek out the highest QUALITY one ingredient foods you can access to build your meals and view that processed crap-o-la as the rubbish that races straight to your belly.
It really does. I don't care how skinny someone is the state of their belly will tell the story of the fuel they choose to feed their body.
Go a step beyond lifting heavy weights and choose all UNSUPPORTED MOVEMENTS.
These are the most high value bang for your fat burning buck exercise and also the exercise that demand the most of your abdominal muscles.
=> Movements like squats and lunges rather than the leg press or leg extension.
=> Push ups, pull ups, chin ups and barbell rows rather than bench press and supported rows.
=> Standing shoulder press rather than seated.
The mindset to bring to the table: The harder your body works during your workout the more fat you burn both during and more excitingly also after you finish training. FOCUS on your belly getting flatter with every repetition. I'm serious – that's what I'm thinking so far as my thighs (!) – the mind muscle connection has been proven and you also need to focus on what you want rather than what you want to avoid.
Go a step beyond more cardio and make it HIGH INTENSITY INTERVAL TRAINING.
The mindset to bring to the table: As above, I know it's not fun however your choice is to focus on the pain or to focus on how much you want the RESULT.
If it's any help, even the hard stuff will get easier – or more so you'll get better at handling the discomfort, at focusing your attention on the many benefits and at playing the mind games with yourself that make your decision to exercise and exercise at a high intensity easy even if the actual process may not be easy.
Go a step beyond the best meal on the menu and ask for ADJUSTMENTS to make the best meal better.
For example: Best might be the vegan burger with a salad instead of fries. Asking for green veg instead of the light-weight salad – any green veg – is going to be an even better option. Taking it up another notch however about asking for a portobello cap or two instead of burger buns? It means you escape needless bun-carbs and you'll be less likely to fill up on dessert as you might after just the overly light meal.
The mindset to bring to the table: What you feed your body is a JUDGEMENT-FREE zone. It's your right and responsibility to ask politely for what you want.
The simple fact is the vast majority of people do not have a flat belly. So earning yours will take a willingness to stand out from the crowd at times and be the odd one out.
I have a BONUS TIP that is especially applicable to my #plantstrong friends.
Unsexy truth: Sometimes it's bloating or gas getting in the way of the flat stomach you might be seeking.
This is not something we have to put up with and see as a disappointing side effect of a very high fibre diet. Rather it's a prompt to pay a little more attention to how your body feels after certain meals and adjust / experiment accordingly. Every body is different and equally your gut takes time to adjust to any drastic changes in eating. As much as beans and legumes can be the go to easy culprit to blame it's not always their fault!
Stress. Vacuuming your food. Food preparation, like rinsing and/ or soaking beans. Cruciferous veg like: Broccoli, Kale, Cabbage, Cauliflower and Brussel sprouts among I'm sure so many other foods can leave your stomach extended and uncomfortable. In fact, as a potential over-share, I've cut back on my brussels this week and I'm seeing a noticeable improvement.
Time to make today actionable: Is there a flat belly tip jumping out at you for the implementing?
That's it for this week in Healthification. I will be back on track with the interview shows next week.
The Healthification podcast is proudly bought to you by my FREE 'Easy Vegan' plan, running LIVE again this month! It took me 25 years to transition from a meat eater to a happy, healthy Vegan! You can do it in just 3 days with  my simplified 'easy vegan' plan!  Get the fit, strong, and healthy plant based body you deserve… while avoiding ALL the mistakes I made along the way!
Till next time, remember Creating a body and life you love is Freedom. (If this ex-carb queen, non genetically gifted, naturally uncoordinated vegan chick can do it – so can YOU!!!)
If you liked "How Quickly Can I Lose My Belly Fat?" you'll also like: Stress Levels and Stomach Fat.
If you liked "How Quickly Can I Lose My Belly Fat?" you'll also like: 5 Exercises For A Flab Free Belly.
If you liked "How Quickly Can I Lose My Belly Fat?" you'll also like: E627: What I Eat In A Day To Stay Plant Strong and Lean. (2019 Vegan Food Upgrades)
If you're yet to share the Healthification love – just click here to zip over to iTunes and leave an honest rating and review. It'd help me out big time. With gratitude, Kate.