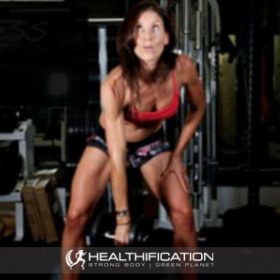 Podcast: Play in new window | Download
Subscribe: RSS
Todays show on Fat Blasting Exercise Upgrades is a little level up or overall overhaul for those of us who might have been cruising just a tad with our exercise recently.
As much as I advocate for consistency year round in your approach to both nutrition and exercise it's also fairly unrealistic to push your hardest all year.
Sometimes I find I'm prone to a little side of complacency with my serve of consistency! Perhaps it's the same old workout routine which is consistently challenging yet never quite as tough as it could be.
You know those workouts that you're a combination of excited and scared of that you're tempted to quit a few minutes in? However, you push through and feel so much better for it. They are not the sort of workouts you can push through every single session however they certainly deserve a spot or two in your weekly workout rotation. Today I'm sharing
4 Fat Blasting Exercise Upgrades To Your Training Plan 
which actually are the upgrades I'm applying to my training plan right now.
If this sounds beneficial yet somewhat UN-appealing here's a little mindset adjustment that is working well for me. Recently I've become more consciously aware of how powerful gratitude is in helping you stick to any struggle street habit.
If you're ever second guessing whether you can be bothered exercising, consider how lucky you are to even have it as an option?
To have the health, the freedom, the time and the money to make it happen. Even if your knees aren't up to running or lunging. Or you can't justify an hour long walk in nature or a gym membership – there's still plenty of options right?
If this doesn't resonate, I respectfully urge you to dig a little deeper. That's what I did recently. I will get into those 4 Fat Blasting Exercise Upgrades soon however first let's analyse the gratitude angle just a tad more.
For years I've been telling myself how much I hate cardio. When really I'm just rather impartial to treadmill trudging in a gym. My mind had been filtering my experience in several ways which are likely applicable to you too:
First: Generalising. I'd been generalising that ALL cardio is hateful. It's never ALL. Whether we're talking about all forms of cardio, all gyms or even all salads. Generalising means you avoid seeing the possibilities that might be hugely advantageous because you lump everything in one unappealing heap.
Sort of like when someone says: "All vegans are extreme, preachy, judgemental, scrawny weaklings."
Next: Deleting. I'd been deleting the evidence of cardio I really enjoy. My long walks along the beaches here in Sydney every weekend and my long runs through the National Park when I'm on holiday in stunning Noosa.
Similar to the vegan deliciousness someone might eat and forget when they emphatically state: "It's not a real meal without meat!"
Finally: Distorting. You can twist the truth in many ways and I'm prone to applying a little too much emotional intensity! Calling all cardio "hateful" really makes it tougher to do. Though equally, distorting (like generalising and deleting) can also work in your favour when used to enhance the positive spin on something you know is beneficial.
When I say I LOVE crispy brussels or kale crisps they don't taste as amazing to me as my mums vegan Anzac biscuits or carrot cake, however I'm intentionally distorting the deliciousness to my advantage.
Can you think of any areas in your exercise or life (!) where you've been Generalising, Deleting, Distorting to your detriment?
Now let's power on with those 4 Fat Blasting Exercise Upgrades To Your Training Plan:
Fat Blasting Exercise Upgrade One: Swap a weights session for a HIIT session. 
I have a disclaimer here. Weights is almost always the most important exercising component of any training plan I design. I'm a HUGE proponent of at minimum '2' 45 minutes weights sessions a week prioritizing big compound movements utilizing multiple joints and multiple muscles. 
However if you're doing more and it's no longer providing the results you desire it could be time to mix it up. That's why I'm swapping out '1' of my '5' weights sessions for HIIT (High Intensity Interval Training).
A couple of components are key here. I'd like you to think of a habit that you know would be beneficial and you've known it'd be beneficial for perhaps years and yet you're yet to make it stick. When you really drill down, what are your objections and your excuses?
HIIT was the habit I never made stick.
I always tried to start a HIIT habit on my mid-week rest day so as not to interfere with weights. So I'd jam interval training on a treadmill into my most busy personal training day and it sucked up an incredible amount of my discipline. The timing, type and location was all wrong.
Yet, what if I instead waiting a day, swapped a 45 minutes weights session for HIIT and took a little 10 minute warm up jog to gorgeous Centennial Park? It'll still leave me an easy 10-20 minutes for sprinting up a hill or along the grass before jogging back to the gym. It also removes my fear of falling off the treadmill which I've done before (highly not recommenced!) and which means I never relax in the slightest around a treadmill.
Now this might sound hateful to YOU, however first I recommend you downplay that emotional intensity (!) and more importantly, come up with timing, type and location which might be all right for you to try HIIT.
Fat Blasting Exercise Upgrade Two: Incorporate a FINISHER into your weights sessions.
I'm a huge fan of adding little finishers – to squeeze the most out of yourself – into your weights session. They get your heart rate up and exert a sort of cardio effect. You might throw a finisher in at the end of each circuit or at the end of your session. They can involve cardio equipment, skipping, boxing, weights or body weight to name just a few examples. So perhaps:
A 60 second row then set the "rest" on the rower for 60 seconds and use that to power through 12 push ups. Aim for 3-6 rounds.
Tabata style intervals of 20:10 (20 seconds working : 10 seconds resting) sprinting up a treadmill on a high incline(and super safely jumping off to the sides for the rest) for 8 rounds.
100 skips then 50 pull moves (like a pull up or war machine pull) + 50 pushing moves (like a push up or dip).Then 80 skips and 40 pulling + pushing moves followed by 60 skips and 30 + 30 and so on. The idea with a finisher is to keep moving so your 50 pulling and pushing moves will likely work best as 10 reps of each times 5 to get to 50 reps of each.
A tip to encourage yourself to get through the finisher: Pyramid down in numbers or time so you know you've only got to get throw less than what you just did! 16 squat press's, 16 kettle swings, 16 sumo in out jump squats becomes 14 of each and then 12 of each.
Fat Blasting Exercise Upgrade Three: Increase your training DENSITY by getting more done in the same time.
I started back with this yesterday. Your options are limitless however I completed a normal 2 circuits of my heavy weighted moves and then on the third and final circuit I added in a couple of moves designed to really get my heart rate up between each of my regular exercises.
So in this example it was a back and chest workout consisting of exercises like: Chin ups, DB rows, DB presses, BB rows, Lat pull downs. The "in-between'ers" were '6' Advanced Burpees (this is a jumping chin up into a push up – your alternative is a regular burpee) and '12' Kettle Swings.
I find completing a normal couple of circuits gives me time to ease into being up for upping the intensity on myself! When you only have one circuit to go you know you're on the home straight and you can throw in those little "bonus" extras and really increase your work load in the same amount of time.
I got 3 sets each of 11 exercises done in 45-50 minutes rather than 3 sets of 8 or 9 exercises.
Fat Blasting Exercise Upgrade Four: Upgrade to a more ADVANCED move. 
As much as complacency is something to be avoided, when upgrading or progressing an exercise it's important to consider the potential benefit verses the risk. So for example I think a DB row is an awesome high value move.
In theory a kettlebell suicide is a more advanced move on from the row. It's as bad as it sounds. You attempt a renegade row each side with the kettles, then a push up off the kettles, then you jump your feet in burpee style, leap up into a shoulder press with the kettles and start back on the ground again.
I'm not recommending this move! The wrist breaking danger far out weighs any benefit in my mind. Equally unless you're an athlete with sports specific goals of increasing your explosive power I'd never bother with box jumps onto a hard (sharp-edged) surface.
Some super worthy progressions might be swapping from a neutral grip chin up to a wide chin. Or as you get stronger attempting a chin up off a bar rather than with the assistance of the machine. If you're not yet strong enough you can use some tubing for assistance or jump up and then complete a slow controlled lower to build your strength (the lower is the eccentric phase and you'll be about 30% stronger with that phase).
If push ups from you knees are getting easy (I'd say 12+ reps with a great range of motion is easy) then try from your hands and toes. When that gets easy try with your feet on a bench or try one of my fav body weights moves "the walk-out". The walk-out is like a single leg body weight deadlift (so a flexion or bow forward from your hip joint) into a push up. Conveniently the walk-out is one of the 3 "moves to choose your curves" in the Facebook live work-out I'm doing this week. By the time this is live I'll have done it so to check out the video just cruise here:
A few quick considerations so far as advancing an exercise:
Generally, the less supported a move is the tougher it will be. So a leg press is like a squat movement with full body support. The squat (DB first then BB) is a progression. A standing shoulder press is a progression from a seated supported shoulder press.
A single leg movement will generally be a progression and is great to ensure your stronger side doesn't overcome compensate (cheat) for the weaker side.So a single leg deadlift is a huge progression from a regular deadlift.
Adding an element of instability is a progression however there are some ludicrous moves to be avoided here! Rather than a regular mountain climber try one using sliders for your feet, then perhaps hold onto an upside down bosu ball with your hands. Progressing from a bench dip, pop your feet (specifically your heels) onto a medicine ball.
Combining a couple of moves is often a progression. So a squat press combines both a squat and a shoulder press and will really get your heart rate up big time. This can be taken to awesomely extreme levels with Kettlebell or DB or BB complexes combining many moves. The idea is to find a weight and an order where you're working hard yet safe with each of the moves involved. So perhaps: a kettlebell reverse lunge to kettle standing row to kettle squat + shoulder press to kettle swing.
To get actionable today which of these 4 Fat Blasting Exercise Upgrades To Your Training Plan sounds like something you could implement this week?
To recap:
One: Swap a weights session for a HIIT session. 
Two: Incorporate a FINISHER into your weights sessions.
Three: Increase your training DENSITY by getting more done in the same time.
Four: Upgrade to a more ADVANCED move. 
Remember, if this sounds beneficial yet somewhat UN-appealing: Consider how powerful gratitude can be in helping you stick to any struggle street habit. If you know you CAN make some upgrades – why wouldn't you? There are improved results to be had and the sooner you up the exercising anti on yourself the sooner you'll be enjoying those results.
That's it for today in Healthification. Thank you so very must for trusting me with your time and attention today. It means a lot.
The Healthification podcast is proudly bought to you by my FREE 'Easy Vegan' plan. It took me 25 years to transition from a meat eater to a happy, healthy Vegan! You can do it in just 3 days with my simplified 'easy vegan' plan!  Get the fit, strong, and healthy plant based body you deserve… while avoiding ALL the mistakes I made along the way!
Till next time, remember Creating a body and life you love is Freedom. (If this ex-carb queen, non genetically gifted, naturally uncoordinated vegan chick can do it – so can YOU!!!)
If you liked "4 Fat Blasting Exercise Upgrades To Your Training Plan" you'll also like How To Bust Through A Weight Loss Plateau!
If you're yet to share the Healthification love – just click here to zip over to iTunes and leave an honest rating and review. It'd help me out big time. With gratitude, Kate.