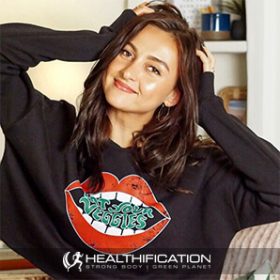 Podcast: Play in new window | Download
Subscribe: RSS
My guest today Nikki Vegan, creates amazing vegan recipe and lifestyle videos to provide healthy eating inspiration and also spread the word that being vegan can mean eating delicious, easy to prepare, affordable food without harming animals or the environment. This interview has really inspired me to get in the kitchen and try some new recipes. 
So many times while prepping for our chat and so many times mid chat, I though "Oh yum, I must try that!" There's just so much deliciousness to enjoy!
Something that Nikki and I touch on that may seem counterintuitive and I don't think is talked about enough within the vegan movement with regard to food is how abundant the meals can be. Not, spend hours in the kitchen and stupid amounts of money abundant. Just simple, wholesome, nutritious abundant. The type of every day meals that are delicious, easy to prepare and affordable.
A restriction based approach to eating is NEVER going to be sustainable long term. I would also argue that painstakingly tracking and measuring what you eat is equally unsustainable and a colossal waste of time.
One of the secret hidden benefits to a vegan lifestyle is the LACK of restriction! Perhaps restriction is something you might fear if you have a history of dieting or if you or someone you love has struggled with an eating disorder? In fact, main stream media has perpetuated the myth that veganism is just another form of restrictive eating. Even disordered eating. Mainstream media peddling fear based crap-o-la to demonise a vegan lifestyle?
Who'd have thought!
This such a positive and inspiring chat, with a lovely lady intent on spreading compassion, zero judgement and inclusivity so I'll take my little animals rights activist hat off for now and let you just enjoy the deliciousness…
In this chat we cover:
Nikki's becoming vegan story.
What Nikki wishes she knew before going vegan / Things no one tells you about going vegan.
Nikki speaks to the value of delicious plant based food as a means by which to effectively encourage non-vegans to take the blinders off.
How to tune in to intuitive eating.
How to deal with gas and bloating.
Making vegan meal prep easy / Fast recipes for busy or lazy days.
Does Nicole have someone at the top of her Vegan wish list and WHY? 
I'm back on my own and I must say I can relate to so much of what Nikki shared.
From the abundance and joy to freely eat huge plant based meals without stressing about portion control to the frustrating reality that once you mention your vegan everyone expects you to be an expert.
Although maybe that's in part a self-imposed expectation. The vegan ethic is something I believe so strongly in I feel a need to defend and justify it from any angle.
However that's really not necessary all the time. If you want to gracefully bow out of a conversation perhaps it could be as simple as: "This works really well for me, it aligns with my values and I feel fit, strong, happy and healthy… you do you though."  
As I put back on my little animal rights activist hat (!) you know personally that's more diplomatic of an approach than would feel right to me. Because at the forefront of my mind is the rights and the personal choice of the animals stuck in our broken food system. 
Back to you! On the matter of needing to be an expert I second, as Nikki suggested using any question you don't feel confident with as a chance to do further research. Additionally, I recommend having a few go to resources to refer people to. Such as nutritionfacts.org which is amazing for any health or disease or nutrient related question.
Or so far as the morality and ethics of eating animals the work of animal rights activist Earthling Ed and especially his 30 Days 30 Excuses YouTube series and also the book Eat Like You Care by previous podcast guests Gary Francione and Anna Charlton:
From an environmental perspective I like the fact page that accompanies the Cowspiracy documentary via www.cowspiracy.com/facts and also www.truthordrought.com.
Back to the deliciousness… If you're keen for some fresh cooking inspiration I really do recommend you check out Nikki Vegan online.
She has a substantial YouTube following and is easy to find via Nikki Vegan however her surname is VranHalen if you have any difficulty across any other platforms.
I will have everything linked up in the show notes. Including The Vegan View which is a great idea executed very professionally.
To quote from YouTube: The vegan view is a weekly talk show keeping you up to date with food, friends, and fashion in the plant based community. Subscribe to hang out with co-hosts Nisha Balsara, Nicole Vranjican, and Hannah Hagler every Monday morning!
Connect with Nikki across the socials: YouTube | Instagram | Facebook | Twitter |
You'll find Nikki's e-Book of 30 Vegan Breakfasts here:
You'll also find both the video and printed recipe to Nikki's butternut squash sauce here:
That's it for this week in Healthification. Huge thanks to YOU for sharing this week with me. I have such a variety of amazing guests scheduled to come on the show over the next few weeks – including Vegan bodybuilder Torre Washington and founder of the largest animal rights organisation in the world, Ingrid Newkirk of PETA. So excited! So stay tuned and even better please subscribe via iTunes or wherever you listen.
The Healthification podcast is proudly bought to you by my FREE 'Easy Vegan' plan. It took me 25 years to transition from a meat eater to a happy, healthy Vegan! You can do it in just 3 days with my simplified 'easy vegan' plan! Get the fit, strong, and healthy plant based body you deserve… while avoiding ALL the mistakes I made along the way!
Till next time, remember Creating a body and life you love is Freedom. (If this ex-carb queen, non genetically gifted, naturally uncoordinated vegan chick can do it – so can YOU!!!)
If you liked "Nikki Vegan and Eating Delicious, Easy to Prepare, Affordable Food Without Harming Animals or the Environment" you'll also like E586: Vegan Comfort Food Classics with Lauren Toyota.
If you liked "Nikki Vegan and Eating Delicious, Easy to Prepare, Affordable Food Without Harming Animals or the Environment" you'll also like E614: 30 Minute Vegan Dinners You're Going to Crave with Megan Sadd.
If you're yet to share the Healthification love – just click here to zip over to iTunes and leave an honest rating and review. It'd help me out big time. With gratitude, Kate.