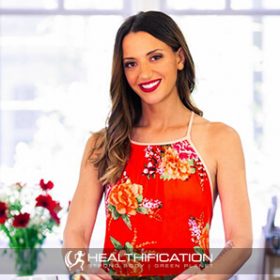 Podcast: Play in new window | Download
Subscribe: RSS
I originally approached todays guest because she shares how easy and delicious vegan meals can be with such style and finesse. In fact her new book: 30 Minute Vegan Dinners has 75 Fast Plant-Based Meals You're Going To Crave! 
If you're interested in easy, delicious, fast vegan food using whole food ingredients then todays show has you covered however my guest "artist / producer / writer / (and) curious soul with a penchant for vegan food" Megan Sadd has so much more to share. I've been particularly fascinated to hear Megan talk about, the power of letting go. 
I felt like Megan was in my head when she discussed the fine line to walk between being super crazy focused and driven and the need to Stop Trying So Hard! It's hard to know what's lazy and what's just "letting it happen."
Let's embrace a little more "letting it happen" and a lot more
30 Minute Vegan Dinners You're Going to Crave with Megan Sadd…
In this chat we cover:
Megan's becoming vegan story.
Viewing veganism at a lifestyle of deprivation verse a lifestyle of abundance and compassion.
The value of delicious plant based food as a means by which to effectively encourage non-vegan loved ones to take the blinders off.
Megan's tips for the non-chef wanting to make gourmet plant-based meals in thirty minutes or less – including prep!
Kid friendly plant based meal options. 
How to Stop Trying So Hard!
The 30 Day Fun Challenge. 
As I write this outro I'm sitting on a rock overlooking Bondi beach on a stunning Sydney winter day. I stopped to meditate half way through my unscheduled walk home along the beaches because I felt like I needed a little self care time.
My chat with Megan inspired me. It was also the reality check that those people seemingly living a really charmed life – generally work hard to maintain the ease with which they seem to glide through life.
I'm aware to my clients I look like I've at least got the whole food and exercise thing nailed. Like it comes easily and naturally.
However this past couple weeks my dear clients have seen the very rare and utterly unwelcome (to me), vulnerable and scared Kate. You see I have a little eye situation happening – a throw back to an eye surgery I had 40 odd years ago as a baby. It's unsightly and it's uncertain and it's frightening for someone who loves to be in control and has a debilitating aversion to asking for help.
I'll be fine however given the emotional little wreck I seem to be these days there's definitely some learning to be embraced and certainly some stuff to be dealt with.
My message to you (and me!): Find joy in the simple things. Appreciate the simple things. Make time for fun. 
Beyond that, get clear on what fun is to you.
I heard a podcast segment recently about "things we pretend to enjoy." We all have those things that we're meant to like and don't. Or maybe it's polite to like and we don't. I don't like massage or facials or swimming or any reality TV. I really don't like going to the latest bar or pub in Bondi and hanging out with The Beautiful People half my age!
I think I'm pretty good at not making time for the things I should yet don't find fun. However I could definitely get MUCH better at making time for the things I do find fun. How about you? If you can relate I really recommend you check Megan out more online. Especially the: The 30 Day Fun Challenge. 
Are you up for it? I know I should do it. Not sure what my hesitation is!
For more deliciousness, check out Megan's website: https://www.carrotsandflowers.com
A couple of recipes high on my list to try soon are Megan's hemp cheese and her Roasted Asparagus with Creamy Vegan Hollandaise.
Megan's book is 30 Minute Vegan Dinners: 75 Fast Plant-Based Meals You're Going To Crave!
Connect with Megan via the socials:
The books Megan mentioned: Playing The Matrix and Mirror Work by Louise Hay.
The coach Megan follows on Instagram: xoAmandaFrancis.
Regarding manifestation: Abraham Hicks on Youtube.
That's it for this week in Healthification. I have plenty more awesome guests lined up over the coming weeks and if you're enjoying these chats I'd really super appreciate it if you'd please share this podcast with someone you think would find value in it or rate and review it in iTunes. It takes a couple of minutes and it means so much to me. It 100% makes my day.
Huge thanks to YOU for sharing this week with me. You rock and I appreciate your support!
The Healthification podcast is proudly bought to you by my FREE 'Easy Vegan' plan. It took me 25 years to transition from a meat eater to a happy, healthy Vegan! You can do it in just 3 days with my simplified 'easy vegan' plan!  Get the fit, strong, and healthy plant based body you deserve… while avoiding ALL the mistakes I made along the way!
Till next time, remember Creating a body and life you love is Freedom. (If this ex-carb queen, non genetically gifted, naturally uncoordinated vegan chick can do it – so can YOU!!!)
If you liked "30 Minute Vegan Dinners You're Going to Crave with Megan Sadd" you'll also like E586: Vegan Comfort Food Classics with Lauren Toyota.
If you're yet to share the Healthification love – just click here to zip over to iTunes and leave an honest rating and review. It'd help me out big time. With gratitude, Kate.