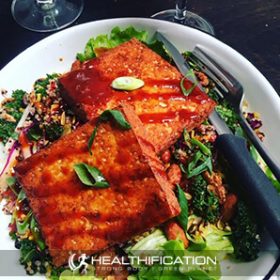 Podcast: Play in new window | Download
Subscribe: RSS
I often wonder how it is that so many of us have turned such a simple pleasure – FOOD – into something so unnecessarily complicated and guilt ridden. 
I should mention I absolutely identify as an emotional eater and so Yes, I'm in the "us"! Accordingly I'm coming from a place of understanding rather than judgement so far as the example I'm about to share.
This morning a dear client revealed to me her "eating breakfast out" strategy with a couple of girlfriends. These ladies are in their 60's. They go for an early morning walk and then they share breakfast. 3 ladies and one piece of toast and one egg. Shared.
I was dumbfounded. And then I was perhaps less emphatic than I would have liked: "That's ridiculous!" "Of course you then overeat later in the day because your poor body is starving!" My client acknowledged the reason for their restrictive breakie is the "funny eating habits" of one friend.
Again I was less than subtle: "So you are prioritising her health over yours?"
Needless to say I'll be checking to see my client is ordering her own breakfast next week and I'll be diligently planting seeds for oats and almond milk or chia pudding or tofu scramble or even avo on toast!
I don't think I've ever had an issue prioritising someone else's choices over mine. Especially when it comes to food. The thought of sharing food stress's me out. I want what I want and I especially want you to keep your mitts off it!
However absolutely I've had many other issues when it comes to food and today I'm sharing:
4 Foods I Felt Guilty Eating As A Vego That I Now Love To Indulge In.
Todays show isn't so much about the actual food – although we will go there. It's more about the more supportive and healthy mindset around food I've gradually created for myself. It's a mindset I hope to help my clients and YOU create too.
In my late teens, right through my 20's and for most of my 30's as a vegetarian my food focus was one of Restriction. I counted calories. I felt like I was fighting my body. Even punishing my body in my younger years. A skipped meal was a WIN! When drinking, eating was cheating!
I'd make snacking decisions based on lowest possible carb count and least calories never nutrients.
Now my food focus centres around Abundance. Nutrients. It's a matter of working with my body. I see my body and I as a team.
Of so many foods I've demonised over the years here are the top 4 wholesome delicious, nutritious foods I once feared and now LOVE to indulge in:
One: Potatoes.
I'd happily demolish fake protein crisps and toxic Diet Coke. Yet the humble spud? No way, too carbie!
I genuinely only ate potatoes as a special treat when I went home to stay with mum and dad and I'd gleefully let myself devour mums roast spuds. I certainly didn't bother with sweet potato. What a waste!
If you feel guilty eating Potatoes focus instead on ditching the lower value, processed types of foods potatoes can replace in your regular eating routine. Nutritionally, potatoes are a very good source of vitamin B6 and a good source of potassium, copper, vitamin C, manganese, phosphorus, niacin, dietary fibre and pantothenic acid.
3 ways I LOVE the spud:
Especially sweet potato wedges. These area treat however when I do have them I indulge guilt free and generously. For a more frequent indulgence that helps you replace a processed food, how about trying potato sliders or potato bruschetta? So a think slice of crispy baked spud replaces the bread and is topped with whatever manner of deliciousness you fancy. Perhaps tomato, avocado, a sprinkling of hemp seeds and fresh basil?
Loaded sweet potatoes.There are limitless gorgeous ways to load your sweet (or regular) potato. My fav definitely involves some sort of chilli bean mix and excessive lashings of avocado.
As mash to top a hearty lentil based shepherds pie. Talking tatter toppings my mum just transformed a mushroom and potato bake recipe to make it plant based. Most recipes respond well to some simple swaps. In this case mum used vegan butter, almond milk and grated vegan cheese.
Two: Fruit. 
It's truely a terrifying testament to the power of marketing and gimmicky diets that so many of us are scared to eat fruit.
For years the only fruit I had regularly were the little wedges of lime in my vodka mineral waters. I'm sadly not even joking. On top of that I was frying my taste buds with artificial sweeteners and / diet crap-o-la so really fruit likely wouldn't have tasted nearly as amazing as it does now.
If you feel guilty eating Fruit start focusing first on the nutrients in each type of fruit. If you google the "healthiest" or most "nutrient dense fruit" you'll likely get many different answers. I recommend starting with your fav and checking the value it has to offer your body. Raspberries are one of my favs and are a good source of iron. In fact all berries rock. To quote from an article in mindbodygreen.com "it's safe to say berries are the equivalent of leafy greens in the vegetable world. They're packed with fibre (8 grams per cup—that's about a third of your daily needs!), contain a variety of phytonutrients, and their net antioxidant effect is, gram for gram, second only to herbs and spices."
So far as micronutrients to look out for as a vegan: Oranges and figs are good sources of calcium.
3 ways to LOVE fruit:
In your morning smoothie. I know the idea of a smoothie isn't creative however what goes in it certainly can be. Seasonal or your fav frozen fruit not only provides your body with a delicious hit of micronutrients first thing, they are also pretty awesome at disguising some less delicious goodies (Hello Spirulina!) in your breakfast. Being guided by whatever is seasonal with your fruit (and veg) is a brilliant way to consume a diverse range of nutrients – as opposed to say, just the same old avocado toast or oats and banana each day.
Watermelon pizza. A large disc of watermelon is the perfect dessert pizza base. Top it with coconut yoghurt, nut butters, nuts, seeds and of course more fresh fruit.
Banana nice cream. My previously most avoided fruit has now become the base for an addictive soft serve with limitless flavours and toppings combinations. Start with frozen overripe bananas and blend them to smooth and creamy with what ever you fancy. I love frozen berries, a dash of almond milk and some salted caramel vegan protein powder. Perfect toppings would be: pecans, almond butter and even a medjool date based caramel.
Three: Nuts. 
To think I deprived myself of such deliciousness for years! Because fat makes you fat right?
Wrong! I now believe fake makes you fat. Nuts have so much value to offer your body.
If you feel guilty demolishing excessive amounts of nuts you can get around this be deploying "the running tally" strategy. I'll go into more detail with some rapid fire tips near the end of the show. So far as nutrients? If you google the "healthiest" or most "nutrient dense nut" you'll likely get many different answers though shelled Pistachios (they slow you down), Walnuts (for omega 3 fatty acids and brain health) and Brazil nuts (for selenium and it's antioxidant properties) will likely feature high on any list. I recommend starting with a mix. This has been a bit of a game-changer for me. I buy a 500gm bag of natural, unsalted (deluxe!) mixed nuts each week. This contains: Brazil, Walnut, Pecan, Cashew, Almond and Hazelnut. I then roast (no oil no salt) the nuts I snack on and use the rest raw (ideally soaked) for my weekly pesto / cheese.
So far as micronutrients to look out for as a vegan: Cashews are a good source of iron and almonds are a good source of calcium.
3 ways to LOVE nuts:
In dairy free cheese and pesto.I honestly think I've tried all common nuts in these recipes. My current favs are pecans or macadamia's in pesto and cashews in cheese. Non nut tip? Add some broccoli / broccoli stem to your kale-basil-pecan-pesto and add sun-dried tomato to your cashew cheese.
To liven up a salad or tabouli or any potentially light weight meal. Roasted pecans are the perfect compliment to my cauliflower-kale tabouli and roasted almonds go beautifully with a dry fried stone fruit and rocket salad. To get super flash (!) try "macadamia snow" which is a cool effect you get by finely grating macadamia with a microplane.
As the easiest wholesome delicious, nutritious snack.
Four: Soy. 
I've talked about my previous fear of soy in show 518: To Eat SOY Or Not To Eat Soy?
It's now a food I've thankfully welcomed back into my weekly (almost daily) eating routine. It's been a couple of years now of regular soy consumption and I can confirm there has been ZERO estrogen mimicking effect sending extra fat to my estrogen sensitive areas such as hips and thighs.
If you feel hesitant to include soy in your weekly routine I urge you to do your own due diligence. I feel certain you'll uncover that all that "estrogen mimicking" and "fat storing" rubbish is propaganda started and propagated by the Dairy industry (and specifically a US fringe group called the Weston A Price Foundation) to discredit a product that was having a detrimental impact on dairy sales. Who'd have thought big animal agriculture would spread lies for the sake of the dollar?? For further confirmation of just how soy impacts the body of a vegan athlete check out the eating routine of any vegan body builders. That was the thing I found most convincing. Anyone who's physique I admired still ate soy. Ladies and gents. In fact is episode 610 with vegan body builder Jon Venus I asked Jon what 5 foods are always in his fridge / freezer / pantry and he shared: Tofu, Tempeh, Oats, Blueberries and Mangoes! Side note: I loved that chat with Jon.
Apart from soys versatility and the fact that it's insanely cost effective – even if you only buy organic which I recommend, nutritionally it has a HUGE bang for it's buck being high in protein, calcium and iron. The vegan trifecta!
3 ways to LOVE soy:
In a tofu scramble.There are 1,000's of recipes online. Here's my novice mistake to learn from – when they say choose firm – choose firm!
As wedges shaken in a bag with flavouring – I'm currently using Tamari, Mirin, chilli flakes, garlic powder, maple syrup and sesame oil – and then baked on baking paper on an oven tray. Measurements and time / temperature to cook are so versatile. Literally everything works. Cook it hotter and longer for more crispy. I like to add a handful of edamame for the last 10-15 minutes and I'll shake over some more garlic powder and paprika. Again the longer you cook them the more crispy they'll go.
As tempeh mince. Personally my tempeh needs a bit more disguising than tofu. Blended in a food processor with mushrooms, onions, sun-dried tomatoes, garlic and pecans turns it into a great "mince base" to cook with canned tomatoes and herbs.
I hope todays show has prompted you to reconsider some of the foods you might feel guilty eating. Likely they are different from mine however the principles remain the same.
It's about ensuring your food focus centres around Abundance. Nutrients. Working with your body. Seeing your body and you as a team. 
To get a little more actionable and a little less specific so far as individual foods here are a few more tips to cultivate a supportive and healthy mindset around food you may previously have feared.
So far as higher caloric density / treaty type foods like fries, wedges, chocolate and biscuits etc: Consume them infrequently not daily. 2. When you do indulge enjoy a generous amount guilt free. 3. Buy only the amount you want to consume in that sitting – no lethal leftovers!
With tempting trigger foods like nuts and nut butters:  Decide on a weekly quota. 2. Deploy the running tally strategy. This is when you keep tally of how much you consume on a given day and adjust accordingly the next day(s) to not go over your weekly quota. 3. Don't fall for "Borrowing from Tomorrow." This is when you tell yourself you'll make up for eating double today by eating half tomorrow… and you don't!
Regarding more processed vegan foods like soy and I would also say bread:  Choose the less processed option. 2. Prioritise nutrients not low calories. 3. Make whole foods (like the veg you serve with the more processed food) the star of the meal.
And less foodie, more mindset-ie…
Recognise Guilt for the waste of energy that it is. The time to be "tough" on yourself is before an eating decision. Once you've made a decision you regret – MOVE ON – make the next meal great. You always get another chance to make the decision that best supports your healthy body and that chance is at your very next meal.
Focus on Gratitude not Fear. You simply cannot experience both emotions at one time. So the more enjoyable approach is always going to be to prioritise gratitude for the delicious, nutritious food you get to indulge in rather than fear at the consequences of your less ideal food choices. Switch your focus from: "Can I get away with this? Will this make me fat?" to "How amazing is it that I get to devour such abundant, high value, nourishing and delicious meals every single day?"
For more information regarding creating healthy, nutritious plant based meals it's the thing I write and podcast about most often. Here's at taste of some of my favs:
E578: No Fuss Vegan – The Advice I'm Giving My Mum!
E557: Simple Lifestyle Upgrades For Existing Vegans To Shift Some Fat.
E547: The Ultimate Vegan Food Pyramid For Getting and Staying Lean.
E541: I Just Can't Stop Eating! (strategies to wrestle back control of your food decisions)
E423: 6 Steps To Easy Plant Based Eating (Part 1)
E462: 6 Things I Wish I Knew Before Making The Switch To 100% Plant Based Eating.
And finally, 10 Tips To Make Adopting A Plant Based Lifestyle Easy (listed at the bottom of this post)
That's it for today in Healthification. Thank you for hanging with me today. If you find the show of value please consider sharing it with someone dear to you. I'll really super appreciate it.
The Healthification podcast is proudly bought to you by my FREE 'Easy Vegan' plan, running LIVE again this month! It took me 25 years to transition from a meat eater to a happy, healthy Vegan! You can do it in just 3 days with  my simplified 'easy vegan' plan!  Get the fit, strong, and healthy plant based body you deserve… while avoiding ALL the mistakes I made along the way!
Till next time, remember Creating a body and life you love is Freedom. (If this ex-carb queen, non genetically gifted, naturally uncoordinated vegan chick can do it – so can YOU!!!)
If you liked "4 Foods I Felt Guilty Eating As A Vego That I Now Love To Indulge In" you'll also like Vegan Lifestyle Fears And Benefits
If you're yet to share the Healthification love – just click here to zip over to iTunes and leave an honest rating and review. It'd help me out big time. With gratitude, Kate.