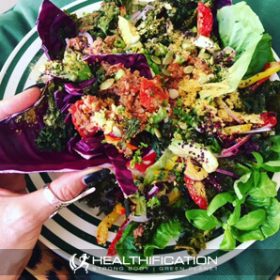 Podcast: Play in new window | Download
Subscribe: RSS
Over the years I've changed my mind on many things surrounding staying fit and healthy.
In my early 20's I was very much a fat-o-phobe and demolished glutenous amounts of processed carbs… as long as they didn't contain any 'evil' fat.
Jump forward a few years and in hindsight my approach to eating as it shifted to low carb high protein was still very restrictive. I really only considered Carbs, Proteins, Fats and CALORIES. As such, Soy became my friend and I devoured a litre of soy milk a day and 200 gms of tofu a day easily.
Now, I'm much more focused on what I'm giving my body. Not what I'm restricting. It's about the quality one ingredient micronutrient rich foods. It's also and increasingly even more important to consider where that quality one ingredient micronutrient rich food came from. I don't want another sentient being to suffer and die for my food choices.
I'm starting todays podcast on: 'To Eat SOY Or Not To Eat Soy?' with an open mind and without a firm opinion either way. Equally I do have a strong desire to uncover enough compelling evidence to help me decide whether to let soy into my regular eating routine or not. 
If you're also on the fence regarding SOY, then todays show is for you!
Is soy to be avoided due to it's estrogen mimicking effects and ability to scoot fat swiftly to estrogen sensitive areas like your hips and thighs?
Or, is it a convenient, cost effective, versatile vegan protein source that also contains generous amounts of calcium, iron, B vitamins and zinc?
There are 3 key questions I'll dig in with today so far as To Eat Soy Or Not To Eat Soy:
One: Why Is Soy So Controversial / Who's leading the anti-soy scaremongering and WHY?
Although Soy has been consumed by humans for 1,000's of years only in recent decades has the debate raged between soy advocates and soy haters. So why is this humble pulse at the centre of such passionately held opinions? The sceptic in me was starting to consider whether it could be a response to soys increasing popularity and increasing market share stolen from animal based proteins and milks. 
After some analysis I lean towards agreeing with the stance taken by the team at nutritiously.com and shared in their article on 'Is Soy Bad For You' that most anti soy scaremongering is traceable back to a single US fringe group called the Weston A Price Foundation (WAPF).
Of course I wanted to check out WAPF for myself.
The Weston A. Price Foundation claims that saturated animal fat is essential for good health (and here I quote from their own website) "humans achieve perfect physical form and perfect health generation after generation only when they consume nutrient-dense whole foods and the vital fat-soluble activators found exclusively in animal fats."
To quote further from the second paragraph on the about page: "Specific goals include establishment of universal access to clean, certified raw milk and a ban on the use of soy formula for infants."
In direct conflict with the findings of the World Health Organization and both the American and British Dietetic Association, WAPF also claim that animal fat intake and high cholesterol levels have no link with heart disease or cancer. Also that vegetarians have lower life expectancy than meat eaters.
Well they are certainly walking their talk if their recent recipes are anything to go by as a recipe of the week in Jan 2018 was: Bacon wrapped chicken hearts. On morbid impulse I clicked crossed to the WAPF Facebook page and saw an attempt at humour that pretty well depicts their detachment from the sentient beings we share this planet with, and I quote:
Friend: I like your lip gloss.
Me: Thanks, it's bacon grease. 
Two: What Does The Science Based Evidence Surrounding Soy Consumption Tell Us / What about all the fit, strong, lean, soy loving vegan athletes and soy advocates?
I felt that perhaps I'd only entertained the views of the strong anti-soy and the strong pro-soy advocates. So, in the interest of not pandering to my confirmation bias I next checked out the highly respected site founded by Dr Michael Greger: https://nutritionfacts.org/.
I found both plenty of videos citing all the 'science based evidence' (you know I'm using air quotes here right – as I'm not the science'y girl) and ZERO reason NOT to recommend soy to my dearest friends, clients, family and of course, embrace it in my own eating routine.
It's possible that some of the benefits of soy have been exaggerated just a tad however there do indeed appear to be benefits beyond just the high nutritional value. I'm certain that the potential cons have been exaggerated HUGELY. I would say unfairly, unethically and with bias towards perpetuating the cycle of animal agriculture.
Because it's A) not my style and B) wouldn't make interesting podcast listening I'll refer you to https://nutritionfacts.org/ to do your own deeper research on studies regarding Soy and both prostate and breast cancer prevention… so instead we can move on to all those fit, strong, lean, soy loving vegan athletes and soy advocates.
In the realm of health and fitness I've always been one to model success. To look at the actions taken by those who currently have the results I'm seeking and wherever possible to implement the actions they consistently take. It's struck me for the past 24 months that the athletes I follow online who look AMAZING almost exclusively include soy – most commonly tofu and tempeh in their regular eating routine.
Surprisingly, the ladies don't have extra fat clinging to their hips and thighs and the gent haven't sprouted man boobs!
I guess my caveat here, and perhaps an area of genuine confusion surrounding soy products is that they are not all created equal. I'll always advocate for a primarily one ingredient whole food approach to plant based eating and so those fake meats, cheeses and dressings made with soy (among a million other ingredients) are never something I'd consume regularly or recommend you consume regularly.
However that us leaves us with the less processed tofu and tempeh and also the nutritional value and versatility it has to offer. Before we move on to some of my favourite ways to include soy in your regular eating routine let's blast through a couple more persistent mythes looking to discredit soy.
MYTH ONE: Soy is a dirty / dangerous food as it's all genetically modified. Wherever you stand on team for or team against GMO's it's important to realize the super vast majority of genetically modified soy is fed to livestock grown to be slaughtered for meat or exploited for dairy and eggs… then slaughtered for lower grade meat. Of the genetically modified soy eaten directly by humans most of it isn't even in vegan foods. Instead it's sneaked into low nutritional value processed crap-o-la (biscuits, bread, sauces etc) that I hope you're avoiding anyway.
MYTH TWO: Soy is destroying the environment. Eating animals is significantly worse for the environment that veganism. To be clear, soy farming IS detrimental to the environment. Both so far as displaced people and destroyed rainforests. It's unsustainable at it's current rate. However as hinted at in myth one, 80% of soy grown is fed to livestock animals. Eradicating animal agriculture would make soy farming for human consumption sustainable.
So, talking human consumption….
Three: How Best To Consume Soy? 
Well this is a whole new exciting world for me! As mentioned previously I'd recommend prioritising less processed tofu and tempeh and not going over the top (like I did 10 years ago with soy at every meal!).
These are my current 3 favourite soy additions to my eating routine:
Tofu Scramble. Baked / roasted edamame in a salad. Tempeh mince nacho or taco style.
For further inspiration Instagram is hard to beat.
To get actionable today, do YOU have a favourite soy recipe to share? I love to hear it.
For further reading re: To Eat SOY Or Not To Eat Soy, here are a couple of articles by The Guardian and CNN.
That's it for this week in Healthification. Huge gratitude to YOU for sharing this week with me.
The Healthification podcast is proudly bought to you by my FREE 'Easy Vegan' plan. It took me 25 years to transition from a meat eater to a happy, healthy, non-judgemental Vegan! You can do it in just 3 days with  my simplified 'easy vegan' plan!  Get the fit, strong, and healthy plant based body you deserve… while avoiding ALL the mistakes I made along the way!
Till next time, remember Creating a body and life you love is Freedom. (If this ex-carb queen, NON-genetically gifted, naturally uncoordinated VEGAN-chick can do it – so can YOU!!!)
If you liked To Eat SOY Or Not To Eat Soy you'll also like: 5 Ways To Eat Less Dairy Without Sacrificing Protein.
If you're yet to share the Healthification love – just click here to zip over to iTunes and leave an honest rating and review. It'd help me out big time. With gratitude, Kate.