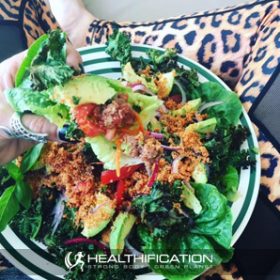 Podcast: Play in new window | Download
Subscribe: RSS
In todays show I'm sharing: Easy Vegan Calcium Sources that will let you leave cows milk for the calves! We'll check out my five fav categories of plant based sources of calcium and then build 10 calcium rich meals / snacks. 
Before we get rolling, I have a plea to my vego friends. As I've shared before, I was vegetarian for 23 years before I went vegan. As a vego I was doing it "for the animals" and yet I was ignorant to the fact that AT LEAST as much pain, suffering and death is caused by the dairy industry as by the meat and egg industries.
It has been kept hidden from us however now thankfully that is changing. The horrific details are not for todays show however I super recommend Earthling Eds 30 days 30 excuses series and particularly his short video: Being Vegetarian Is Enough. 
On the matter of calcium, we're all pretty aware that it's important for bone health. We likely have the dairy industry to thank for that message however lesser known is the fact that the calcium in plant based sources is better absorbed than the calcium in cows milk. It's still disputed as to whether the acid-forming quality of animal protein (like dairy) actually LEADS to bone loss (here's a link to a video better explaining this curtesy of Dr Michael Greger founder of the amazing site https://nutritionfacts.org/) however studies do unequivocally show "milk consumption is associated with significantly higher risk of hip fractures, cancer, and premature death"
First up, here are a few awesome plant based sources of calcium. In this list I'll share the amounts of calcium for each food and then when we get to the recipes I'll share a total calcium count for each meal.
Regarding recommended daily calcium targets?
It's around 1,000 mg for a woman aged 19-50 and 1,200 for a woman over 50. For the gents 1,000 mg daily is recommended until over 70 where they too should aim for 1,200 mg.
Easy Vegan Calcium Source #One: Fortified Milks like: almond, coconut, hemp and rice milks. 
Due to their fortified nature actual calcium amounts can vary however just check out the back of the pack, which is good advise for any packaged food. I'd recommend choosing unsweetened too.
250 mils of plant milk = 300 mg (and up to 500 mg)
Two: Nuts and Seeds like: Almonds, chia and sesame seeds / tahini. 
1 tablespoon tahini = 60 mg
1 tablespoon almond butter = 40 mg
1/4 cup almonds = 80 mg
1 tablespoon chia seeds = 177 mg
Three: Greens like: Collard, bok choy, broccoli and kale. 
1 cup cooked collard greens = 270 mg. 
1 cup steamed bok choy = 150 mg.
1 cup steamed kale / 2 cups raw kale = 100 mg.
1 cup steamed broccoli = 60 mg.
Four: Beans / legumes like: Edamame, chickpeas, pinto and navy beans.
1/2 cup shelled & steamed edamame = 50 mg.
1/2 cup cooked navy beans = 65 mg.
1/2 cup cooked pinto beans = 50 mg.
1/2 cup cooked chickpeas = 40 mg.
Five: Tempeh and tofu.
Like fortified milk these amounts will vary so please check the packet.
100 grams extra firm tofu (as much as 1/2 less calcium in silken tofu)= 175 mg.
100 grams tempeh = 111 mg. 
Some other easy vegan calcium sources include:
Oats: 1/2 cup = around 40 mg.
Orange: 1 large = around 70 mg. 
Figs: 1/2 cup = 120 mg.
Now let's build those calcium rich vegan meals!
BREAKFAST.
Easy Vegan Calcium Meal #1: Smoothie with 2 cups raw kale (100), 1 1/2 cups Fortified Almond Milk (450) and a tablespoon of Almond Butter (40). Now I'd add 50-100 gm of raspberries and a 1/2 teaspoon of spirulina for iron and then either 1 scoop of plant based protein powder (whatever flavour you love – I LOVE Prana Himalayan Salted Caramel). Or if you like to keep it one ingredient based then perhaps a tablespoon of hemp seeds for extra protein and omega 3's plus 1-2 Medjool dates for sweetness. TOTAL CALCIUM: 590 mg.
Easy Vegan Calcium Meal #2: Breakfast bowl with 1/2 cup Oats (40), 1 cup Fortified Almond Milk (300) and a tablespoon of Almond Butter (40). Now you might want to add some raspberries and / or pumpkin seeds for iron and perhaps a tablespoon of hemp seeds for extra protein and omega 3's. TOTAL CALCIUM: 380 mg.
LUNCH. 
Easy Vegan Calcium Meal #3: Sushi bowl with 100 grams extra firm tofu (175), 1 cup steamed bok choy (150) and 1/2 cup steamed edamame (50 mg). Add whatever you like however I'd certainly include 1/4 an avocado (because AVO!) and for that all important iron hit some cherry tomatoes, asparagus and a sprinkling of pumpkin seeds. TOTAL CALCIUM: 375 mg.
Easy Vegan Calcium Meal #4: Tempeh tacos with 100 grams tempeh (111) made into mince (recipe in show #512 on: How To Turn 3 Vegan Supermarket Staples Into 9 Plant Strong Meals), 1/2 cup cooked navy beans (65) and 1 cup raw collard greens (135) for the tacos. Again add whatever you like however I'd certainly include coconut yoghurt, 1/4 an avocado and for iron some cherry tomatoes, spinach and a sprinkling of pumpkin seeds. TOTAL CALCIUM: 311 mg.
DINNER.
Easy Vegan Calcium Meal #5: Mega salad with 2 cups raw collard (270), 1 cup raw kale (50), 1/2 cup steamed broccoli (30) and a hummus made from chickpeas, edamame and tahini. I can't be exact with this one however if your hummus base is 1 each cup of chickpeas (80) and edamame (100) and 4 tablespoons tahini (240) then you'd add garlic, salt and chilli and perhaps some coriander. If that makes 4 generous serves you have (105) gm calcium per serve. I'd add a tablespoon of hemp seeds for extra protein and omega 3's plus a baked field mushroom for iron and avocado because YUM and finally since this salad is MEGA (!) whatever you fancy from this FREE veg list: zucchini, capsicum, asparagus, red onion, carrot, beetroot, eggplant… TOTAL CALCIUM: 455 mg.
Easy Vegan Calcium Meal #6: Tofu scramble with 100 grams firm tofu (90) OR alternatively you could scramble a 1 cup cooked chickpeas (80), 1 cup cooked kale (100) and 1 cup cooked broccoli (60). I'd favour this with garlic, chill, onion flakes plus a tablespoon of nutritional yeast for extra protein and B12 and for iron some mushrooms, spinach and dulse flakes. TOTAL CALCIUM: 250/240 mg.
SNACKS.
Easy Vegan Calcium Snack #7: 1 cup of steamed broccolini (60) with hummus made from chickpeas, edamame and tahini (105). TOTAL CALCIUM: 165 mg.
Easy Vegan Calcium Snack #8: Kale crisps made with 2-3 cups of raw kale baked with 1 teaspoon coconut oil and salt (100-150) plus a drizzle / tablespoon of almond butter (40) or tahini (60). TOTAL CALCIUM: 140-210 mg.
Easy LAZY Vegan Calcium Snacks #9 & #10: 1/4 cup Almonds (80) plus 1/2 cup Figs (120). TOTAL CALCIUM: 200 mg.
250 mils of fortified plant milk (300) plus 1 large orange (70) TOTAL CALCIUM: 370 mg.
Of course there are more things to consider beyond just calcium in a vegan diet and over the next few shows I'll cover off some of the other essential micronutrients like: Iron, B12, Zinc and also Omega 3 fatty acids.
So far as Protein?
This is a macronutrient you really don't need to be concerned at becoming deficient in as consuming enough calories gives your body enough protein. There have not been any recorded instances of protein deficiency in someone eating enough calories. I believed the protein myth – more is better / you need A HEAP OF IT – for the first decade of my personal training career. Like a good little gym rat I fell for all the marketing courtesy of the meat, dairy, egg and supplement industries and jammed my meals full of all the vegetarian protein I could find.
Now I'm not obsessed with protein however for my clients who either want to lose some fat or stay lean I do advocate higher protein meals as protein (like fat) is satisfying and I want you to enjoy satisfying meals. Equally, you have to fill your plates with something and I'd prefer it to be one ingredient plant based veg, protein and fat. And only very-super-rarely any room for processed craving causing crap!
In short, you can be rest assured any meal I share with you will always have adequate protein.
A final caveat before we finish up todays show: Vitamin D.
Vitamin D helps your body absorb calcium. It also plays a role in supporting growth and maintenance of the skeleton. Food does not generally supply adequate sources of Vitamin D and most people are reliant on sun exposure to meet requirements. If you are house bound or avoid sun exposure you should have your Vitamin D levels checked via a blood test and take a supplement as recommended by your doctor if you're deficient.
To get actionable today, I'd love you to do a little calcium audit!
Regardless of your chosen eating strategy, knowing what you're fuelling you body (and adjusting where necessary) is going to be to your huge benefit long term. Short term it's a little time investment. Long term it's sustainable health, energy and happiness.
I just added up my yesterday and got to 990 mg which sits with me fine as I'm sure there's a little miscellaneous uncounted calcium too.
That's it for this week in Healthification. Huge gratitude to YOU for sharing this week with me.
The Healthification podcast is proudly bought to you by my FREE 'Easy Vegan' plan. It took me 25 years to transition from a meat eater to a happy, healthy, non-judgemental Vegan! You can do it in just 3 days with  my simplified 'easy vegan' plan!  Get the fit, strong, and healthy plant based body you deserve… while avoiding ALL the mistakes I made along the way!
Till next time, remember Creating a body and life you love is Freedom. (If this ex-carb queen, NON-genetically gifted, naturally uncoordinated VEGAN-chick can do it – so can YOU!!!)
If you liked 'Easy Vegan Calcium Sources: Leave Cows Milk For The Calves!' you'll also like: 7 Myths About A Plant Based Diet (Part 1).
If you're yet to share the Healthification love – just click here to zip over to iTunes and leave an honest rating and review. It'd help me out big time. With gratitude, Kate.