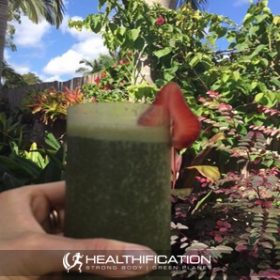 Podcast: Play in new window | Download
Subscribe: RSS
Todays show on Easy Vegan Iron Sources is for all my vegan or vegan curious friends who are concerned that perhaps you need to eat animal flesh to get adequate iron.
After having my bloods done after 25 years vego and 2 years vegan I can happily assure you it's really not hard to meet your daily iron requirements via a plant based diet. In fact there's only one type of iron I struggle to make room for in my life. I'll prioritize lifting iron in the gym 5 days a week and I'll prioritize eating iron at each meal… however, I seem to have a bit of a block surrounding that handy household appliance that smoothes out your clothes! As a boyfriend once mortifyingly shared with his mother: "Kate doesn't really iron, she just buys clothes so tight they don't need ironing!"
Well, wasn't I the charmer? That was almost 20 years ago and it obviously imprinted on me yet I'm still no fan of unnecessary ironing… and most is unnecessary in my mind.
Back to easy vegan iron sources… 
What IS necessary as a daily target?
For a healthy female over 19 years old 18 milligrams of Iron. For males it's only 8 milligrams.
However it's not quite that simple. The (heme) iron available in meat and fish is more easily absorbed and subsequently iron targets for non fish eating vego's and vegan is 1.8 times greater than for the carnivore or regular fish eater. It's also worth noting vitamin C can aid in iron absorption and compounds in tea and coffee can inhibit absorption. The simplest strategy is to consume both foods high in vitamin C and iron together. Also, avoid drinking tea and coffee with your iron and vitamin C rich meals.
High vitamin C foods include: citrus fruits, kiwifruit, strawberries, tomatoes, capsicum, broccoli, brussel sprouts, cabbage, spinach. 
A little more on heme iron, the type found in the blood and muscle of animal products: although it is better absorbed than the non-heme iron found in plants, it may increase the risk of cancer, stroke, heart disease, and metabolic syndrome. That's a quote taken from Dr Michael Greger founder of the amazing site https://nutritionfacts.org/ and here's a link to the relevant video discussing the safety of heme vs non heme iron. In short, non heme is safe – you just need a little more.
Ok, let's get our iron on!
Here are my top 4 vegan iron sources:
One: Greens like: Spinach, swiss chard, collard, kale, broccoli and asparagus.
Raw Spinach: 1 cup = 1.2 mg OR 1 cup chopped and boiled up to 6.4 mg
Raw Kale: 1 cup = 1 mg
Swiss chard: 1 cup chopped and boiled = 4 mg
Collard Greens: 1 cup chopped and boiled = 2.2 mg
Asparagus: 1 cup (134g) chopped = 2.9 mg 
Broccoli: 1 cup (91g) chopped = 0.7 mg 
Two: Nuts and Seeds like: Cashews, pumpkin seeds, tahini and cacao. 
Cashews: 60 grams = 3 mg
Pumpkin seeds: 28 grams = 4 mg
Raw cacao nibs: 28 grams = 1.1 mg
Tahini: 1 tablespoon = 1.3 mg
Three: Beans / legumes like: Lentils, black beans and chickpeas.
On average a 100 gm serve (soaked first or from a can drained and rinsed) = 3.7 mg.
The reason dried beans should be soaked in warm water over night is to reduce the amount of phytic acid they contain which interferes with the absorption of iron. As a lazy cook I go with canned! However there are also some mistakes to avoid here and as such I'll link to an article by thekitchn.com on 5 Mistakes to Avoid When Cooking with Canned Beans:
Four: Other Veg / fruit like: Mushrooms, olives, raspberries, dried apricots, tomato. 
Raw morel mushrooms: 1/2 cup (33 grams) = 4 mg 
Other mushies also have iron, just not as much so: 1/2 cup (35 grams) white mushrooms = 0.2 mg.
Olives: 30 grams = 1 mg
Raspberries: 1/2 cup (70 grams) = 1.2 mg
Dried apricots: 1/2 cup (65 grams) = 1.8 mg
Tomatoes: 1/2 cup (75 grams) of cherry tomatoes = 0.2 mg
Some other easy vegan iron sources include:
Spirulina: a 3 gm serve (which is just over 1/2 a teaspoon) = 1.33 mg
Tofu: 100 grams = 2.7 mg.
Iron fortified whole grain breads and cereals: My fav Bakers Delight Cape-seed rolls have 5.6 mg per ONE (89gm) roll!
Coconut water: 1 cup (240 grams) = 0.7 mg
Nutritional yeast: 2 tablespoon = 0.7 milligrams of iron
At this point you'll see it's going to take a lot a veg to hit 18 mg let alone 18 mg times 1.8. My personal take on supplementation is it's individual and certainly something to discuss with a doctor you trust rather than just trying on your own.
Now let's build those iron rich vegan meals!
BREAKFAST.
One: Dairy Free Iron Packed Smoothie Bowl.
1 cup of raw dark leafy greens (spinach and/or swiss chard) = 1.2 milligrams of iron
50 grams raw cashews = 3.1 milligrams of iron
28 grams raw cacao nibs =  1.1 milligrams of iron
1/2 cup (70 grams) raspberries = 1.2 milligrams of iron
1 cup (240 grams) coconut water = 0.7 milligrams of iron
3 grams (a good 1/2 teaspoon) Spirulina = 1.33 milligrams of iron
Now that's 8.63 milligrams of iron in one wonder drink!
I'd also recommend giving this smoothie a protein punch with a scoop of your fav plant based protein powder. Blend all ingredients.
LUNCH.
Two: Meat Free Iron Fortified Salad.
2 cups of raw dark leafy greens (spinach and/or swiss chard) = 2.4 milligrams of iron
100 grams of lentils = 3.7 milligrams of iron
1 cup of asparagus = 2.87 milligrams of iron
28 grams pumpkin seeds =4 milligrams of iron
1 tablespoon tahini = 1.3 milligrams of iron
Now that's 14.27 milligrams of iron in one super salad!
I think it needs a flavour fix though. I'd start by sautéing 1/2 a finely sliced red onion in some olive or coconut oil. Then add a clove or two of crushed garlic. Next stir through your lentils and leafy greens till they wilt and season / add herbs as desired.
To serve start with your warm salad lentil mix, add asparagus either lightly steamed or my preference in a salad is raw and in thin peels (just use a veggie peeler). Sprinkle over pumpkin seeds, drizzle over tahini and for that extra hit of flavour and iron, how about some home made guacamole spiked with all the usual suspects like coriander, garlic, chilli, salt and lime plusanother good 1/2 teaspoon of Spirulina.
DINNER.
Three: Egg Free Iron Rich Omelette.
The base of this omelette is not mine. I struggled with creating a perfect vegan omelette for a while before leaving it to the experts – in this case, TheMinimalistBaker.com. Here's the link to the full recipe:
The minimalist bakers omelette base consists of:
3/4 cup firm silken tofu, drained and gently patted dry = 3.5 milligrams of iron(estimated as varies)
2 tablespoons hummus
2 large cloves garlic, minced
2 tablespoon nutritional yeast = 0.7 milligrams of iron
Salt and black pepper
1/4 teaspoon paprika
1 teaspoon cornstarch or arrowroot powder
You'll need to check out The Minimalist Baker for the full vegan omelette recipe.
My iron rich filling is:
1/2 cup (90 grams)of cooked dark leafy greens (spinach and/or kale) = 3.22 milligrams of iron
1/2 cup (33 grams) of raw morel mushrooms = 4 milligrams of iron
1/2 cup (44 grams) of raw broccoli = 0.3 milligrams of iron
1/2 cup (75 grams) of cherry tomatoes = 0.2 milligrams of iron (I'm really adding them for colour!)
30 grams of olives = 1 milligram of iron
Now that's 12.72 milligrams of iron (or around 9 if you used normal mushies) in one scrumptious omelette! You could even have it with a seeded roll (like my personal addiction: cape-seed from Bakers Delight and earn a delicious extra 5.6 milligrams of iron!
I'd add whatever herbs you like (my favs are coriander and thyme) and cook that omelette in a little coconut oil.
Let's finish with a snack that packs an iron punch!
Four: Trail Mix With An Iron Punch.
25 grams pumpkin seeds = 3.75 milligrams of iron
25 grams raw cashews = 1.5 milligrams of iron
25 grams dark chocolate =  4.25 milligrams of iron
50 grams raspberries = 0.83 milligrams of iron
That's 10.33 milligrams of iron in one high energy mix!
At this point you may well be thinking: "So Kate that's fab that I now know it's possible to get adequate iron while following a vegan lifestyle – however, will I make it happen?"
For my friend who might now want to dig in with a bunch of new recipes just yet, it's all good. I also have an even easier option…
The Simple Scatter Solution for Vegan Iron! 
Here's how it works:
Simply scatter any of these into your existing smoothies or over your breakfast bowls / oats:
25 grams pumpkin seeds.
25 grams raw cashews.
25 grams cacao nibs. 
50 grams raspberries. 
Simply scatter any of these into your existing curries or over your salads / stir fries / tacos / nacho's:
25 grams pumpkin seeds.
25 grams roasted cashews.
1 tablespoon tahini.
1/2 teaspoon spirulina.
50 grams roasted chickpeas. 
To get actionable today, I'd love you to do an iron audit!
As I mentioned in last weeks show on: Easy Vegan Calcium Sources, regardless of your chosen eating strategy, knowing what you're fuelling you body (and adjusting where necessary) is going to be to your huge benefit long term. Short term it's a little time investment. Long term it's sustainable health, energy and happiness.
I just added up my yesterday and got to 20.98 mg which gets me to the 18 mg target yet does not meet the vegan recommendation to aim for  1.8 times greater than the carnivore. So although it's not hard to meet that initial target, and although my bloods came back fab – I have been taking an iron supplement for the past few months just as extra security. As I said at the top of the show it's certainly something to discuss with a doctor you trust however having said that I super hugely recommend putting the time in with your whole food plant based options as well as potentially popping a pill.
To any of my listeners who are tempted to think: "Perhaps a juicy steak every once in a while is an easier fix?" I have a closing thought and a closing fact.
Fact first: a quick google search will reveal that vegans and vegetarians DO NOT suffer iron deficiency any more than meat eaters. In fact iron deficiency is the most common deficiency in the world. In fact the vegan tendency to eat more vitamin C and consume smaller yet more frequent amounts of iron likely works in our favour.
And finally that thought: If you believe as I do that animals are sentient beings that feel pain, suffer and have an inherent desire to live and be free just like you or me or our beloved companion animals then I'm sure you'll agree it's never about the easier fix. It's got to be about living aligned with your values and your beliefs. 
That's it for this week in Healthification. Huge gratitude to YOU for sharing this week with me.
The Healthification podcast is proudly bought to you by my FREE 'Easy Vegan' plan. It took me 25 years to transition from a meat eater to a happy, healthy, non-judgemental Vegan! You can do it in just 3 days with  my simplified 'easy vegan' plan!  Get the fit, strong, and healthy plant based body you deserve… while avoiding ALL the mistakes I made along the way!
Till next time, remember Creating a body and life you love is Freedom. (If this ex-carb queen, NON-genetically gifted, naturally uncoordinated VEGAN-chick can do it – so can YOU!!!)
If you liked 'Easy Vegan Iron Sources: A Flesh Free Zone!' you'll also like: When Vegans and Non-Vegans Collide
If you're yet to share the Healthification love – just click here to zip over to iTunes and leave an honest rating and review. It'd help me out big time. With gratitude, Kate.