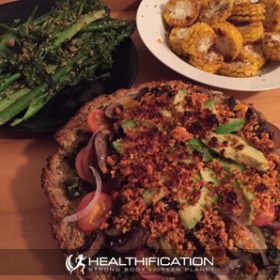 Podcast: Play in new window | Download
Subscribe: RSS
"I could never eat like you."
"But animals only exist for us to eat them."
"Slaughter houses in Australia are humane. There's legislation. I grew up in the country. We care about the animals."
If you're passionate about living a plant based lifestyle and you're doing it for the animals the hardest part about being a vegan is often dealing with the judgement, ignorance and even hostility of non-vegans.
In todays show on: When Vegans and Non-Vegans Collide,
I'm sharing how to have a positive conversation with your non-vegan family, friends and if you choose, random strangers.
The temptation that I'm looking to save you and me both from?
The temptation… is to launch straight into a heated, emotional debate by unleashing with a statement like:
"Well I could never eat like YOU because I believe animals are sentient beings with the capacity to feel, perceive and experience subjectively and as such are not ours to enslave, torture and murder."
Maybe somewhat satisfying however that conversation is going nowhere positive right?
Here are 5 steps / considerations to have a positive conversation with non-vegan family, friends and strangers:
Quick caveat: 5 steps might sound simple however adhering to them is a daily practice for me. It does not come easily yet. To be honest, part of why I call myself the non-judgemental vegan is to remind ME! That's how I feel in my heart and what I strive to be…. however I can be an emotional little thing and sometimes those emotions do still overflow!
Step one: Keep Your Overall Outcome At The Forefront. 
Ideally that is to leave a positive impression. Beyond just each individual interaction, what are you looking to achieve?
I want the world to be vegan. I want to eradicate all inhumane and unsustainable animal agriculture. However I've realized the more effective way to achieve that is to be calm, patient and quieting inspiring. Food is too personal a choice for me to force someone to change. And if some things forced it's not sustainable. If you're in this for the long game – as I am – then whether you're doing it for the animals, for the planet, for your health – keep that overall outcome at the forefront of your mind and know each individual you interact with needs to make the choice of their own free will in their own good time.
Step two: Focus On Planting A Seed Not Convincing Or Converting Today!
Everything counts.
If a meat eater sits next to you at a restaurant and notices you were able to easily, without fuss ask for an adjustment to the menu and enjoy a delicious plant based meal… that counts.
If a friend asks about iron sources and you're able to share with her some awesome plant based options… like perhaps an easy trail mix?
25 grams pumpkin seeds = 3.75 milligrams of iron
25 grams raw cashews = 1.5 milligrams of iron
25 grams dark chocolate =  4.25 milligrams of iron
50 grams raspberries = 0.83 milligrams of iron
That's 10.33 milligrams of iron… AND that counts.
For more info on iron boosters check out a post I wrote on Vegetarian Iron Boosters.
If your mum agrees to watch What The Health on Netflix and starts eating less toasted cheese sandwiches… and your boyfriend to his extreme surprise enjoys your plant based cooking… that counts!
Step three: Connect Over Common Ground.
One of the unhelpful (yet perhaps in the past well earned) stereotypes is that vegans are extreme, judgmental and purist. You can see how that's an abrasive approach. Especially given most of us ate meat for years. When a meat eating client shared with me: "The one thing I can't stand is fishing for fun."
I thought: "WOW, so that fish got to live in nature as intended – swimming around freely with all the other fish – and then out of the blue it's hooked and killed." How on earth could that be worse than tearing a dairy cows calves from her at birth – year after year – letting her live in squalor, constantly artificially impregnated on what they call "the rape rack" until she's too exhausted to produce efficiently after around 5 years (instead of 20-25 years) at which point she endures the terrifying process of transportation to slaughter and eventually after witnessing her fate as suffered by the cows in front of her… eventually, slaughter with a bolt gun in her head and a knife across her throat.
I didn't say that. Instead, to connect over common ground I responded: "Yes, I don't believe we should take the life of someone who does not want to die purely for our own pleasure." 
At this point I'd like to shout out to a few of the activists I really respect so far as their ability to have a positive conversation with non-vegan family, friends and strangers. Each are especially good at connecting over common ground. I'll link up in the show notes to the youtube videos of: James Aspey, Earthling Ed and Joey Carbstrong.
Step four: Apply Calm Logic.
This step is a pick your battle step. It's only worthwhile when you're in conversation with someone at least a little receptive. I'm not going to waste my energy on the hostile, defensive, illogical, downright rude carnivore. Some vegans do and full respect to them however that's not my battle.
These are a few of the questions I first heard from Earthling Ed that really resonate with me:
What's the difference between eating a pig and eating a dog?
Do you value your own taste over life?
Do you value your own convenience over life?
Do you support cruelty to animals?
Do you believe it's necessary to consume animal products to survive?
If it's not necessary to consume animal products to survive then isn't to do so an act of cruelty?
Step five: Persuade With Actions More Than Words.
I'm fan of being as discreet as I can when eating with others. I don't want to draw attention to my food choices. If people are curious I'm happy to chat however I'm not going to grandstand or shove my choices in their face. I've found conversations are much more effective when initiated by someone curious to learn rather than someone desperate to preach. 
Beyond that, I want the way I look and function. My energy, positively and passion to sell plant based living. 
If I'm the trainer that's never off sick. Who is most consistent with her own workouts. Who loves every delicious plant based meal I gleefully demolish… to me that is the calm, ever constant and long term persuasive message on the benefits of plant based living that I'm stealthily delivering.
To get actionable today, have you had an encounter recently that you wish you're handled more effectively?
The way I handle that is to jot down the encounter soon after it happens and then when I get the chance, brainstorm how I wish I'd handled it. Maybe I didn't have the statistics to back up my point of view… or maybe I was shocked into ineffective silence… whatever it is I'm finding this process of having a positive conversation with non-vegans is certainly a constant work in progress.
The good news is, like every aspect of living a plant based lifestyle it only gets easier!
That's it for this week in Healthification. Huge gratitude to YOU for sharing this week with me.
The Healthification podcast is proudly bought to you by my FREE 'Easy Vegan' plan. It took me 25 years to transition from a meat eater to a happy, healthy, non-judgemental Vegan! You can do it in 7 short days with my simplified 'easy vegan' plan!  Get the fit, strong, and healthy plant based body you deserve… while avoiding ALL the mistakes I made along the way!
Till next time, remember Creating a body and life you love is Freedom. (If this ex-carb queen, NON-genetically gifted, naturally uncoordinated VEGAN-chick can do it – so can YOU!!!)
If you liked When Vegans and Non-Vegans Collide you'll also like: Becoming Vegan / Vego: 3 Tips To Make It Easier On Yourself And Those Around You.
If you're yet to share the Healthification love – just click here to zip over to iTunes and leave an honest rating and review. It'd help me out big time. With gratitude, Kate.