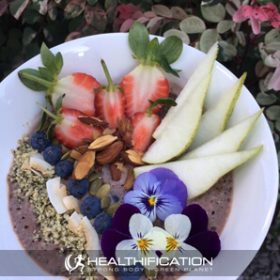 Podcast: Play in new window | Download
Subscribe: RSS
Todays show is for YOU if you have an addictive personality. I'm going to share how you can make your addictions work in your favour rather than to your detriment by Creating A Positive Addiction To A Plant Based Lifestyle.
It's also an opportunity to revisit one of my favourite frameworks: Tony Robbins' 6 Core Needs.
I've discussed the 6 Core Needs in shows 046 and 422. However in case they're new to you here's a quick recap. Although they will all factor in your life, two especially of these needs will guide many of the decisions you make.
There is not right or wrong however to get awesome results… which today I'm going to make applicable to living a healthy plant based lifestyle there are positive and negative ways to meet each of these needs.
CERTAINTY.
It is a natural human need to want certainty. At a basic level to have food, shelter and clothing. At a detrimental level to be completely opposed to any change.
Some resourceful ways to utilize your natural need for certainty are:
=> to accept that although change is inevitable and beyond your control you can have certainty in yourself and back your ability to deal with whatever circumstances are thrown your way.
=> to prioritize a weekly plant based deliciousness mass cook up each Sunday afternoon so you start the week well prepared.
VARIETY.
To compliment our need for certainty is uncertainty or variety. This natural human need can limit your results if you indulge it to the point of continuously chasing that next quick fix shiny object.
Some resourceful ways to utilize your natural need for variety are:
=> mix up your cooking methods / cuisines of influence / restaurants that you frequent.
=> upgrade one overly refined / animal product based meal to a new healthy plant based meal each week.
SIGNIFICANCE.
It's a natural human need to feel special or important. To be selfishly, obsessed with YOU, to put other down in an attempt to lift yourself up or to judge others harshly based on your own values, achievements and perception of success is un-resourceful significance.
Some resourceful ways to utilize your natural need for significance are:
=> get awesome at some of those cooking methods / cuisines I mentioned in the last core need.
=> track the progress you're making each week in your body composition, your fitness, your strength and celebrate each mini win.
LOVE & CONNECTION.
To compliment our need for significance is our desire to engage, connect and love. Love and connection as a core need can limit your potential if you are needy, base your self value only on what others think of you and focus only on chasing love and connection to the exclusion of all else.
Some resourceful ways to utilize your natural need for love and connection are:
=> to see living a healthy plant based lifestyle as a positive influence you can role model for those you love.
=> to make creating and sharing delicious new plant based meals a part of your routine with your family and friends.
GROWTH.
It's been said we're either growing or dying. As individuals our tolerance levels will vary however the challenge, learnings and subsequent satisfaction that come with growth need to be accounted for in your approach to living a healthy plant based lifestyle.
=> apply the principal of constant and never ending improvement to both living and communicating about your plant based lifestyle. Sometimes that'll be via the refinements you make to your meals and sometimes it'll be researching a better, more science based, less judgemental answer to a question someone asked you this week.
CONTRIBUTION.
Fulfillment via contribution to others is like the 5th core need Growth, generally only a positive driver in your life. When you don't make time for contribution you will feel a lack. You'll be more aware of what's not right in your life – because YOU are all you're focused on.
=> contribution might be as simple as having an open non-rushed conversation with someone who asks you about living a healthy plant based lifestyle. It's not about convincing or converting someone – I see it as planting a seed – leaving someone with a more positive view on what a healthy plant based lifestyle entails than what they might have previously had.
Now here's where it gets fascinating, and where addiction comes in. Think of something that YOU always make time for?
For me it's weights. For my mum it's cooking for others. For some of my friends it's surfing.
This non-negotiable in your life likely ticks all 6 boxes so far as your 6 core needs… and it ticks them with a high 8, 9, or 10/10 score.
Those things and people you always make time for that satisfy each of your 6 core needs are called vehicles… and having multiple vehicles is what leads to live a happy and fulfilled life.
Now perhaps you've found this information fascinating yet are not really sure where to start? All good!
Here are, 3 Steps To Make This Actionable and build a positive addiction to a plant based lifestyle:
Step one: Lay the framework for your healthy plant based lifestyle with some positive habits.
From the category of CERTAINTY: prioritize a weekly mass plant based cook up each Sunday afternoon so you start the week well prepared.
From the category of VARIETY: each week mix up your cooking methods and the restaurants you frequent and do not be disheartened by a recipe flop! Keep persisting and refining.
From the category of SIGNIFICANCE: track the progress you're making each week and celebrate each mini win. I would go so far as recommending you document 3 reference points for success every day.
From the category of LOVE and CONNECTION: consciously practice gratitude each day for those people closer to you that you are a positive influence on. Again, I recommend you document 3 things / people you're grateful for every day.
Step two: Start laying one brick at a time with some confidence building small easy wins.
This will happen naturally once you have positive habits or the framework in place. The key is to remove as much of the decision making process as you can when you're making any significant change to your lifestyle. It's about getting the positive habits on auto pilot and avoiding that self negotiation of: "Do I just resort to toast and avo for dinner" because you know you have a freezer full of food made on mass over the weekend.
Step three: Constantly picture that end result / lifestyle that each day you're getting closer to WHILE STILL appreciating the journey.
Picturing your end result – the lifestyle you're working towards will help pull your towards that goal. Equally my expectation for myself and also for you is that your can love every single meal in your plant based journey. Well obviously not your recipes flops however every meal that becomes a keeper – a repeat in your weekly plan – you can 100% love each of those.
To get actionable today is there a food based addiction in your life that could do with a little refining? The simple action step today would be to hunt down that replacement food (because a void will always be filled so elimination on it's own is never the solution) that meets the 6 cores needs we've discussed today. To recap, your new healthy food addiction would meet your need for: certainly, variety, significance, love / connection, growth and also contribution.
That's it for this week in Healthification. Huge gratitude to YOU for sharing this week with me.
The Healthification podcast is proudly bought to you by my FREE 'Easy Vegan' plan. It took me 25 years to transition from a meat eater to a happy, healthy, non-judgemental Vegan! You can do it in 7 short days with my simplified 'easy vegan' plan!  Get the fit, strong, and healthy plant based body you deserve… while avoiding ALL the mistakes I made along the way!
Till next time, remember Creating a body and life you love is Freedom. (If this ex-carb queen, NON-genetically gifted, naturally uncoordinated VEGAN-chick can do it – so can YOU!!!)
If you liked Creating A Positive Addiction To A Plant Based Lifestyle (6 core needs) you'll also like: 6 Things I Wish I Knew Before Making The Switch To 100% Plant Based Eating.
If you're yet to share the Healthification love – just click here to zip over to iTunes and leave an honest rating and review. It'd help me out big time. With gratitude, Kate.