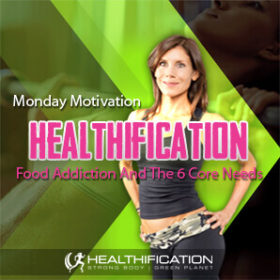 Podcast: Play in new window | Download
Subscribe: RSS
Many years ago when I first moved to Sydney I missed many things.
Certainly my Kiwi boyfriend and closest girlfriends were at the top of the list. Followed closely by mum and dad, my dear 20 year old cat Snuffles and also numerous, forms of baked deliciousness.
From gigantic cheese scones. To glorious crispy yet moist blueberry muffins. To my mum's fresh baked olive sourdough or sun-dried tomato or rosemary-potato-focaccia bread.
I scoured the cafes and deli's to find adequate replacements for my fiercest food addictions. Usually without luck.
Even to this day, as a proud Aussie I still think N.Z. and especially the city I grew up in – Wellington – does baked deliciousness better!
In todays show:
Food Addiction And The 6 Core Needs.
Before we get rolling I want to emphasize that an addiction need not be bad.
The word can carry such negative connotations. My intention today is to tackle the reality of food addiction that so many of us face and,
First: use Tony Robbins framework the 6 Core Needs to explain why addiction is natural, human and to be expected. Then,
Second: provide examples of how positive food addictions might look.
Yes, your (my!) food addiction can become a positive thing.
Let's start with a quick look at the 6 Core Needs (I first covered them on the podcast way back in show #046). A framework that explains a lot of why we act as we do. Robbins speaks of the 6 Core Needs as follows:
One: CERTAINTY.
Two: VARIETY.
Three: SIGNIFICANCE.
Four: LOVE and CONNECTION.
Five: GROWTH.
Six: CONTRIBUTION.
There is a place for each of the 6 Core Needs in your life however you will be more drawn to two in particular. Two will guide a lot of the decisions you make.
Where addiction comes into play is that you will be addicted to anything that meets 3 or more of your 6 Core Needs. It's pretty easy to imagine how food-GLORIOUS-food could fill that bill.
Here's how it might look – for worse – and also for better:
1). Certainty and Food Addiction.
At a basic level to seek certainty of food, shelter and clothing is a natural human need.
However, what about the habit of reaching for the chocolate whenever you're stressed? Or sad? Or overwhelmed? It makes sense to want something certain, predictable and reliable to calm yourself with at a time when perhaps life is feeling uncertain and beyond your control. 
Unlike a piece of fresh fruit which may be delicious yet may also be a little bland and disappointing… your favourite chocolate biscuits have been assembly-line-manufactured to have that perfect, reliable balance of addictive sugar-Fat-CHEMICALS every single time.
The positive certainty to cultivate?
Rather than certainty and a potentially debilitating addiction to your fav food fix instead choose to have certainty in the RESULT that eating the best foods for your body will give you.
Even certainty in yourself and your ability to deal with stress, sadness and overwhelm. Food is never the beyond-a-few-minutes solution.
2). Variety and Food Addiction.
To balance out our need for certainty is uncertainty or variety.
Now perhaps the need for variety might present as a resistance to planning your meals? Maybe you don't know what you want to eat in advance. Ever. That would feel restrictive. It's all about "What I most desire at that moment!"
That is totally fine if you are also ok with the lovely variety / uncertainty of: not knowing when or how or if you will ever achieve your body gain goal!
The positive variety to cultivate?
Instead of variety as a block to sticking with one effective approach to eating and an excuse to program hop from one shiny thing to the next instead choose to build variety into the ROUTINE that will be sustainable long term.
This might be aiming for 12+ seasonal veg in your salads. Looking to try one new fruit or vegetable a week. Or creating a primarily one ingredient based upgrade for your fav junk food. If you'd like some inspiration I tackle BURGERS, SUSHI and PIZZA in show 122 on: Low Carb Takeaway Favs.
3). Significance and Food Addiction.
It is a natural human need to feel special or important.
Each of us likely have a talented cook in the family who generously prepares the most stunning, indulgent home baked deliciousness. It makes them happy to serve up huge, hearty meals and scrumptious sweets. All they desire is a little appreciation. 
In fact they need that appreciation… because there's a degree of significance to be enjoyed as the hostess with the mostest! Or as The Best pavlova cook round. "What this 6 course meal? Oh, it's nothing. Such a pleasure. Now of course you'll have seconds right? Need to use up this homemade Gravy-Mint-sauce-Brandy-cream!"
The positive significance to cultivate?
I'm going to tackle this from the angle of the non-chef being showered with deliciousness first. I have plenty of experience here. My mum makes The Best food. However I've learnt, I really don't need to devour ALL THE FOOD to be able to express how special and important mum is to me. I can be hugely appreciative for roast veg and fresh bread as I politely decline the cauliflower cheese and creme brûlée.
Beyond that. You teach others how to treat you. If you say "Please no need to bake a cake whenever I visit" and then politely eat the cake you can pretty much guarantee you'll have cake welcoming your every visit.
If you're the talented cook in this equation I have you covered up next…
4). Love / Connection and Food Addiction.
To compliment our need for significance is a desire to connect and love.
Food is such a natural way to show love and connection. If you're the talented cook from my previous point you'll know exactly what I mean. Even for those of us with little skill – or desire – to hang in the kitchen (!) exquisite meals out with friends / family and even sun-drenched-beer-flowing-hot-chips-devouring afternoon drinks at the pub can be some of our most treasured memories.
The positive love and connection to cultivate?
It's as simple as providing your loved ones with the food that will help them live an energized, healthy and long life!
I genuinely believe it's becoming increasingly impossible to ignore the evidence that foods full of refined sugar, flour, low quality oils, not to mention the unrecognizable chemicals, additives and preservatives that choke our supermarket shelves are not good for us. Our love for these foods is killing us and killing our kids.
That evidence is growing on par with our waist lines and rate of lifestyle related illness and death. 
Thankfully one glance – if I could ever keep it to that – at my Instagram feed shows me the abundance of natural, one ingredient based whole food deliciousness available for the baking and partaking in.
Although there are 2 of the 6 Core Needs we are yet to cover – Growth and Contribution – Robbins asserts that these two are hugely less likely to factor as one of the top two you or I are more drawn too.
And even if they are, it is certainly unlikely that you will experience either Growth or Contribution in a negative way that is detrimental to you, others or the greater good.
Although as we've covered it's pretty easy to experience an un-resourceful or unsupportive need for Certainty / Variety / Significance / Love + Connection in contrast by definition Growth and Contribution are going to be good.
To get actionable today: Do you have a food addiction that is not working for you? 
Todays time of the actionable is two-part.
Step ONE: Is to determine which two of the 6 Core Needs are your personal top two? There's no right or wrong, better or worse. It's more about knowing and using the information to your advantage.
Step TWO: Is to use that information to your advantage (!) so far as that food addiction that is not working for you. What is the positive way to cultivate and experience the top two needs you just identified?
If you liked Food Addiction And The 6 Core Needs, you'll also like: Addiction for Fat Loss?
If you're yet to share the Healthification love – just click here to zip over to iTunes and leave an honest rating and review. It'd help me out big time. With gratitude, Kate.