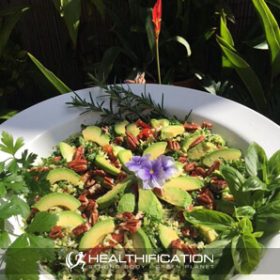 Podcast: Play in new window | Download
Subscribe: RSS
In my late 20's I did a life reset.
I quit my job and quit my flat and for a few months even quit Sydney! It was such a freeing, refreshing and empowering thing to do. I'd felt stuck, trapped and like I was living out of alignment with my values and beliefs.
The thing is the older we get the tougher it can be to hit that reset button. Can you relate? 
You accumulate responsibilities, derive comfort from routine in an often unpredictable world and perhaps become a little trapped by your identity beliefs about the person you are meant to be. That Reliable. Responsible. Rules abiding, adult type of a person.
The temptation is to seek out a little change – perhaps dip your toe in the water – and yet refrain from taking that committed leap in.
What if a simple nutritional reset could be the catalyst for a whole lot more? I believe a 3 Day Plant Based Reset can be exactly that. Here's why:
The fuel you put in your body impacts the way you look, feel and perform. And as a consequence, also your confidence and self belief. Both long term and in the immediate days, hours and minutes after consumption.
It's also the single most impactful decision an individual can make so far as NOT contributing to the extreme cruelty and undeniable environmental devastation caused by unsustainable animal agriculture. 
It encourages you to get really clear on your beliefs and priorities. Why? Well because people will ask you WHY you're doing it. Constantly.
It's also an opportunity to step out of your comfort zone and explore both the opinions of those you can easily relate to and much more importantly the opposing opinions of people who experience the world vastly differently. At least that's been my experience. As lovely, kind, genuine people I respect question my beliefs, priorities and decision making process I feel compelled to really dig in and explore ALL sides of the opinion spectrum. 
I don't want to be that judgemental, preachy, emotional vegan chick confirming peoples stereotypes. 
I have a point to prove: That you can be a fit, strong, healthy, openminded, NON JUDGEMENTAL yet super-crazy-passionate and effective vegan chick powerfully busting through those unhelpful old steno types. 
With that in mind let's cover 3 steps to an effective 3 Day Plant Based Reset AND of course I have you covered with the recipes too. It took me 25 years to transition from a meat eater to a happy, healthy, non-judgemental Vegan! You can do it in just 3 days with my simplified 'easy vegan' plan! 
Grab the FREE 16 page eBook: 3 Day Easy Vegan Plan here:
Step One: Reset.
Irrespective of where YOU fit on the meat eating, vego or plant based spectrum:
I imagine there's room to ditch a few less than ideal habits and in their place create a few new healthy habits? (please know this somewhat blunt assertion comes from a place of camaraderie… as I certainly have components of my plant based diet that could do with a reset!)
The reason I'm suggesting a 3 Day Plant Based Reset is it's super achievable. If you've ever set yourself a huge goal that initially seemed exciting and quickly became daunting then starting with an easy win is a great way to banish that lurking feeling of self doubt you might have left over from the last time.
It also gives you a hard start and end date – well once you decide it does – so you're not at the result ruining, complacency creating mercy of that old line "I'll do it next month / when the calendar clears a bit / when life's not so crazy…"
=> So the action step here is to decide YOUR hard start and end date.
Step Two: Re-energize.
I'm yet to meet the person who wouldn't like more energy.
Aside from overhauling your sleep routine, a simple nutritional reset has got to yield the greatest leverage so far as compounded energy and efficiency returns.
=> Your next action step is to utilize the extra energy you'll start to feel in this 3 Day Plant Based Reset and commit to ONE thing that you know would be beneficial to work into your exercise regime. 
Most people I know have a general idea of what this might be for them. You've been round long enough to know what's worked for you in the past. What you can grow to enjoy. Also what you'll always hate and as such should likely avoid. Some examples might be:
Getting off the bus to walk all (or part) of the way to or from (or both!) work.
Committing to a weekly group exercise session or team sport.
Making one social catch up each week a walking / active catch up.
Temptation bundling by relegating your fav podcast listening to only while you're exercising.
Do a quick 5-10 minute body weight workout each day (I have you covered via video with these in the eBook: 3 Day Easy Vegan Plan)
Step Three: Review and Refine.
One of the limitless awesome things about plant based eating is that it gets easier every day.
As the fastest growing social justice movement globally your choices are constantly getting broadened and improved. Gone are the days of bland, boring and socially shunned. In fact each week I have friends and clients sharing with me their new found interest in eating plant based.
Over 3 days you'll get an idea of what might be sustainable for you long term,
You'll love some of the recipes I share more than others. You might have a recipe win of your own and maybe a recipe flop too! You start to see what makes a delicious, satisfying plant based meal. And you'll get an awareness of the planning and prepping time you're up for if you what to make this lifestyle work long term.
HINT: it takes no longer and costs no more to prep the plant based food that lets you create a fit, strong, healthy, energized body than it takes and costs to do the same using animal products. 
To make your review and refine process easier you might want to follow the Continue : Stop : Start format.
Decide on 3 things to CONTINUE that worked really well over your 3 Day Plant Based Reset. 
Perhaps smoothies for breakfast. (like The Funky Monkey from the 3 Day Easy Vegan Plan!) | Maybe swapping your Whey Protein Powder for a plant based alternative. (I LOVE Prana especially the Himalayan Salted Caramel) | Possibly ditching dairy for alternatives like almond milk, sun-dried tomato cashew cheese and kale pecan pesto.
Decide on 3 things to STOP that didn't work well over your 3 Day Plant Based Reset.
Perhaps making a new lunch and dinner recipe every single day. Maybe eating excessive amounts of tempting trigger foods like roasted nuts (I roll with a running tally so I know my quota for the week and when I go over one day it comes off the next or the next days quota). Possibly attending your regular cafes and restaurants where you're in the habit or ordering animal products (as I mentioned, daily your choices are broadening however it might mean checking out some new venues).
Decide on 3 things to START that might work well into the future.
Perhaps a weekly shop. Maybe meal prep on Sunday. Possibly ringing ahead before dining out to inquire about vegan options on the menu.
=> To get actionable today I'd like to help keep you accountable to this 3 Day Plant Based Reset. 
When you grab the FREE eBook: 3 Day Easy Vegan Plan hit REPLY to the welcome email I send you in which I ask: Do you have a biggest sticking point holding you back from trying a primarily vegan / plant based lifestyle? Let me know and I'll do my best to help you work through it.
That's it for this week in Healthification. Huge gratitude to YOU for sharing this week with me.
Till next time, remember Creating a body and life you love is Freedom. (If this ex-carb queen, NON-genetically gifted, naturally uncoordinated VEGAN-chick can do it – so can YOU!!!)
If you liked 3 Day Plant Based Reset you'll also like:  4 Plant Based Eating Travel Tips.
If you're yet to share the Healthification love – just click here to zip over to iTunes and leave an honest rating and review. It'd help me out big time. With gratitude, Kate.