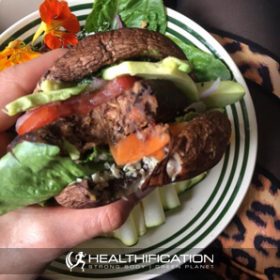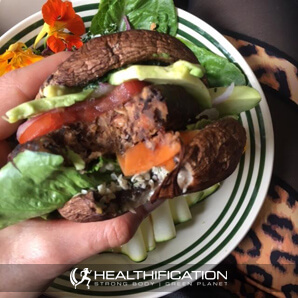 Podcast: Play in new window | Download
Subscribe: RSS
In recent weeks since volunteering with the amazing animal rights organisation Anonymous for the Voiceless, I've been fortunate to have a lot more conversations with people about Veganism.
It's been heartening to realize that most of the people I encounter are genuinely shocked at the conditions our animals used for meat, dairy and eggs suffer here in Australia and indeed all around the world. 
I get it. When you're still perpetuating the cycle of animals bring breed into existence purely for their value as food you want to believe those animals lead a decent life and experience a humane death. Personally I needed help to make the connection that: "There is no humane way to kill someone who doesn't want to die". Once it was pointed out to me, it deeply resonated.
Equally heartening is that the super vast majority of people I've been chatting to tell me they do not believe we need to eat animal products to be healthy. That really is huge progress in the fight to bust the myth that vegans are weak and sickly.
So if most of us agree the state of animal agriculture is horrifically unacceptable and also that we can be fit, strong and healthy without animal products then where is the sticking point maintaining people's habitual consumption of animal products?
I would say mostly it's taste and convenience. 
With that in mind, and my expertise as both a lazy cook and a fussy eater today I want to share some simple yet delicious and throw-togetherable (!) plant strong meals on mass. Today,
How To Turn 3 Vegan Supermarket Staples Into 9 Plant Strong Meals.
Before we get rolling here are 3 criteria I will meet for every meal. 
A) Able to be made on mass…because who wants to cook more than we must?
B) Bountiful in macro and micronutrients…because we have a point to prove that vegans can be fit, strong, energized and uber healthy!
C) Carb flexible… by that I mean you can make them work for your body building buddy who's in a bulking phase orall the low carb ladies in your life (andcarb conscious gents… I'm just all about the alliteration!)
Vegan Supermarket Staple One: The Plant Based Burger. 
My current fav is a black bean and beetroot burger by Bean Supreme. Per burger it has 5.7 grams of protein, 4.2 grams of fat and 13.8 of carbs. The fat and carbs are fine – I like to add a little protein to this meal.
Plant strong meal one: Portobello cap burger. 
You'll need 2 portobello cap mushrooms to use instead of bread buns. One plant based burger. Some dairy free pesto (now available at many supermarkets or simple make you own – my go to recipe is free in my 3 Day Easy Vegan Plan). Plus ALL the fillings! I like: tomato, baby spinach, grated carrot, red onion and when I can be bothered some grilled eggplant and red capsicum.
For the carb conscious, serve this with 1/2 a bunch of kale or 250 grams of brussel crisps made by baking the crisps with 1 teaspoon of coconut oil, 1/2 teaspoon of salt and 1 heaped tablespoon of nutritional yeast for B12 and an extra 3-4 grams of protein.
For the carb loader, add some baked sweet potato wedges to the meal.
Plant strong meal two: Burger bowl.
Anything goes here! Let's start with a bed of greens like spinach and rocket and one plant based burger. Some tahini or tahini based dressing for the burger. Plus ALL the extras! I like: a substantial veg like baked broccoli, cauli or asparagus, grated beetroot and carrot, edamame beans, dulse leaves (it's a red seaweed), avocado, one tablespoon each of hemp seeds and pumpkin seeds + either some hummus or coconut yoghurt to dress the greens.
For the carb loader, add some vegan hasselback potatoes to the meal. Here's a link to a delicious recipe that flavours your spuds with: chives, parsley, flaky salt, smoked paprika and nutritional yeast 'parmesan'.
Plant strong meal three: Burger pasta!
What is burger pasta?! A quick and easy option where you cut your plant based burger into little no-meat-meat-balls (or cubes as it may be!) to top your pasta. For the carb conscious start with spiralised zucchini instead of pasta, cooked in a fry pan with a little coconut oil and himalayan salt. For the carb loader either turn to your fav egg free pasta or if you're looking to cut the refined stuff, try spiralised sweet potato cooked in a fry pan with a little coconut oil and either himalayan salt or a combo of cinnamon and sage.
Your sauce options are limitless. There's basic tomato, perhaps with: olive oil, garlic, onion, zucchini, eggplant, canned tomatoes and lots of fresh herbs. However, I'm more a fan of creamy avocado made by simply blending: 1/2 cup macadamia nuts, 1/2 avocado, 1 jar of artichoke hearts drained, 1 tablespoon of dairy free basil pesto, 1 teaspoons garlic powder, 1/2 teaspoon onion powder, juice of 1 lemon (around 1/4 cup), sea salt and black pepper to taste.
Gently heat your sauce of choice and then toss your pasta of choice through it before topping with cooked and cubed burger balls and finishing with a tablespoon of hemp seeds for omega's 3's and an extra 5 grams of protein.
Vegan Supermarket Staple Two: Marinated Tofu or Tempeh. 
My preference is tempeh. Although it's still made from soy beans, it has a higher protein content than tofu and the fermentation process means its nutrients are more digestible and bioavailable.
Plant strong meal four: Tempeh skewers.
Use your fav veg for this meal and if you want to get all fancy thick sticks of rosemary make amazing skewers! My veg of choice to go with the marinated tempeh are: button mushrooms, red, green and yellow capsicum, zucchini and red onion that I cook a little before skewering with the rest. BBQ is the best cooking method however I've also baked them at a high heat on a tray with baking paper.
Top with satay sauce or for the lazy (like me) cashew, almond and brazil butter (bought from the health food section of the supermarket). I add a tablespoon of hemp seeds too. I like A LOT of green in my meals so I'd also serve this with a broccoli steak or bunch of broccolini (ideally BBQ'd) and for the carb loader a bed of rice or couscous.
Plant strong meal five: Tempeh nachos.
I'm a fan of nachos made using a combo of kale crisps and cos lettuce for the nachos. I also use my go 2 cashew sun-dried tomato cheese (recipe in Day 2 dinner at the link) which you can make on mass and freeze in portions however you could buy a vegan cheese. Toppings are limitless however my favs are: cherry tomatoes, sweet corn, red onion, coriander and heaps of avocado.
Now for the tempeh mince. This is not my recipe, it's curtesy of 'I'm a little vegan' and here it is: Blitz the first 6 ingredients in a food processor to form a crumb like consistency: 1 punnet of mushrooms, 1 onion, half a packet of tempeh, 2 cloves of garlic, handful of mixed nuts, handful of sun-dried tomatoes.
Next add the mixture to a heated pan and sauté for 10 min. Add a can of chopped tomatoes. Bring back to the boil reduce and leave to simmer. Season with basil, oregano, salt, pepper, chilli flakes.
For the carb loader I'm not going to recommend regular nacho's however a combo of cos leaves (for the freshness) and sweet potato chips are a good option.
Plant strong meal six: Tempeh sushi.
Your options are limitless with sushi. I use cauli-rice to keep it low carb however if you're the carb loader you can substitute regular rice.
Start with, 4 Nori sheets, 1/4 of a cauliflower head, 1/4 teaspoon himalayan salt, 1/4 of a fresh lime, 2 tablespoons of nutritional yeast.
To make rice either pulse cauli in food processor till rice like or steam/microwave until soft and mash with a potato masher. Add nutritional yeast, salt, lime and mix well. Place 4 nori sheets (one at a time) on a damp cutting board and spread upper middle of each sheet with 1/4 of rice mix. Add/layer fillings as desired (details to follow). Sprinkle each sheet with 1/2 tablespoon of hemp seeds. Fold over the top of the nori and roll. Use a very sharp knife to slice in rolls.
Filling, 1/2 packet marinated tempeh sliced thinly, baked eggplant slices cooked with chili, smoked paprika and coconut oil, 1/2 a sweet potato baked with a sprinkle of cinnamon and mashed with fork (skin removed), 1/2 a small avocado sliced, a grated zucchini tossed with 1 teaspoon of spirulina, 2 tablespoons of hemp seeds, 8-12 sun-dried tomato halves finely chopped.
Vegan Supermarket Staple Three: Falafel. 
Falafel are so versatile and delicious. Baking them is a fab way to reduce the fat. Half the time I'll buy them from the supermarket/farmers market and bake them and half the time I'll indulge with the fried version from my amazing local probiotic-rich, gluten-free, Vegan South Indian street food cafe!
Plant strong meal seven: Falafel tacos.
To cut refined carbs I use Cos lettuce leaves and cabbage leaves for the taco shells.
Beyond your lovely falafel here are some toppings suggestions: Coconut yoghurt (1 tablespoon per Taco). Sliced green, red and yellow capsicum, red onion, spring onion, coriander (or your herb of choice), red cabbage. Grated carrot. Sliced avocado. Plus a tablespoon of hemp (or other) seeds per person.
To assemble: Arrange cos and cabbage taco shells on a big plate. I used 3 large leaves of each (a cos sitting on top of a cabbage – it's going to be messy regardless though!) plus extra for decorating. First line your tacos with sliced capsicum, cabbage and carrot. Then pop in the heated falafel. Now add a tablespoon of coconut yoghurt to each taco. It'll hold in place your avocado, red onion, spring onion, coriander and hemp seeds.
For the carb loader, again I'm not going to recommend regular tacos however you could turn this into a sandwich instead by using a quality seedy bread (I LOVE Bakers Delight cape-seed rolls and Yes, they are Vegan!) or you could serve it with sweet corn or sweet potato.
Plant strong meal eight: Falafel bowl.
Like the burger bowl, anything goes here! Let's start with a mound of my cauli-kale tabouli (protein pimped with hemp + pumpkins seeds + nutritional yeast. The recipe is free in my 3 Day Easy Vegan Plan) and 2-3 big or 4-6 small falafel. Plus ALL the extras! I like: grated beetroot and carrot, tomato, cucumber, avocado + either some hummus or coconut yoghurt to dress.
For the carb loader, add 1/2 a baked sweet potato to the meal with optional tahini or nut butter dressing.
Plant strong meal nine: Falafel pizza.
Your pizza base in this meal is 1/2 an eggplant pre-baked with a little coconut oil, chili and your herbs of choice. The carb loader might want to stick with a regular pizza base or to keep it whole food based, your huge baked spud of choice.
I like vegan pesto as a pizza base spread however tomato paste or beetroot hummus are other great options. Next add some char grilled capsicum, peels of raw zucchini, thinly sliced button mushrooms and red onion. Crown with your falafel and sprinkle with hemps seeds before finishing with either a dressing of tahini or some bought vegan cheese or my sun-dried tomato cashew cheese. Bake till zucchini, mushrooms and red onion are cooked and rest is reheated.
As we draw to the end of todays show, I'd love to know – what is your fav Vegan Supermarket Staple that can be easily transformed into a plant Plant Strong Meal? Please let me know via the comments or if you're a fan of Instagram I'm @strongbodygreenplanet.
That's it for this week in Healthification. Huge thanks for sharing this week with me.
The Healthification podcast is proudly bought to you by my FREE 'Easy Vegan' plan. It took me 25 years to transition from a meat eater to a happy, healthy, non-judgemental Vegan! You can do it in just 3 days with  my simplified 'easy vegan' plan!  Get the fit, strong, and healthy plant based body you deserve… while avoiding ALL the mistakes I made along the way!
Till next time, remember Creating a body and life you love is Freedom. (If this ex-carb queen, NON-genetically gifted, naturally uncoordinated VEGAN-chick can do it – so can YOU!!!)
If you liked 'How To Turn 3 Vegan Supermarket Staples Into 9 Plant Strong Meals' you'll also like: 6 Things I Wish I Knew Before Making The Switch To 100% Plant Based Eating.
If you're yet to share the Healthification love – just click here to zip over to iTunes and leave an honest rating and review. It'd help me out big time. With gratitude, Kate.