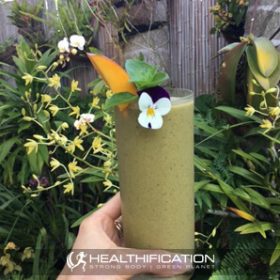 Podcast: Play in new window | Download
Subscribe: RSS
Todays show is for my fellow emotional eaters.
Recently a dear client exclaimed: "This seems like the hardest thing in the world for me right now!" and "I feel like such a failure." 
I did my best to convey empathy in my tone as I knew my words were harsh yet true when I countered: "How good would that be if this was the hardest thing in the world?" I continued "because this is in fact one of the few things you have absolute control over… even if it doesn't feel that way right now."
For those of you who might feel at the mercy of your sugar cravings. Perhaps that sugar is the one reliable, accessible, cost effective treat / reward / comfort in your life. That it's always there to turn to in times of uncertainty, stress, sadness, exhaustion or any other feeling you try to escape rather than confront. Please know as an ex Carb Queen I'm also very much an ex Sugar Queen.
Today I'm sharing,
6 Steps To Quit Sugar For Good. 
These are the steps I still rely on daily to ensure I don't let sugar stick it's grubby little mitts into my headspace again. The first couple of steps are about creating a winning mindset so far as your relationship with sugar. The next three steps are more about implementing the habits to make quitting sugar for good as easy and sustainable as possible.
Step one: Get Clear On Your WHY?
You've heard this before in relation to any goal I'm sure, however if you're yet to get crystal clear on WHY you want to break up with sugar for good then I'd ask: "How's the current strategy working for you?"
Likely it's not working for you. Not long term. Sure, in the short term demolishing sugar has a fleeting gain. It might be a temporary distraction or reward (more on this soon). Long term your only gains are in size, discomfort and self loathing.
A couple of tips on your why:
First, it must be about your desired outcome and lifestyle NOT about what society deems goal worthy.
Next, it's going to be much more potent if it's aligned with your personal values and identity beliefs. 
Step two: Build The Pain (of not taking action) and The Pleasure (of taking action).
You might be more motivated by pain or by pleasure however it's worth having both working to your advantage.
So far as not taking action, it's important to realise with health inaction does not allow you to merely stay the same. Mildly dissatisfied. It'll get worse. In 6 months time imagine how your body and life will look if you're still at the mercy of sugar?
In 12 months time?
In 3 years time? If, in 3 years time your default response when you're stressed, tired, bored, sad or confronting any uncomfortable emotion or situation is to try and block it out and escape with a sugar fix how will life look? Aside from the detriment to your health, confidence and energy as I mentioned earlier using sugar as a temporary distraction or reward means you don't deal with the real issue.
Whether that's loneliness. Lack of purpose. Or potentially that you've backed yourself into a position where you constantly say Yes to everyone except YOU and sugar is (or you perceive it to be) your only reward.
Once you've dug in with pain it's time to build the pleasure. In the same way that letting yourself down and resorting to sugar makes you feel rubbish the second you're finished demolishing… every single day, every single meal you choose the foods that support and nourish your body. The foods that give you energy and are aligned with your goals is a day and a meal where you get to think "Go me! I did this. I'm proving to myself how important this is to me. I'm making progress."
Short term, when assessing a "do I, don't I?" sugar decision ask yourself: "How will I feel after I've eaten it?"
Longer term in 6 months, 12 months, 3 years time imagine how your body and life will look. How much more energy and mind space you'll have for more important things when sugar just isn't a factor in your life? When you feel in control of your food choices and in control of your health.
Step three: Find Your Simple Sugar Switches (that you LOVE).
This is my favourite bit! It's essential because it means you're focusing on what you can still enjoy and not on restriction. Quality fuel over empty valueless calories.
It's important to note that while you're still consuming sugar regularly some whole food high value switches won't taste as good. Yet. Your tastebuds have been numbed by high sugar, processed foods and won't be a good at detecting the simple sweetness of fruit and even veggies. That's one of the many reasons why I'm more a fan of elimination rather than moderation. I'm all about making it easier on you (and me!). Here are a few examples however it's essential to find what works for you:
Obvious sugar switches: 
=> Switch that mid arvo biscuit or chocolate bar for a handful of nuts or a sliced apple spread thick with nut or seed butter.
=> Switch a sugary and refined dessert for something a little less processed yet still delicious and nutritious like banana nice-cream made simple by blending a frozen banana with a scoop of your fav plant based protein powder (my fav is Himalayan Salted Caramel by Prana) and topped with your fav nuts, seeds, berries.
=> Switch the sugary cereal for oats or a green smoothie with plenty of veg, some fat and protein as well as fruit for sweetness. My fav is The Funky Monkey which is the Day 1 breakfast in my 3 Day Easy Vegan Plan.
It includes:
handful ofSpinach
1/2 a small Zucchini
1 tablespoon Hemp Seeds
30 grams Raw Cashews
1/4 Mango
200 mils Unsweetened Almond Milk
1 scoop Vegan Chocolate Protein Powder (did I say I LOVE Prana?!)
a date to sweeten.
Sneaky sugar switches:  
=> Switch store bought sauces, chutneys and dips for home made versions. These are easy to make on mass and then you're in control of both the needless sugar you eliminate and the satisfying protein you add. For example: hemp seeds in your hummus or nutritional yeast in your pesto.
=> Switches sweetened plant milks for unsweetened. It really is amazing how rapidly your taste-buds will get used to it. If you were ever a coke drinker and then switched to diet you'll know what I mean (not that I recommend either!). While we're talking plant milks please ensure you choose one that has been fortified with calcium. They don't cost any more or taste any different and they have at least as much calcium per serve as baby cows milk.
=> Switch that healthy vegan treat – the muffin, the breakfast bar, the donut, yoghurt or carob coated dried fruit for a more whole food option that will be more satisfying and less more'ish. My go 2 is cheesy, salty kale crisps made with:
1/2 a bunch of kale
1 teaspoon of coconut oil
1/2 a teaspoon of himalayan salt
1 heaped tablespoon of nutritional yeast.
To be clear I'm a huge fan of vegan treats however not as an every day occurrence that fuels your sugar addiction. It's more something you plan to have once in a while and enjoy guilt free rather than something you mindlessly demolish because: "It's vegan or it's from a health food store so it must be healthy!"
Step four: Be Ruthless With What You Let Into The House. 
Once you admit "if it's in the house it'll get eaten" and adjust your actions accordingly you're going to make it A LOT easier on yourself. I know, we should be able to ignore the foods that aren't aligned with our goals however:
First, does history prove that to be the case? Or is your history full of multiple packets of crunchy nut cornflakes, cartons of yoghurt or other sugary treats that were demolishing in a single sitting like mine?
Next, do you really have the unlimited daily discipline to waste it on something like this that is completely within your control? I know my daily discipline is limited and also that there a a fair few things (and people!) beyond my control that'll test it so why make it harder than it needs to be?
Some simple guidelines might be:
=> buy only the quality you're happy to consume today of any given treat / sugary food so you're not tempted by trigger foods living at home.
=> buy only the sweet foods you personally find least appealing for those in the household who still wish to consume them.
=> when entertaining send lethal leftovers home with your guests or give them to your neighbours.
Step five: Be Comfortable With Prioritising Your Health Over Etiquette. 
This is the step I didn't need however I know many people do!
If you have the sort of disordered and destructive relationship with sugar that means you'd be better off without it in your life then please know elimination is going to be an easier strategy than moderation. Sure, some people can moderate their sugar intake and it's not an issue. However if you're interested in this show that's likely not you. To be clear it's also not me! I'm not good at moderating however I'm very good at ignoring etiquette. That is, when etiquette demands I consume something simply to be polite. Or to not be the odd one out. I'm super fine with being the odd one out when my decision is aligned with my goal. That's what I want for you too.
A couple of considerations:
First, you teach people how to treat you. The first time you decline their dessert or don't partake in the chocolates they give you they might be a little disappointed. When it happens again and again they'll realise you're serious about quitting sugar for good.
Next, the person who is insistent you "have just one" or "I made this just for you" or "you're being rude and ungrateful" this is their issue not yours. Don't be swayed. You can absolutely be polite (something like) "Thank you so much that looks delicious and I really appreciate the effort you've made however I'm choosing to not eat sugar because doing so makes me unhappy long term. It's a health thing. Nothing to do with your awesome cooking."
Step six: Be Quick To Course Correct.
You know those people that just seem to stay fit, lean and healthy easily?
It's not that they find it easy. Ot have an out of control metabolism. Or are crazy disciplined. It's just that they've:
First, admitted their weakness's around certain food like sugar and out-planned those weakness's and situations.
Next, built the habit of getting straight back on plan after a slip up. Think "straight back" rather then "spiral"! 
The thing to realise when you've had a sugar slip up is that you're back on track from your very next meal.
So far as that very next meal, It's important to make it a proper meal. Built around fibrous veg, plant based protein and good fat. That's what your body deserves – so please don't be tempted to fuel the binging and restricting cycle by skipping a meal or under eating to make up for the binge.
For more ideas on yummy plant based meals that let you sculpt a fit, strong, healthy body without feeling restricted or bored or like you have to spend a heap of time in the kitchen please check out my Free 3 Day Easy Vegan Plan or check out last weeks show and blog post on: How To Turn 3 Vegan Supermarket Staples Into 9 Plant Strong Meals. I made the tempeh nachos on the weekend and it was a HUGE delicious mess!
6 Steps To Quit Sugar For Good. Step three is my FAV: Find Your Simple Sugar Switches (that you LOVE). #healthylifestyle
Click To Tweet
That's it for this week in Healthification. Big thanks to YOU for sharing this week with me.
Till next time, remember Creating a body and life you love is Freedom. (If this ex-carb queen, NON-genetically gifted, naturally uncoordinated VEGAN-chick can do it – so can YOU!!!)
If you liked '6 Steps To Quit Sugar For Good' you'll also like: Fat Fighting Transitional Foods
If you're yet to share the Healthification love – just click here to zip over to iTunes and leave an honest rating and review. It'd help me out big time. With gratitude, Kate.