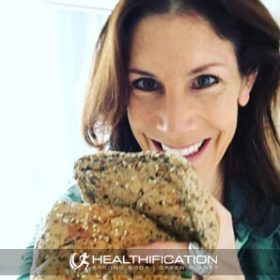 Podcast: Play in new window | Download
Subscribe: RSS
I believe you can tell a lot about a person by what either proudly resides or perhaps hides (!) in their shopping basket.
If you bumped into me in a supermarket you're likely not going to be surprised at what you see. If you listen to my podcast regularly you'd also not be surprised to hear that I often pop into the liquor store after the supermarket to replenish my supple of Shiraz or vodka!
The approach to healthy vegan eating I advocate is to ensure the vast majority of your meals are on plan, nutritious and delicious AND ALSO to include your fav vices on a weekly or even daily basis. It's absolutely possible to enjoy a little bit of vice (whatever yours is) if you also make room for the:
6 Healthy Vegan Foods That Are Always In My Shopping Basket, 
that I'm going to share today.
Now of course you don't have to include ALL of my fav healthy vegan foods however you'll see that 5/6 have something in common and it's a very important something so far as creating a fit, strong, lean and healthy body.
Let's get rolling with the 6 and then we'll get back to the very important something!
One: Leafy Greens.
Likely no surprise here right? These are one of the foods I do try to buy organic where feasible too.
I like to use leafy greens as a base for many of my meals. If you're looking to shed a little weight or even maintain a size you feel happy and healthy with then leafy greens are a great way to bulk up the size and the nutritional value of a meal without bulking up you!
Whether we're talking kale and spinach in a smoothie. Rocket, collard and cos in a salad. Or kale crisps with dinner. Leafy greens are your lean body friends!
=> With each of these healthy vegan foods I'm going to suggest an actionable step: So far as leafy green they're brilliant at helping you build a meal that is appealing to your stomachs eye. By stomachs eye, I simply mean meals that are generous, colourful and generally as fabulous to look at as they are fabulous for your body. Wherever you can, find a few leafy greens you love and add them to each of your main meals. 
Two: Cruciferous Veg.
Cruciferous super veg include everything kale, cauli, broccoli, cabbage and brussels.
They are filling, uber versatile and have a secret superpower! Cruciferous veg help even out your estrogen levels if they've gotten out of whack as a result of toxics in our environment and even in our food.
I use cruciferous veg to add a little more substance and potentially a little less carbs to my meals. Perhaps cauli-rice or cauli-kale tabouli. Baked broccoli in salads or as a broccoli steak. Kale or brussel crisps and cabbage as taco shells or wrap bases.
=> To get actionable with cruciferous veg: Do you have a regular meal that could benefit from a lower carb make over? I'll be a little more specific as on a plant based diet you've already eliminated so many of the foods that lead to inflammation, over-eating and weight gain that you'll be able to indulge in more delicious one ingredient carbs. I'm talking about substituting refined carbs like cereal, bread, tacos and pasta for your fav cruciferous veg.
Three: Mushrooms.
Mushrooms are my treat veg, by which I mean I'll pretty much buy them whatever price they happen to be.
I recommend you settle on a high value treat veg too. Mushrooms have a decent hit of zinc and also have a satisfying meaty consistency. Whether we're talking baked and added to a salad or as a pizza base or burger bun I find it tough to go even one day mushie free!
=> To get actionable here: Do you have a fav veg that just makes every meal better? Although for most of us it's unrealistic to be able to buy ALL the veg ALL the time I think there's value in picking your fav that you'll always indulge in irrespective of the cost. It's just one more step in building a mindset of abundance rather than restriction around your eating. 
Four: Avocado.
Avocado are my treat fruit, by which I mean – like mushies – I'll pretty much buy them whatever price they happen to be. When they're 2 for $9.00 (Yes, I know that's ridiculous!) I'll still indulge though certainly with smaller portion sizes.
=> To get actionable here: Do you suffer from a fat phobia that it's time to ditch? I did for at least a decade. A skinny fat, rubbish skin, low energy decade! One of the limitless awesome things about eating plant based is you cut out all the saturated fat in meat, fish, eggs and dairy AND ALSO so much zero value fat from processed foods. It'll leave you with a lot more room in your day to day eating for high quality, plant based fats like avocado, nuts and seeds. 
Five: Zucchini. 
Such a humble yet versatile and generally cost effective veg. The zucchini is an example of that veg you might have loathed as a child however it's well worth a second chance!
I'll use zucchini for spiralized noodles / pasta under my smokey eggplant curry or tempeh mince bolognese. It's also a indistinguishable veg addition to a green smoothie, vegan chili or an awesome base for a lower carb hummus. Let's not forget BBQ'd zuc which is hard to beat!
=> Which brings me to my actionable point here: When designing your vegan meals it's vital to treat your plant based foods with the same cooking respect and creativity you used to treat meat. I'm certain most of the foods we all hated as kids were cooked in a bland and boring manner. Like boiled brussels and microwaved to mush cauli and green beans.
A good quality oil, seasoning and a hot BBQ plate / grill works wonders. As does roasting till nice and crispy. Marinating and being generous with fresh herbs. 
Six: Fortified Almond Mlk.
This is one of the few processed foods that ever makes it into my shopping basket. I have a few fav brands however the non-negotiable is to ensure it's unsweetened and also that it's been fortified with calcium. You can easily find almond milk that has almost as much calcium per serve as cows milk… without the cruelty. 
=> To get actionable here: Did you try a plant based dairy alternative in the past that you really didn't rate? Your options have truely improved in recent times and I urge you to try again! I used to hated the yoghurts and cheeses and I've certainly tried some horrible almond milks. However, now I've found delicious vegan alternatives for all the old dairy foods I used to indulge in.
I genuinely believe it's not that my taste buds have adjusted it's just that with time and increasing demand suppliers of plant based alternatives have gotten better at creating deliciousness!
Now what about protein you might be asking?
Well aside from the naturally occurring protein in these plant foods my plant based proteins tend to be things I only need to stock up on every few weeks. I do always tend to have all of them on hand. Here's a list of healthy vegan proteins I wouldn't be caught without:
Plant based protein powder, hemp and chia seeds. Pumpkin seeds and tahini. 
Cashews and macadamias (in complete transparency these live at work not home as they are trigger foods and I'd demolish a weeks worth in a sitting if they lived at home!) almonds and pecans (more resistible!).
Spirulina, dulse flakes and nutritional yeast. 
On occasion: tempeh, chick peas, quinoa and other legumes. 
This delicious and versatile line up of plant based goodness easily lets me exceed 100 grams of protein a day which is more than enough even for someone who exercises daily and like to maintain a decent amount of lean muscle mass.
Have you guessed the 'very important something' 5/6 of these healthy vegan foods have in common? They are ONE INGREDIENT whole foods. 
There's nothing so special about my five. You have literally 100's of one ingredient whole foods to pick from when filling your shopping basket.
Not surprisingly, 5/6 equates to just over 80% and I'd recommend that as a good marker so far as how much processed food you let into your house and into your stomach! 80% (or more) whole foods. 20% (or less) processed foods.
I'd go even a step further and ask that the super-vast-majority of the time you include a processed food it has nutritional value to your body. Consuming low value nutritionally void foods really just feeds the food addiction cycle. It will create cravings for more of the same and in doing so nudge out the higher value foods that would fight your cravings. Your body never needs sugar (as much as I agree it can FEEL like a need!). What your body needs is a variety of micronutrients found in all the one ingredient goodness the plant kingdom provides for us.
Some of my higher value processed foods include:
Fortified Almond Milk (for it's calcium).
Plant Based Protein Powder (for it's protein). 
Nutritional Yeast (for it's B12) 
Cape-seed rolls for…well I won't lie to you, I include these as a bit of a vice purely for food JOY! I knew they had a decent hit of protein (12.8 grams per roll) and I eat 2 rolls twice a week however WOW, I just checked the Bakers Delight website and these little balls of deliciousness also include almost 100% of your daily IRON requirements for my 2 roll serve plus decent amounts of zinc and calcium.
To get actionable today: What are the foods that are always in your shopping basket? Are they primarily one ingredient whole foods? Or are they potentially fuelling a food addiction and craving causing cycle?
If the way you're currently eating is working for you, so far as energy, body composition, strength and FOOD JOY (!) then all good that rocks! If  you're not happy with your current results then I'd recommend ONE processed food to whole food swap a week until you either start to see the results you're seeking or you reach that 80% whole foods and 20% processed foods guideline.
Here's to HUGE, delicious, nutritious, healthy vegan meals and the results they let us enjoy!
For more ideas on yummy plant based meals that let you sculpt a fit, strong, healthy body without feeling restricted or bored or like you have to spend a heap of time in the kitchen please check out my Free 3 Day Easy Vegan Plan or check out show / blog post 512 on: How To Turn 3 Vegan Supermarket Staples Into 9 Plant Strong Meals. 
That's it for this week in Healthification. Big thanks to YOU for sharing this week with me.
Till next time, remember Creating a body and life you love is Freedom. (If this ex-carb queen, NON-genetically gifted, naturally uncoordinated VEGAN-chick can do it – so can YOU!!!)
If you liked '6 Healthy Vegan Foods That Are Always In My Shopping Basket' you'll also like: 7 Myths About A Plant Based Diet (Part 1).
If you're yet to share the Healthification love – just click here to zip over to iTunes and leave an honest rating and review. It'd help me out big time. With gratitude, Kate.