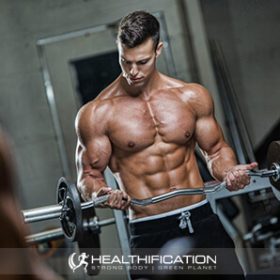 Podcast: Play in new window | Download
Subscribe: RSS
[JUNE 2020 UPDATE Regarding Jon Venus No Longer Vegan]
For now I will leave this post / podcast up although I'm so HUGELY disappointed to hear Jon is no longer vegan. When I spoke to Jon I found him to be a lovely, genuine individual. I'm sure he's a nice guy. I wish Jon, Kathrine and Noah all the very best. Yet I no longer think Jon is genuine and I no longer have ANY respect for him. The more I listen to him the less sense he makes trying to explain his decision. I'd rather spend my time listening to individuals who lead with Love, Compassion and Integrity. I recommend we all spend our energy spreading Love not Hate, so maybe skip this interview and check out my chats with true vegan athletes like Fiona Oakes, Torre Washington or Dotsie Bausch instead. Big Love.
My guest today was on my guest wish-list for a long time. Jon Venus is a strong voice for the animals and a valuable role model for the next generation of happy healthy #plantstrong boys and girls.
I was super happy to discover him on social media when I first made the decision to become vegan. As one of the earliest prominent vegan bodybuilders Jon was proof that all those comments I was hearing: "goodbye lean muscle mass!" were total rubbish.
And then, earlier this year just before I approached Jon to see if he'd come on the podcast he uploaded a video to his hundreds of thousands of YouTube fans where he shared he was no longer identifying as Vegan because of all the hate that vegans were dishing out to Ex-vegans. To be clear Jon never changed his vegan lifestyle – I guess he just didn't want to be associated with the hate and the judgement. 
WOW did he then cop some serious hate and judgement.
I'll admit I was disappointed. I held back my interview request however I made a point to follow him more closely in the hope that he'd start using the "V" word again. And he did. It didn't take long at all. I'm sharing all this because to my activist friends I want you to know that Jon is and has never stopped being an amazing voice for the vegan movement. He uploaded a video in a time when his state of mind was "frustrated, angry and sad" after a period of months of being unable to train because of a back injury.
None of us are perfect and all of us make mistakes however most of us don't have 100,000's of people watching and judging our every move. I think the true character of an individual is demonstrated by how they handle the struggle-street times. I have nothing but enormous respect for the way Jon conducts himself.
If you look at the highlight reel of Jon's life you might think he has it easy. He's an undeniably good looking gent with an amazing physique, a beautiful wife Kathrine and a gorgeous little boy Noah. However there's so much more to him than that.
I loved this chat. Jon is such a truly genuine individual and I'm so very grateful to have him advocating for a healthy vegan lifestyle. He's advocating for the animals. Always has been. Always will be.
Let's chat with
Vegan Bodybuilder Jon Venus About Leading With Compassion As A Fit, Strong, Healthy Vegan….
In this interview we discuss:
Masculinity and veganism. What would Jon say to the young man who is concerned with how his masculinity will be judged.
Jon had a social media presence as a meat eating bodybuilder prior to going vegan. Was he fearful at the impact the lifestyle change might have on his physique and even his following?
The importance of being fit, strong, healthy and happy as a powerful form of advocacy for a vegan lifestyle.
The pressure to stay in shape despite injury.
How does Jon hope the world looks when his son Noah is his age.
What one habit are Jon is yet to succeed in sticking to that he would love to have as a regular part of his routine.
We talk FOOD!
What surprised Jon about the way you need to fuel your body as a vegan bodybuilder.
What's Jon's fav quick G2Meal when cutting. When bulking. Cheat meal.
What are 5 things that are always in Jon's fridge / freezer / pantry.
What an inspiring gent right?
While doing my research for todays chat I watched a lot of Jon's You Tube video's (check him out via Jon Venus on YouTube) and listened to many of his podcast episodes (that's Jon Venus Podcast on iTunes) so I knew this chat would be an absolute joy.
In an industry that can be so dominated by ego – HUGE EGO – I really appreciate a fitness professional who shows true strength is not in the size of your muscles or how much weight you can throw around a gym. True strength to my mind, is shown by your ability to stand up for what you believe in irrespective of whether it's the easy or conventional path and to have the courage to show compassion for those weaker than you.
To all those meat heads (who surely are not listening to my little podcast!) Might does not equal right!
For some awesome, practical healthy meal prep ideas and entertaining What I Eat In A Day videos I really recommend you check out Jon Venus on You Tube.
If you're more of a podcast fan, and I guess you are if you're listening to me (!) then I especially recommend a series of podcasts Jon does with his younger brother Leo Venus who is currently in his final year as a medical student. Soon to be MD Leo, discuss' whether a Plant Based Diet has been shown to be optimal for human health, debunks the carnivore diet and shares why and how doctors typically have little nutritional knowledge.
For Online Coaching and Meal Plans check out: http://www.jonvenus.com
Connect with Vegan Bodybuilder Jon Venus via the socials:
That's it for this week in Healthification. I have plenty more fabulous guests lined up over the coming weeks and if you're enjoying these chats I'd really super appreciate it if you'd please share this podcast with someone you think would find value in it. Reach within iTunes and across the other platforms is pretty tough for a stand alone show like this. I feel like a needle in a million haystacks!
I'd love more people to be able to benefit from the wisdom my amazing guests share. You can really help me achieve that by sharing the show (verbally, by text / email or via social media) or by rating and reviewing it. It takes a couple of minutes and it means so much to me. Like it genuinely makes my day. I want to be able to commit more time to this show – there's genuinely nothing I love more than having these conversations and sharing them with you.
Huge thanks to YOU for sharing this week with me. You rock and I appreciate your support!
The Healthification podcast is proudly bought to you by my FREE 'Easy Vegan' plan. It took me 25 years to transition from a meat eater to a happy, healthy Vegan! You can do it in just 3 days with my simplified 'easy vegan' plan!  Get the fit, strong, and healthy plant based body you deserve… while avoiding ALL the mistakes I made along the way!
Till next time, remember Creating a body and life you love is Freedom. (If this ex-carb queen, non genetically gifted, naturally uncoordinated vegan chick can do it – so can YOU!!!)
If you liked "Vegan Bodybuilder Jon Venus Is Leading With Compassion As A Fit, Strong, Healthy Vegan" you'll also like: 6 Step System To Becoming Vegan and Living A Healthy Vegan Lifestyle Long Term.
If you're yet to share the Healthification love – just click here to zip over to iTunes and leave an honest rating and review. It'd help me out big time. With gratitude, Kate.