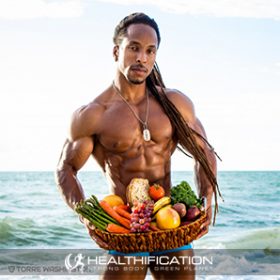 Podcast: Play in new window | Download
Subscribe: RSS
My guest today is an IFBB Pro bodybuilder and although his accomplishments in the world of bodybuilding are impressive, there's so much more to this gent and this chat that is applicable to all of us who will never step on stage!
Torre Washington was raised vegetarian and has been vegan since 1998. After first competing in 2009 and placing third, Torre's second show within the next 6 months saw him not only win his class of 16 men, but also win overall and grab his first of several Pro cards. Back then especially it wasn't common for a vegan to be a pro bodybuilder, however as Torre so convincingly demonstrates it's abundantly possible to build the #plantstrong physique necessary to compete and win in any event.
Perhaps it's even an advantage to build your body on plants. 
In this wide ranging chat I ask Torre when he came to embrace being different rather than trying to fit in, how he remains so impressively chill (!) and we discuss mental strength and the lessons from bodybuilding that are applicable to everyday life and success.
Plus so much more. Let's chat with
Torre Washington about Thriving On Plants as a Vegan Bodybuilder.
In this chat we cover:
The Rastafarian way of life and ital way of eating.
Busting nutrition myths about being a strong, healthy (IFBB Pro!) vegan bodybuilder.
The importance of compassion for animals, for fellow humans and especially self compassion.
Mental strength and the lessons from bodybuilding that are applicable to everyday life and success.
Co-existing with non-vegans.
Staying in great shape while traveling. 
As you heard Torre mention that chat was not so smooth sailing to make happen and although I'm super glad we got there I know there's so much more ground we could have covered with more time.
We didn't get into the nutrition and training side of things as much as I'd planned, however do you know what, maybe that's a good thing?
Torre is known for his physique and his high profile as a vegan bodybuilder however as I hope you got a glimpse of in our short chat there's so much more to him than that.
I find it such a privilege to have these chats and to share them with you. I feel like the opportunity to connect with both the lovely, calm and chill vegans like Torre and also the lovely, hardline and more extreme vegan animal rights activists is so valuable in helping me constantly assess and reassess where I feel most congruent and aligned sitting on that chill to less chill spectrum! We all know I lean less chill right?!! I hope it's of valuable to you to get a little glimpse into all these people and all their approaches too.
As I've said before, you need ALL types of vegans to connect with ALL types of non-vegans.
Connect with Torre via his website:
Or across the socials:
Tictok:
That's it for this week in Healthification. Thank you so very must for trusting me with your time and attention today. It means a lot.
The Healthification podcast is proudly bought to you by my FREE 'Easy Vegan' plan. It took me 25 years to transition from a meat eater to a happy, healthy Vegan! You can do it in just 3 days with  my simplified 'easy vegan' plan!  Get the fit, strong, and healthy plant based body you deserve… while avoiding ALL the mistakes I made along the way!
Till next time, remember Creating a body and life you love is Freedom. (If this ex-carb queen, non genetically gifted, naturally uncoordinated vegan chick can do it – so can YOU!!!)
If you liked "Torre Washington and Thriving On Plants as a Vegan Bodybuilder." you'll also like Vegan Bodybuilder Jon Venus Is Leading With Compassion As A Fit, Strong, Healthy Vegan.