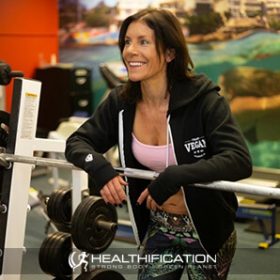 Podcast: Play in new window | Download
Subscribe: RSS
Genuine question: Do you think the person exists who always LOVES to exercise? 
You know, that natural athlete that never feels awkward, self conscious or lazy? The individual that is always more excited by the thought of "getting her sweat on" who "loves to lift" rather than lounging around on the sofa?
Although there might well be people who are more inclined to want to move and equally people who are less inclined to want to move, I'm certain each of us can either fuel or starve our exercising inclinations! I am absolutely NOT a natural exerciser. If I can get to the point where exercise is fun, a non-negotiable, a tool to keep me calm and sane (!) and YES, even a reward then I know you can too.
Today I'm covering:
What To Do When You Lose Your Exercising Mojo!
So whether you've never loved exercise or perhaps if you're battling a patch of less love right now today I have 3 key considerations to help fuel your exercising mojo and also 7 Solutions When You Just Feel Like Quitting! Let's cover those 3 key considerations first:
One: Aim for an 80 : 20, LOVE : JUST DO IT (!) ratio with your exercise.
That is, 80% of the exercising action you take should be something you Love… or could love.
And 20% of the exercising action you take is the other less fun Just Do It because it works stuff.
Some things are simply so high value that I'm never going to say don't do them. If you've been hanging with me for a while you'll know I'm referring to lifting heavy weights and some form of high intensity interval training. However if you hate weights or interval training then combine the 2 and get away with the bare minimum a week. Maybe '2' 20-30 minute sessions a week.
It's not ideal however, if it leaves you 80% of your time for something you love, something you'll stick with, something you'll give you best effort to and progress with – then it's a far superior option than aiming for the very-best-most-ideal-training-plan that you never stick with.
Two: Schedule your tough Just Do It exercising stuff for your high discipline times and make it non-negotiable.
That's interval training for me. If I leave it to tomorrow it's hanging over me. Strangely tomorrow always seems to become the day after today again! It's much easier to just make it happen at a set time, on a set day, before I've spent much of my daily discipline quota.
In reality it's usually not too incredibly hateful. Isn't it true that the worse part of something UN-fun is often the anticipation and procrastination before you take that first step?
Three: Consider that LOVE is relative… and subjective and you can LOVE something because of the results rather than the process.
I'm absolutely not only referring to long term body composition results either. Of even more value, are the day to day results you get to experience when you make both your LOVE and your Just Do It exercising action happen.
I imagine you could LOVE the way you feel after exercising for all of these reasons:
You've just created another reference point for success. Proof to YOU that your health goal is important to you. Evidence that you're backing yourself and building the habit. A likelihood that taking that same exercising action tomorrow is going to be even easier… rather than even tougher as it would be if you'd let yourself down and skipped it today.
You're that much more likely to give your body great fuel on the days that you exercise. It just seems to happen that way.
That means you're escaping the vicious cycle of NO-exercise => eat-crap-fuel => NO-exercise => eat-crap-fuel,
AND winning the victorious cycle of exercise => eat-great-fuel => exercise => eat-great-fuel.
You're calmer, more effective, more efficient, more positive and you sleep better. These are some super high value benefits that are easy to take for granted until you realise that bit by bit you've let your exercise slip and slightly-anxious, less effective, less efficient, moody-sleep-craving-YOU has started to take charge and it's not so pretty!
Or is that just me?
I'm fairly certain that if you take a look at the way you handle everything in your life when your exercising is on track you'll find you just do it all better.
Exercise (like great quality food and great quality sleep) is a results maximiser. It has a positive flow over effect in all aspects of your life.
Ok, so what if you still Just Feel Like Quitting? The 7 solutions I'm sharing are applicable to so much beyond exercise. With that in mind I want to provide a couple of caveats before we get rolling…
First: Quitting rocks when you're giving up on something that doesn't work for you. Like when I quit beer. And obviously when I quit dairy and eggs after 23 years vego.
Or even just quitting with volition an activity that has an unacceptable opportunity cost. That perhaps worked for a while and now doesn't. Like the weekly networking meetings I loved for 12 months that then became a bit of a low return on investment drag.
This show address's the quitting that you're tempted by simply because something is too hard. Or is taking too long. Or is putting you out of your comfort zone.
Second: What if instead of quitting something excruciatingly hard, time-consuming and uncomfortable you just eased off a tad? Perhaps lowered the bar slightly or took a mini break… and considered that to be an investment in your ability to continue rather than evidence you're not cut out to achieve whatever it is that you're tempted to quit?
The one thing you should 100% never, never, never give up on is your health.
Here are those 7 Solutions When You Just Feel Like Quitting.
Focus on how far you've come rather than how far you have to go.
Make a habit of this. Of consciously stopping and acknowledging the process you've made at regular intervals rather than always madly pushing for the next goal. I'm not only referring to the visual progress. For example: let's say you're a number of weeks, months, or years into your health / fat loss journey and you're not happy with the progress you're seeing.
This is a long term game. You're in your body for life. It's not just about how many kilo's you can shed or what size you can fit into… it's about the attitude and knowledge and habits you're creating that will allow you to keep that body once you create it.
Ask for and graciously accept support.
When everything comes down to you it can feel a little overwhelming. However, in the same way that I imagine it gives you pleasure to be able to help someone close to you or perhaps even assist someone you don't know so well achieve an important goal, other people will be happy to support you.
Sometimes it's a greater strength being able to put up your hand and ask for help rather than muscling through on your own and potentially reaching your breaking point rather than your goal.
I'm absolutely talking to myself with this one too! Whether you're aware of it or not everyone you see who is excelling at something has help. They are not machines that endlessly power on regardless. They have mentors to hold them accountable, advise and inspire them AND they have close friends or family to be open, honest and vulnerable with because it just isn't possible to maintain your 'A' game 24/7 without support.
Recharge with a mini break.
Sometimes I get caught up in the push – Yes, like in point one where I'm focusing only on what's next rather than celebrating what's I've already achieved however also to the point where I'm so head down tail up (I'm referring to business here however it's absolutely applicable to fat loss) that:
It can seem like life is just flying by without me.
My actions are getting less efficient and less effective.
This reminds me of the axe analogy… and the woodchopper who spends hours and hours hacking away a a tree with a blunt axe versus the woodchopper who first takes the time the sharpen his axe and then powers through his tree in no time.
Maybe hours of tedious moderate intensity cardio and punishingly restrictive low fat processed food is your blunt axe?
To sharpen the axe, swap to weights and short interval training and fuel your body with generous amounts of fibrous veg, #plantstrong protein and good fats.
Look at obstacles others have overcome and be inspired.
It doesn't take much digging to find the 10,000 hours of commitment or failure upon valuable-lesson-instilling-failure that every 'overnight success' has endured and risen beyond.
This is where it's time to choose your thoughts and beliefs with volition. There's no value in focusing how anyone may have had it easier in you. That type of poor me thinking will make you want to quit. Instead focus on reasons why you can achieve success by doing as they have.
Cultivate the belief: If someone can do it – anyone can do it.
The anti-mentor.
This is that person you really don't want to be. The QUITER. The unfit, unmotivated, soft and sluggish person. I'm sure you have one in mind. They are just as valuable as that mentor who inspires you and who is the perfect role model. In this instance you are simply doing the opposite of what they do, motivated to not get their results and not lead their life.
Never let someone know they are your anti-mentor!
Picture that thing you felt like giving up on in the past – and didn't – and remember just how awesome it felt to master that skill.
Perhaps learning a language, an instrument, a sport? If you've done it before you can do it again… and whether you choose to quit or choose to continue you're going to strengthen your ability to do either. So the compelling choice is to strengthen your ability to continue.
In support of all else remind yourself exactly WHY you are doing this?
Focus on the results and the experiences achieving your goal will allow you to enjoy in the future… ask yourself:
For what purpose do I want this?  
and, What will this mean to me and to those I love and to our ideal life?
To get actionable today I'd love to know what is the exercise that you currently OR COULD love?
Perhaps it's the exercise that you loved as a child?
In our constant strive for better and best… for faster and fastest… as we heighten the often self imposed expectations it can be easy to forget what has worked in the past. Even what has been fun in the past.
If you've been struggling to find your exercise love (mojo!) recently it's worth checking in with what exercise looked like for you before the pressure to do the best exercise took over.
That's it for today in Healthification. Huge thanks to YOU for hanging with me today. I respect your time and I appreciate your support!
The Healthification podcast is proudly bought to you by my FREE 'Easy Vegan' plan. It took me 25 years to transition from a meat eater to a happy, healthy Vegan! You can do it in just 3 days with  my simplified 'easy vegan' plan!  Get the fit, strong, and healthy plant based body you deserve… while avoiding ALL the mistakes I made along the way!
Till next time, remember Creating a body and life you love is Freedom. (If this ex-carb queen, non genetically gifted, naturally uncoordinated vegan chick can do it – so can YOU!!!)
If you liked "What To Do When You Lose Your Exercising Mojo" you'll also like How To Maximise Your Daily Eating and Exercise Discipline.
If you liked "What To Do When You Lose Your Exercising Mojo" you'll also like Vegan Lifestyle: Top 5 Discipline and Willpower Podcasts / Blogs.