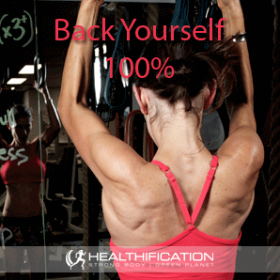 Podcast: Play in new window | Download
Subscribe: RSS
Last night as I walked home from the pub around 8.30pm the packets of roasted salted cashews and chips in the convenience store I passed were inconveniently tempting… as was the half bottle of Shiraz waiting for me at home… as was the thought of rolling over for a tad more snooze time when my alarm went off at 4.30am this morning.
However, a couple of words kept me from those snacks and ensured I cooked a quick fish and veg meal instead. Two words that made it fairly easy to down a few glasses of water and declare the Shiraz must wait for another day!
The topic for todays show: Opportunity Cost, certainly made it a no-brainer for me to bounce outta bed and be ready to rock for my first client this morning instead of choosing extra snooze time.
Every choice you make has the opportunity cost of what by default you are now missing out on.
Even the choice you don't make has an opportunity cost.
In the body gain game opportunity cost becomes a tool for success when you use it to delay gratification.
To focus on the future long term pleasure that certain actions or inactions will allow your to enjoy at the cost of the short term pain of perhaps enduring that exercise session or missing out on that fatty, salty snack you know you don't need.
Rather than cost, because I like to focus on the positive and also because I love acronyms… I look at it rather as the
OPPORTUNITY to Choose One Superior Target.
To really get our acronym on (!) today, the OPPORTUNITY to Choose One Superior Target can also be looked at so far as a S.Y.S.T.E.M.
Now I didn't invent this acronym, however I did write a 2-part blog post on how to make Save Yourself STRESS, TIME, ENERGY and MONEY applicable to body gain which I'll link to in today's show notes.
Today let's look at using opportunity cost as a tool for success in relation to ONE non-negotiable that exists in the routine of everyone who gets and stays in great shape.
That is: the commitment to plan, shop for, cook and eat great body fueling meals each week.
I'm choosing those words with volition because you will never starve, restrict or deprive your way to long term healthy happy leanness. You'll plan, shop, cook and eat your way there.
Let's get rolling with 4 keys to make opportunity cost work for YOU:
One: Save Yourself STRESS.
That's the unnecessary anxiety you inflict on yourself before you decide to demolish the entire packet of Tim-tams and also after your delicious choc biscuit binge-fest. "Does this mean I won't be able to squeeze into my fav jeans?" "Well, that's it, I'm hopeless I'll never be skinny, I might as well finish off the ice-cream too" "Why is it so much harder for me to stick to it than everyone else, I obviously don't want it enough…"
Your solution? Focus on the future pleasure taking the best eating action right now will mean you'll get to enjoy. When you turn the full force of your focus on how amazing the end result is going to be – the confidence, the energy, the never stressing about how your body looks, feels and performs then the joy of a a fleeting choc fix pales in comparision.
Two: Save Yourself TIME.
One of the most common excuses I hear in relation to not planning, shopping, cooking and eating great body fuel is time.
To which I whole-heartedly declare: Foul!
The opportunity cost of taking couple of hours out of your Sunday and a couple of hours mid-week to prioritise fuel is that you're not dashing out to line up at the cafe in the middle of your working day. Or worse skipping lunch and becoming less efficient and effective and taking 3 hours to complete the task that should take 60 minutes max when you're operating off quality energy giving fuel. OR worse yet foraging your lunch from the vending machine of craving-causing-carp-o-la-and-liquid-satan-sugar-water… that will very likely leave you feeling tired and guilty and perhaps dragging yourself off to waste some UN-fun time in cardio land.
Your solution? Decide on a couple of blocks of time each week in which you can organise your fuel basics for an ideal fat burning week to come. This is short term time you invest in advance to give you the better long term, sustainable result. Your meal planning and prep'ing is laying the foundations for a great eating week to come.
Three: Save Yourself ENERGY.
How much energy do you waste weighing up what you now need to miss out on so far as food or endure so far as exercise to make up for the ever so swift moments of food indulgence that you couldn't bring yourself to resist at the time?
One of the things I love most about focusing on primarily one ingredient foods and my Monday-Friday zero tolerance for refined carbs policy is I now never waste energy thinking "Will this make me fat?" and "Can I get away with this?."
Your solution? Flex your discipline muscle and win the short term will power challenge of declining that tempting treat – it's made so much easier when you have a pre-planned snack on hand to enjoy instead – and then you get to continue your day, week, life (!) without ever wasting energy on past eating decisions.
Four: Save Yourself MONEY.
Right up there with the time excuse is the money flag that gets waved at me with regard to eating great body fuel. I'm picturing that flag as red and it's bringing out the bull in me. It's simply not the way it has to be. Yes, you'll face some hefty charges if you expect to buy every perfect low-carb-high-protein-high-fibrous-veg-with-good-fats meal… that's why plan, shop for, and cook often need to preceed eat with your best body meals.
Your solution? As with many things opportunity cost it comes down to accepting the short term pain of perhaps paying $3 more for a vodka soda rather than a schooner of beer or maybe buying some quality nuts and seeds in bulk rather than that cheap 2 for 1 chocolate bar deal and getting to avoid the long term costs.
Before deciding great fuel is too expensive it's worth considering how much you've spent on the health solutions that haven't worked? The detox. The dietician. The gym memberships or home equipment you never used? That's the real expense.
It's also the most costly opportunity cost. Choosing the NON-solution that means you start to doubt yourself and give up on your chances of ever achieving your goal. Rather than choosing the great fuel solution that means you start to see results and gradually build your belief in your ability to get and stay in great shape.
To get actionable today let's go with this sneaky choices you don't make that still pack an opportunity cost punch.
So for example that might be:
=> the preference you don't express so far as where to eat which means you end up at someone else's preference of pizza.
=> or maybe the non-decision that you'll jump on the bus if it happens to turn up on your walk home which means your walk is considerably shorter. You're either committed to the walk or you're not.
=> possibly it's eating the food that happens to get passed around or dumped in front of you at a BBQ rather than choosing the great snack before-hand or seeking out the better options that are available for discovery on the day.
To finish todays show I'll hand over to Thomas Edison and I quote: "Opportunity is missed by most people because it is dressed in overalls and looks like work."
That's it for today. I'll be back tomorrow for the Tuesday Tucker show and: 5 Minute (One Hand!) Meals.
I hope you can join me.
If you liked this you'll also like: Reckless Weekend Eating: How Much Is It Costing YOU?
If you're yet to share the Healthification love – just click here to zip over to iTunes and leave an honest rating and review. It'd help me out big time. With gratitude, Kate.