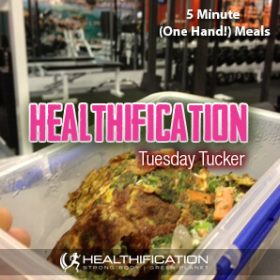 Podcast: Play in new window | Download
Subscribe: RSS
I'm a little torn between the value in covering todays topic and in contrast my disappointment that this is our reality.
I'm absolutely not immune. Shockingly I could count on one hand the number of meals I eat in a week in which I'm not also doing something else. Walking, working, waiting in line… whatever it may be I know I'm not alone so today let's cover:
5 Minute (One Hand!) Meals.
I decided to tackle the fast food can't be fabulous fuel misconception when I saw my dear mum making her lunch for work the other day. I've previously shared one of muma Galli's fav go2meals which is pretty fast and super fabulous fuel:
That's her salad of: premixed and washed baby spinach and rocket leaves, leftover steamed green veg like asparagus, snow peas and beans, avocado, tomato and a can of salmon.
Now that's a top lunch – it's quick, however it's challenging to eat on the go right?
And, sadly sometimes we are only going to be able to eat on the go.
However that doesn't mean you need to resort to the wholemeal sandwich with butter, cheddar and salami option… "Katie, lettuce goes soggy and tomato drips when I eat with one hand!" mum told me as I watched lunch prep on my recent visit home.
In all honesty, my mum has just started a new job after 10 years out of the nursing game – she's absolutely rocking it – and I couldn't be more proud of her so, I really think she's doing just fine with a short return to quick-carb-fest-lunches… however it seemed like a good topic to cover in Tuesday Tucker…
So without further a-do here are 3: 5 Minute (One Hand!) Meals
Mini Omelettes or Frittata's.
The misconception is that these are messy and time consuming. Actually they can be super quick and easy.
Here's the work-around: Throw your ingredients in a bowl the day or night before when your'e preparing your veg for lunch or dinner. Now this may be as extravagant as slicing some mushies, broccoli, red onion. Washing some baby spinach and fresh coriander. Adding some chill and smoked paprika. Or perhaps you just dump some mixed frozen veg and/or spinach cubes and dried herbs in a bowl in 10 seconds then crack a couple of eggs!
When I'm working beyond lunch time at the gym I'll often make a double omelette that morning so I have half for breakfast and half for lunch. If you're worried about egg yolk overload a couple a day is fine – I'll usually have 3 whole eggs and 3 extra whites on my double omelette days and figure it evens out the couple of days a week I don't eat omelette.
I'll also add in some extras to make it extra filling and delicious since it's getting me through lunch as well.
So for example: a tablespoon each of hemp seeds and basil pesto. A sheet of roasted seaweed. Perhaps some avocado.
Really anything goes.
So far as the one hand eating approach?
So you could get all fancy and use muffin pans to create mini omelettes. My lazy cook preference is simple to stuff as much solid ingredients as my eggs (and fry-pan) can hold and cook it for (probably a bit too long!) while I'm in the shower so that it's nice and firm (and brown enough for the boys at work to always ask: "Galli, what's that?") which also means I could easily ditch the fork I do use and eat it with one hand if pressed!
It's a not so pretty yet pretty yummy meal.
Lean Meat Roll-Ups.
The misconception here is that stodgy bread or slippery salad leaves must be your base.
Here's the work-around: Use lean meat like turkey slices as your based. Choose a substantial spread or two that have some good fats. This could be as simple as mashed avocado or perhaps a mix of hard boiled egg, avocado and chill or herbs. Or maybe hummus – better yet my zucchini hummus which I make on mass once a week and use all week. That's the way to handle your hard boiled eggs too – once a week on mass. Back to that roll up, you've got your meat, your spread or 2 now all you need is some stable non-slippery fibrous veg. Asparagus spears are perfect. Or even left over baked or BBQ'd zucchini halved lengthways.
To prepare the asparagus super quick just throw them in a shallow dish and when you make your morning coffee or tea pour some boiling water over the asparagus and they'll be cooked (and washed!) in 60 seconds.
So far as the one hand eating approach?
It's all in the wrapping. Unlike my first attempt at cauli-rice sushi go with more individual wraps rather than too much filling and the resultant over-flow!  Secure those suckers with some cling wrap and you're good to go.
Liquid Lunch.
This need not be only the domain of your home based meals where you have access to a fridge and blender.
Here's the work-around: The super-duper-quick solution is to have pre-mixed bags of veg+fruit (like apple, kale and cucumber OR blueberries, raspberries and spinach) living in your freezer ready to go. To which you add liquid, nut butter and protein powder and blend before pouring into a shaker (those little plastic one like you use for a protein shake after training) and either keep in the fridge at work if you do have one or an esky in your car if you travel through-out the day like my mum does in her new aged care gig.
Wait! I've got you covered on the esky too!
First, if you haven't heard of the word it's used in the land of Aus to mean any type of portable cooler… however it's officially an Aussie brand of cooler.
Second, no esky? No worries! Here's the cooler free solution… in that same little plastic protein shaker (they cost around $5 although often you get them free with protein powder orders) put:
2-3 heaped scoops of your fav protein powder. (I like Raw Vegan powder)
1 tablespoon of heap seeds (or seeds of your choice like Chia)
a serve of your greens supplement of choice (like Vital Greens)
Now you could mix this with water although as it's a little light on I prefer to mix it (at the time you drink it) with a can of coconut water and serve it with 50-75grams of your fav nuts.
There's a heap of protein and good fat in that meal so it's actually fairly satisfying… however it does mean you'd want a mass serving of green veg at your next meal to make up for the lack of veg love!
To get actionable today I'm going to throw the challenge out to myself as well.
Although these 5 Minute (One Hand!) Meals may need to factor into your (my!) week is there one meal a week in which you can actually just slow down and appreciate some time out?
No multi-taking. No T.V. No vacuuming the food as if you haven't eaten for a week – that's me – not YOU right? I'm going to make that happen this week and I'd love it if you could too.
Feel free to let me know how you go in the comments below.
Alternatively I'd also love to hear you best 5 Minute (One Hand!) Meal?
That's it for me today. Thanks so much for hanging with me. I'll be back tomorrow with the Wednesday weigh-in show and: The Best Advice You've Ever Received?
If you liked this you'll also like: Fat Loss Fuel Cheat Sheet – Safe Snacks
If you're yet to share the Healthification love – just click here to zip over to iTunes and leave an honest rating and review. It'd help me out big time. With gratitude, Kate.