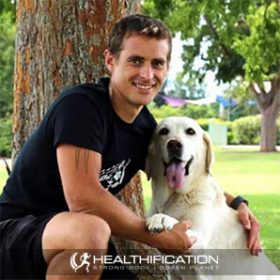 Podcast: Play in new window | Download
Subscribe: RSS
If Matt Stellino and I met 10 years ago there was every chance we would not see eye to eye. That's put delicately.
10 years ago, neither of us were vegan and neither of us were activists. I was a vegetarian who thought "hunters deserved to die." Matt was hunter who didn't spare a thought for the animals that died as a result of his actions.
I no longer wish ill will on hunters. Though I do wish with all my heart they would have the same realisation that Matt experienced. To be clear I also wish non-hunters that pay someone else to do the killing for them would also make the connection that there is no humane way to kill someone who does not want to die. That there is no need to consume animal flesh or excretions to be fit, strong happy and healthy.
I'm excited to share Matt's story with you today. What led him to switch from hunter to Vegan Animal Rights Activist and how he got to be so effective at communicating the vegan message and so passionate about strengthening the Sydney activism scene.
Let's take the journey
From Hunter to Vegan Animal Rights Activist with Matt Stellino.
In this chat we cover:
The role hunting played in Matt's life. 
The particular catalyst or moment when Matt knew he needed to be vegan.
What Matt would you say to the person who believes hunting is a "humane" way to source meat.
Matt personal approach when chatting to people about animal rights and veganism. He has a 5 question framework which is Gold.
Masculinity and veganism. What would Matt say to the young man who is concerned with how his masculinity will be judged?
And so much more?
I found this chat with Matt so valuable. A bit of super implementable coaching into how to be a better activist.
It gives me so much hope that the level of compassion, awareness and focus Matt brings to his activism is coming from a gent who used to see animals as "akin to an inanimate object".
If a hunter can become such a passionate, articulate and relentless animal rights activist then, well I want to believe the super-vast-majority of humans can also change how they think of animals.  
One of the many things I LOVE so much about the vegan, animal right activist community – gross generalisation, however I'm going with it (it's a happier way to exist!) is how freely and generously people want to share their skills.
We're all on the same page. We all want the same thing. We all want an end to all forms of animal exploitation and a compassionate vegan world.
If you're not yet active in your local area I urge you to please reach out and see what and who are already operating near you. It's amazing who you can connect with. It's also amazing what you can start on your own.
Dive in – as Matt said – the waters warm!
If you're in Sydney search Animal Rights Activism Sydney on Facebook:
Connect with Matt online via:
Facebook | Instagram | YouTube
Check out ARAS (Animal Rights Activism Sydney) on Facebook:
Are you tempted my Matt's partner Hailey's delicious vegan treats? You'll find them at the Sydney Vegan Market the 3rd Sunday of each month or you can find her via @prettybakedau on both Facebook and Instagram.
Check out the hilarious Facebook video, How a rodeo would look if the victims were human:
And this one too, How non-vegans looked at climate change:
That's it for this week in Healthification. Huge thanks to YOU for sharing this week with me. You rock and I appreciate your support!
The Healthification podcast is proudly bought to you by my FREE 'Easy Vegan' plan. It took me 25 years to transition from a meat eater to a happy, healthy Vegan! You can do it in just 3 days with  my simplified 'easy vegan' plan!  Get the fit, strong, and healthy plant based body you deserve… while avoiding ALL the mistakes I made along the way!
Till next time, remember Creating a body and life you love is Freedom. (If this ex-carb queen, non genetically gifted, naturally uncoordinated vegan chick can do it – so can YOU!!!)
If you liked "From Hunter to Vegan Animal Rights Activist with Matt Stellino" you'll also like Journalist and Media Coach Katrina Fox Chats Mainstream Media Spin On Animals Rights Actions And Activists.