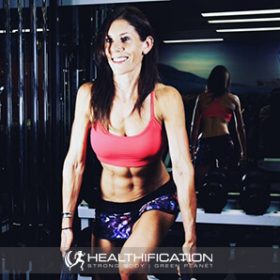 Podcast: Play in new window | Download
Subscribe: RSS
When I first discovered NLP (Neural Linguistic Programming) I thought it was the solution to all my problems. I've heard that's a common assumption.
Unsurprisingly NLP is not the solution to everything however it does provide a diverse and hugely impactful toolkit. In todays show I'm directing a few of my fav tools towards the matter of health and creating a fit, healthy #plantstrong body.
Let's get a couple of disclaimers / caveats out of the way first.
One: Although I like to talk "Body Gain" and "Creating a fit, strong, healthy body" the current reality is Fat Loss is more known and more searched. My advice will always be centred around treating your body with respect and living a life that aligns with vegan values.
Two: I might exert some creative license so far as exact definitions of these presuppositions so I'll link to an article where you can find them UN-mucked-with in the show notes. So far as your beliefs and thought patterns and the actions they prompt I'm a fan of what's effective. I don't really care as much about what's factually true as long as the end result is for the greater good. Gosh does that mean I need another caveat?
Three: Intention is everything. My intention is to help create a fit, strong, happy, healthy more compassionate vegan world. I've combined two seemingly disparate worlds Fat Loss and Animal Rights Activism in this podcast because they can both benefit from the power of NLP used with positive intention and because it illustrates just how potent these NLP presuppositions (or linguistic assumptions) can be.
No more caveats!
Let's chat:
5 Powerful Presuppositions Of NLP That Fast Track Fat Loss and Are Also Effective In Activism.
Powerful Presuppositions Of NLP One: Respect Your (and Others) Model Of The World.
Your model or map of the world is how you interpret your world. It has been generated by your beliefs, values and experiences or more-so what you make those experiences mean.
So for example perhaps in the past it's been your experience that every time you start a new healthy diet or exercise regime it goes ok for the first couple of months or weeks and then it gets super tough. It starts to feel boring and restrictive. The results you're seeing are not aligned with the effort and sacrifices you're making. 
You start to believe it's easier for others. You're not a natural athlete. You're a foodie! You're certainly someone who prioritises time with family and friends over time slogging it out at the gym. Perhaps you're just meant to carry a little (or a lot) of extra fat? It's in your genetics! That's what your mum – dad – grandmother used to say…
You can imagine these are not the beliefs, values, experiences – model of the world – that fast track fat loss!
Once you become aware of the limitations in the way you see something you can then begin to change things. You can't chance your past experiences however absolutely you can change what you make them mean. You can cultivate new more supportive beliefs and you can even re-order and reframe (more on that soon) your values so they encourage you to take the actions that will get your the results you're seeking.
Failing at fat loss dozens of times in the past could instead mean you have comprehensive feedback on what hasn't worked and accordingly what systems you can set up this time to side-step those set-backs. There is no Failure only Feedback is one of the most well-known presuppositions of NLP that I've covered extensively in the past so will not dig in with today.
When it comes to animal rights (or any) activism it's vital to acknowledge your model of the world is different to mine. It's different to the cattle farmer or the hunter too. Another presupposition of NLP is that Everyone Is Doing Their Best With The Resources They Have Available. If I had to pick Yes or No on the whole do I believe this to be true I'd say, Yes! It's a more hopeful and pleasurable way to exist in this world to think generally people are good.
However, I do struggle with some individuals. When I meet a dairy farmer who insists "that doesn't happen to our cows" and yet has never been to the slaughter house. Or has never taken the time to consider "Why is that ok for cows and not dogs?" or "Do humans need animal products to be healthy?" or "Is it ok to slaughter animals as babies irrespective of the conditions of their short lives?" it helps me lead with compassion when I consider their farm might be a family legacy nurtured and handed down over generations and the only way they can imagine to support their family. 
Equally the last vegan animal rights activist they encountered might have been hostile, ignorant, rude and judgemental.
In short: You will always be more effective at understanding and motivating someone when you take the time to consider their model of the world rather than seeking to impose yours. 
Equally, you will also be more effective at understanding why YOU do (or don't do!) something and motivating yourself to think the more effective thoughts and take the necessary actions when you better understand (and where necessary upgrade) your current model of the world.
Powerful Presuppositions Of NLP Two: Make Anchors Work For You.
An NLP anchor is a stimulus response pattern you can set up in advance to change an unwanted feeling to a resourceful (more effective) feeling in a matter of moments. 
You likely have some less than effective anchors stimulating responses you're unhappy with in your life right now. Some of mine (past or present) are:
Getting home (at whatever time) stimulates walking into the kitchen and checking out the fridge.
Time spent with a certain friend stimulates way too many bicep curls of vino to mouth.
A client canceling stimulates feelings of anxiety.
A larger than expected number on the scales stimulates feelings of defeat, hopelessness and frustration.
An individual announcing "I'm a dairy farmer" at a cube of truth activism event stimulates the assumption that this is going to be a short / heated / unsuccessful exchange.
Your choices are limitless so far as changing ineffective anchors or installing positive anchors. Consider all of your 5 senses. As anchoring involves associating an internal response with an external or internal trigger you can incorporate your own feelings and body. Or any external triggers including: other people, expected or unexpected situations, time of day and even weather.
Here are some of the anchors that currently work well for me and / or my clients:
A "pump up – let's do this!" playlist I listen to during most of my weights sessions especially if I'm not yet feeling the love for my workout to come.
A indulgent comedy or true crime podcast (one I'm only listening to for pleasure not learnings) if I need to do household chores or meal prep.
An escalator stimulates me to walk up or down not stand still as I value incidental exercise. A doorway stimulates stand straight, shoulders set down and back, chest proud and eyes straight ahead – otherwise known as the doorway que for confidence.
A last minute canceling client used to stimulate HITT in my younger days. If I'm honest, now it stimulates an opportunity for more podcast prep.
A larger than expected number on the scales stimulates both a: "What can I do even better with regard to my food, exercise and sleep?" response and also a "Consistency is queen I'll stick with it as long as it takes!" response.
Finally, that Dairy farmer I meet? I get excited now. Also super curious. My first response is: "How can I make them feel comfortable enough to have a proper respect based conversation where we both get to learn from each other?" Also: "How best can I respect and understand their model of the world?"
Powerful Presuppositions Of NLP Three: Get Awesome At Using The Reframe To Your Advantage. 
If you've listened to the Healthification Podcast for any period of time you've likely heard me rave about the power of the Reframe!
It's my personal fav go to tool to allow me to see the best in a situation or to get myself to take the action I want the results for taking. It's the perfect tool to fast-track fat loss or indeed to succeed in creating any healthy habits or breaking any unhealthy habits.
You can reframe either the context or the content.
A context reframe gives another meaning to something by changing the context. For example:
"It's so hard to get out of bed and make my workout happen" reframes to "I'm grateful to have the time and physical ability for gorgeous, self-indulgent exercise time this morning!" Even more simply: "I have to…" can reframe to: "I get to…"
Or, "Whole food plant based meals are boring and bland" reframes to "Whole food plant based meals can be just as delicious as any other meals and also are the best way to nourish my body, fight disease and have the least possible negative impact on the environment and all those I share it with!"
A content reframe gives another meaning by recovering more content. For example:
"My family must not give a damn about my values and beliefs because they can't even manage ONE meal without eating dead animals in front of me" reframes to "My family must not understand the extent to which their eating choices cause me great pain, frustration and a deep sadness / loss of connection that they don't get me and don't attempt to get me."
Or, "A meal replacement shake / extreme water fast / extreme-quick-fix anything (!) is a guaranteed way to shed some weight fast" reframes to "Anything extreme and promising a quick fix will certainly be unsustainable long term and will very likely negatively impact my long term health, happiness and hope for a lifestyle solution that works for me sustainably and enjoyably."
Powerful Presuppositions Of NLP Four: The Person With The Most Flexibility Of Behaviour Will Get The Best Result. 
Your own life likely reflects this presupposition. The areas of your life in which you currently excel or at least are happy with the results you're getting will be areas where you can demonstrate flexibility. You have options. Other choices to turn to when strategy one, two or ten isn't working or suddenly becomes untenable. 
On a simplistic level the people I know without behavioural flexibility will:
Skip their morning walk when it's raining rather than coming up with a wet weather alternative.
Order the risotto or pizza they don't really want rather than politely asking for adjustments to the menu that are more aligned with their goals.
Take a break from all weights when they have a knee niggle rather than work out an upper body and core routine instead.
I'm sure you've met the individual who starts the same old ineffective "health kick" each year which involves the same old approach that never worked in the pass and odds on will never work in the future. Frustratingly this individual is likely putting in the same level of effort and making the same sacrifice as the person who is more flexible in their approach and is trying something new however they don't get to see results.
If you can relate to that inflexible individual, these are my top 4 Fat Loss Mistakes to avoid:
Not committing to meal prep. 
Prioritising perfect (you'll never attain it) instead of cultivating consistency.Consistency is key.
Lack of focus within your exercise session.This is especially applicable to a weights session.
Hunting for the next "quick fix."This impatient stop: start approach is never a long term solution.
On the matter of effective animal rights activism I was slow to learn just how much behavioural flexibility was needed here! Here are my (in hindsight tips):
Know that flexibility applies to both behaviour and What if you stopped trying to "convert" your loves ones and attempted to instead secure them as "vegan allies"?
Utilise all 5 senses especially TASTE and especially the 5th taste: Umami. My go to approach has historically been recommending a documentary such as Dominion, Cowspiracy or What The Health. My most effective approach has often been sharing vegan deliciousness. In show E558 I discuss: Veganising Umami The 5th Taste.
Explore macro and micro. Some individuals are more receptive to global issues like the environmental impact of animal agriculture and our broken food system that leaves 800 million people needlessly starving while we inefficiently cycle food they could eat through the bodies of animal slaves. Many others will respond better to what impacts THEM right now. Whether that's impending heart disease or diabetes or even (I would have responded to this) perhaps it's the hugely likely possibility that their pimples will clear up once they stop consuming dairy.
Powerful Presuppositions Of NLP Five: You Have All The Resources You Need To Make The Change You Want To Make.
This presupposition is not downplaying setbacks or minimising that many people start from a disadvantaged position so far as finances, opportunities, health and so much more. Rather it's acknowledging that irrespective of where you find yourself you are not broken. You have everything you need.
I'm sure the Health and Fitness Industry is not the exception however gosh it markets the "You're broken, let my product fix you" message devastatingly effectively.
The supplements. The cleanses. The complicated nutrition strategies requiring you to hit set macro's rather than a natural abundant variety of nutrients. The ready-made meals that restrict calories but don't teach you how to feed yourself.
The alternative is to learn: How to build a meal that is nourishing and enjoyable and how to make that meal work for you when you're short on time, or short on cash-o-la or in a different country. 
Whether we're talking nutrition or exercise or adopting a vegan lifestyle OR ANYTHING (!) I 100% believe if someone can do it, YOU can do it.
Again this is not a matter of downplaying effort or sacrifice it's more a matter of cultivating the attitude that you'll both do whatever it takes and stick with it as long as it takes.
To get actionable today which one of these 5 Powerful Presuppositions Of NLP would be of most value to you in creating a fit, strong, healthy body or in making you even more Effective In Activism?
To recap we covered:
Powerful Presuppositions Of NLP One: Respect Your (and Others) Model Of The World.
Powerful Presuppositions Of NLP Two: Make Anchors Work For You.
Powerful Presuppositions Of NLP Three: Get Awesome At Using The Reframe To Your Advantage. 
Powerful Presuppositions Of NLP Four: The Person With The Most Flexibility Of Behaviour Will Get The Best Result. 
Powerful Presuppositions Of NLP Five: You Have All The Resources You Need To Make The Change You Want To Make.
That's it for today in Healthification.
If you've enjoyed this show and gotten value out of it would you consider sharing it with someone close to you? It's available across iTunes, Stitcher, Spotify, TuneIn, Acast and a few other platforms too. However a recommendation from you to someone who you think would find value in the show would truly be most awesome!
The Healthification podcast is proudly bought to you by my FREE 'Easy Vegan' plan. It took me 25 years to transition from a meat eater to a happy, healthy Vegan! You can do it in just 3 days with  my simplified 'easy vegan' plan!  Get the fit, strong, and healthy plant based body you deserve… while avoiding ALL the mistakes I made along the way!
Till next time, remember Creating a body and life you love is Freedom. (If this ex-carb queen, non genetically gifted, naturally uncoordinated vegan chick can do it – so can YOU!!!)
If you liked "5 Powerful Presuppositions Of NLP That Fast Track Fat Loss and Are Also Effective In Activism" you'll also like The Best Advice I Wish I Knew Prior To Adopting A Vegan Lifestyle.
If you're yet to share the Healthification love – just click here to zip over to iTunes and leave an honest rating and review. It'd help me out big time. With gratitude, Kate.