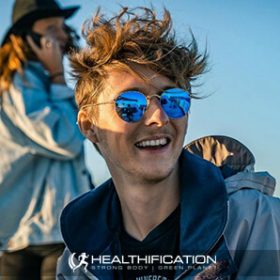 Podcast: Play in new window | Download
Subscribe: RSS
I got cold chills and even a bit teary watching the trailer for the feature-length documentary I'm discussing with Director Ryland Pearson-McManus today.
Voiceless: Crime of Silence delves into the world of the increasingly fervent animal rights movement, and asks what the true cost of silence, may be.
This film follows on from the wave of recent groundbreaking documentaries such as Cowspiracy, What the Health, Food Inc, Forks Over Knives, Earthlings and Dominion however uniquely Voiceless, delves deeply and personally into the lives of animal rights activists around Australia and the rest of the world.
These are the normal, everyday individuals who dedicate their lives to regular protest, outreach activism, and even initiating 'occupy protests' which involve activists breaking into farms, meat-processing facilities and slaughterhouses.
These are the normal, everyday individuals some of whom I call friends and all of whom I deeply respect. Hence the chills and tears. However, I did not always have such positive feelings towards activists.
Whether the words "extreme" "delusion-ally idealistic" "criminal" "lazy dole bludgers" come to mind or perhaps "brave" "selfless" "compassionate" "passionate" …. whatever your current assumptions on animals rights activists I'm grateful you're listening to this conversation and I hope it'll inspire you to check out Voiceless: Crime of Silence when it's released.
Voiceless: Crime of Silence does not only shine a light on the people who dedicate their lives to animal rights activism. The team also journeys to outback rural Australia, to meet 'old fashioned Aussie farmers' in their element.
Consumer demand and large-scale supermarket businesses are also brought into the story, including interviews with supermarket giants.
It's going to be an intricate look into the lives of so many caught up in the complicated, powerful, exploitative system that is animal agriculture.
For now, let's explore behind the scenes of Voiceless: Crime of Silence with Ryland Pearson-McManus:
In this interview we cover:
The importance of personal story to effectively spread a message that challenges accepted yet immoral norms in society. 
What has particularly shocked Ryland/ unforeseen challenges?
The importance of compassion for animals, for fellow humans and self-compassion especially for activists.
Handling push back / heated debate. Has Ryland encountered this so far in his interactions with farmers and supermarket giants?
Has it been easy to get access to individuals / has everyone wanted to share their stories? 
How have actual interactions matched with Ryland's preconceived judgments / expectations? 
What does Ryland see as the biggest threat to veganism globally?
What is the best possible outcome as a result of this film? 
Connect with Ryland and follow Voiceless: Crime of Silence via the socials:
Wow, what a gigantic undertaking this film is. I hadn't even considered all the legal implications.
This chat with Ryland has made me realise just how lucky I am to be able to speak my mind freely and without fear of retribution from an employer, industry lobby groups or from my own community.
Let's get real.
You're being asked whether you think it'd be good to work towards feeding the world without killing individuals that don't want to die and agreeing that'd be a worthwhile endeavour is dangerous to your livelihood and personal welfare.
That's pretty terrifying.
I don't know the answer however I do know the thing that won't work is apathy. Our current system of animal agriculture might seem so dauntingly powerful and intrenched. However as Ryland reminded us, change is happening. Certainly not as fast as we'd love however it's happening.
Regularly, in exasperation when discussing our broken food system and the individuals (both non-human animal and human animal) trapped in it I've asked: "So who is helping farmers transition from animal exploitation to crop farming?"
Rowdy Girl Sanctuary has been the only resource anyone has been able to share with me.
The amazing work of Ex Ranchers Wife and Rowdy Girl Sanctuary Founder Renee King-Sonnen is something I look forward to sharing with you next week!
That's it for this week in Healthification. I have plenty more awesome guests lined up over the coming weeks and if you're enjoying these chats I'd really super appreciate it if you'd please share this podcast with someone you think would find value in it or rate and review it in iTunes. It takes a couple of minutes and it means so much to me. It 100% makes my day.
Huge thanks to YOU for sharing this week with me. You rock and I appreciate your support!
The Healthification podcast is proudly bought to you by my FREE 'Easy Vegan' plan. It took me 25 years to transition from a meat eater to a happy, healthy Vegan! You can do it in just 3 days with my simplified 'easy vegan' plan!  Get the fit, strong, and healthy plant based body you deserve… while avoiding ALL the mistakes I made along the way!
Till next time, remember Creating a body and life you love is Freedom. (If this ex-carb queen, non genetically gifted, naturally uncoordinated vegan chick can do it – so can YOU!!!)
If you liked "Voiceless: Crime of Silence and the people who dedicate their lives to animal rights activism" you'll also like The Progression of Sydney's Animal Rights Activism Scene with Michael McNally
Also, E580: Effective animal rights direct actions and advocacy with Isy Veira.
Also, E544: Behind the scenes of animal rights activism with Ben Johnstone.
Plus, E566: Andy Faulkner on Perspective, Purpose and Why Animals Need You The Most.
If you're yet to share the Healthification love – just click here to zip over to iTunes and leave an honest rating and review. It'd help me out big time. With gratitude, Kate.