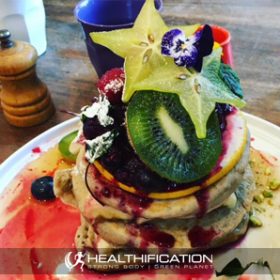 Podcast: Play in new window | Download
Subscribe: RSS
It's been said the strongest human motivation is the fear of loss.
Initially I found that disappointing. To think that rather than being motivated by growth, connection and contribution our species is much more heavily compelled to cling stubbornly onto what we've got. The more I thought about the fear of loss and adopting a vegan lifestyle the more it made sense.
Todays show on:
Vegan Lifestyle Fears And Benefits is for my vego or vegan curious friends.
Or perhaps for your friends and family members who are currently more focused on everything they might lose when eliminating animal products from their life. 
I'm going to cover both the 3 most common fears I encounter when chatting to non vegans and also 3 (sadly) less commonly known benefits associated with a vegan lifestyle.
Vegan Lifestyle Fear One: The Loss of Connection.
Sharing food with people you love is such an integral part of life. We build and strengthen relationships with traditions and habits based around food and drink. Does that food need to be animal flesh and animal excretions?
Recently I heard vegan activist Earthling Ed describe the food we share with young children as perhaps their earliest exposure to  discrimination. From a young age we teach our kids: "Some animals are friends and some animals are food."
There's really no logic to it. It's just "What we do." Like human slavery used to be "What we do."
What if instead we were to teach kids that everyone and everything is worthy of respect and compassion? 
What if we were to create whole food plant based versions of everything we ate as carnivores?
This is my goal. That compassionate humans connect over food that did not live a short life of slavery and die a tortured death. That instead we build and strengthen our relationships with food that builds and strengthens us. It's possible. There is nothing that can't be vegan'ised. I whole heartedly believe that.
Now I'm no kitchen goddess! However I do want to share some of the people who're inspiring me to up my kitchen game.
Top of my list right now are the gents from: Wicked Healthy. These guys surely must have vegans unfollowing them when they mistake their BBQ's and roasts for flesh based food. They seem especially talented at cooking with my fav veg: Mushies.
If you or someone you know is hesitant of the impact adopting a vegan lifestyle might have on your ability to connect over food with the people you love most, then please check out wicked healthy on Instagram or go to wickedhealthyfood.com. Sometimes they go by the tag "dude food with attitude" however I'm one chick that would love to demolish anything they create and of course share that plant based deliciousness with the people I love.
Vegan Lifestyle Fear Two: The Loss of Taste.
If you know me even a little bit you know I'm a huge fan of food. I'd say to a fault. It occupies my thoughts a lot and I'm certainly an emotional eater. I share that so that you know that food tasting amazing really is important to me. Also to show that you can enjoy huge delicious meals and stay fit and healthy 24/7 365 days.
The thing is you can't know how good vegan food options are until you try them. It likely took you years or decades to find your fav animal based meals. You likely encountered more than a few disappointing meals on that food journey. Yet one bland or light-weight vegan meal encountered years ago before the huge rise in awesome options is too often the excuse I get offered when discussing taste with a non-vegan.
The thing with the whole food plant based approach that I recommend and share in the 3 Day Easy Vegan Plan is that when you find your favs they taste great before, during and after. You don't waste time before thinking "Can I get away with this?" or time after in a guilty, lethargic food comma. There's no needing to starve before a big meal or skip dinner because you over indulged at lunch.
Most of all you don't have that bad taste in your mouth (and heart) that I can remember getting when I considered the animals that unwillingly provided the food I was consuming.
Vegan Lifestyle Fear Three: The Loss of Convenience.
It really is sad that convenience can take priority over LIFE however it's a reality so I'll address it.
Short term, following any eating plan is a little less convenient than throwing the first thing you see in your mouth. If you're looking to lose weight or gain muscle you need to follow a plan and commit to meal prep and that takes time and is by default less convenient. Short term. Eating whole foods based plant based is no less convenient than eating paleo or keto or gluten free.
You don't need to hunt down new meals and new restaurants every single time you eat – you just need to find your preferred Go 2 recipes and establishments and return to them! Meal prep as a vegan takes no longer than as a meat eater (and it's cheaper). Finding a restaurant that has vegan options is easier now than finding a restaurant with vegetarian options was 25 years ago when I went vego.
I know I'm lucky to live in a city with especially amazing options however it's getting easier everywhere. Once you have your "vegan food" radar turned on you'll be amazed at how prevalent the options are becoming. It reminds me of the notion: "What you focus on expands." If I were to focus on "WOW, it's so hard to find good vegan food" my mind would hunt for evidence to support that belief.
Instead I choose to focus on: "ALL the delicious vegan food options" and that's what my mind hunts down. 
Like the crispy edamame salad I just noticed at my new coffee place by the gym. Or the vegan gozleme I (drag myself!) past on my way home from outreach on a Saturday afternoon. Or the insane vegan pancake stack I gleefully demolished a couple of weeks ago at my local cafe in Bondi.
As a tasty side note my eating choices are so much more diverse now than they were back when I ate animals. And the foods I'm now including like: a huge variety of legumes, seeds and cruciferous veg are of higher nutritional value than the foods I'm excluding.
So now we've covered Connection, Taste and Convenience let's power on to some things you might happily lose / the benefits you'll enjoy when adopting a vegan lifestyle.
Vegan Lifestyle Benefit One: The Loss of Excess Weight.
As a previous advocate of a low carb high protein diet I'll be honest and share that before swapping from low carb high protein vego to 100% vegan I was fearful that I might stack on some weight. It just didn't happen. I even lost a little despite eating much more carbs and MUCH more fat.
I do have huge caveat here though: whole foods vegan is the way to go. 
=> If you currently eat animal products with a heavy reliance on processed food and you swap to whole foods vegan you'll easily shed any excess weight.
=> If you currently eat animal products with a heavy focus on one ingredient foods and you swap to junk food vegan there's a good chance you'll easily gain some excess weight.
Of course there's ALL the in-between. Here are a few of the guidelines I (generally) stick to:
Build your meals first around a variety of colourful fibrous veg. Make these veg the star of the meal.
Add plant based proteins like legumes, tofu / tempeh, quinoa and good fats like nuts, seeds, avocado. However remember, the veg are the star of the meal.
Keep refined carbs like bread to the weekend. 
Use meat and dairy substitutes as transitional foods or sparingly. Again, the veg (cooked and seasoned with respect) are the star of the meal.
If it looks like junk food it likely is junk food. Think, burger bun, fake meat patty, fake cheese, vegan mayo and hot chips with perhaps a slice of tomato and a lettuce leaf. Don't kid yourself it's for everyday consumption just because: "It's vegan!"I'm genuinely concerned there will be a wave of junk food vegans that while thankfully are not paying for animals to be slaughtered are still potentially paying for their own diminishing health. I'm a huge fan of vegan junk food… OCCASIONALLY!
For any of my friends who are concerned about losing too much weight on a vegan diet (whether personally or perhaps for your partner) I have a few guidelines to consider and also a couple inspirational (buff) gents for you to check out. Here are the guidelines I would stick to if I wanted to maintain or build muscle mass:
Consider caloric density.Animal products tend to be high caloric density so swapping something like chicken for spinach is not going to sustain you. Nuts, seeds, legumes and sweet potatoes are a lot more filling than lighter weight veg.
Utilize liquid meals. (as snacks not meals!) If you feel like you're forcing down huge meals try drinking some additional calories in the form of fruit and veg rich smoothies made creamy with nut butter, avocado and even chickpeas.
Enjoy high caloric density yet high nutritional value desserts. Nice cream is an easy example. It's just frozen banana's blended to a soft serve consistency with whatever you love: cacao, berries, nut butter. Topped with more deliciousness: nuts, seeds, vegan chocolate.
Those gents that I recommend you check out? Happily my Insta feed is FULL of them. Here are two of my favs:
Nominated for the gloriously HUGE plant strong meal pics he posts: jimmy.nas
Nominated for the extensive and science based plant strong advice he posts: Simon Hill from Plant Proof (search plant_proof)
Vegan Lifestyle Benefit Two: The Loss of In-congruency.
This has certainly been the most impactful benefit I experienced as I transitioned from a primarily whole foods based vegetarian diet to a  primarily whole foods based vegan lifestyle. The simple fact is it's getting tougher and tougher to ignore the cycle of cruelty that buying animal products perpetuates. 
Running into volunteers such as myself doing street outreach with Anonymous for the Voiceless where we share farm and slaughter house footage of day to day life and death for our animals here in Australia might be a hugely impactful dose of truth however even if you don't see the footage I'm fairly sure you have a strong suspicion that the crate to plate process is far from pleasant.
Perhaps you don't seek out the truth because you know seeing it will mean you need to make some big changes. I say that without judgement as it's how I used to feel. I could keep my blinders on and tell myself no one was dying for my vego lifestyle. I felt that way for 23 years until I found out there's at least as much death and suffering in dairy and eggs as there is in meat and fish.
Not only was adopting a vegan lifestyle a huge relief as the weight of in-conguency was lifted from my shoulders, the clarity I gained also gave me a greater sense of purpose beyond just myself and my loved ones. I believe in-congruency is underrated as a powerful incentive to get you to make a change. The pain of living in-congurent with your personal values and beliefs can be intolerable. It should be intolerable.
What a massive waste of energy and joy for compassionate humans to maintain a front of lies such as: "It's tough to look at however I just love the taste of meat." Or "It's just the way it is, animals were put here for our use." Or "Eating a dog and eating a pig is completely different!"
Vegan Lifestyle Benefit Three: The Loss of Disease Risk. 
Increasingly I'm meeting people who've adopted a vegan diet for their health rather than for the animals. I'm of the mind, that whatever gets you to take that first step rocks however I hope with time they'll also research the ethics and transition from zero animal food to minimizing all animal exploitation and leading a vegan lifestyle.
Back in shows 504 and 505 I shared what I believe to be: The 6 Biggest Health Mythes Of 2017. 
Health Myth One: You Need To Consume Animal Products To Be Healthy.
This is what kept me vego for 23 years despite the fact my daily egg and dairy eating actions felt completely incongruent with my values and beliefs.
Globally despite our medical advances we're the sickest and fattest we've ever been. 75% of all U.S. health care costs are attributed to lifestyle illnesses. 8 of the top 10 causes of death in Australia are lifestyle related. In fact the ONLY diet scientifically proven to prevent and even reverse our biggest killers globally – heart disease, stroke, type 2 diabetes – is a whole foods plant based diet. 
I will back this claim up. Garth Davis is a Houston based medical and weight loss doctor who over the past 30 years "has reviewed thousands of science-backed studies to successfully dispel the myth surrounding the need for animal protein." In his book Proteinaholic Davis writes that animal protein is killing humans.
As the SAD – Standard American (or Australian!) Diet – invades developing countries so too undeniably does our epidemic of lifestyle related diseases.
I'll link to shows 504 / 505 for mythes 2-4 in the show notes for today as right now I'm going skip straight to…
Health Myth Six: Taking Medication For The Rest Of Your Life Is Normal… and to be expected / accepted. 
It literally blows my mind how thoroughly we've been conditioned to seek the easy pill popping quick fix. Absolutely modern medicine has it's super valuable and very necessary place. However not unquestioned and not as a stand alone response. The part food has to play in preventing and reversing our deadliest diseases is now beyond doubt.
Yet changing your diet can seem extreme. We still live in a time where it's normal to be on various medications and extreme to NOT eat the flesh and excretions of other sentient beings. It'll change. It is changing. Veganism is the fastest growing social justice movement globally however it's not just about social justice and doing right by the animals, the planet and millions of starving humans. It's also about your health.
In recent months 3 of my most health conscious clients have adopted a plant based lifestyle. None of them have gone straight to 100% plant based and that's actually my recommendation. Less extreme and more manageable is to just cut out the animal products that you most feel guilty or worried or squeamish about. Perhaps that's red meat. For me – if I had my time again – it'd be dairy. It's as cruel as meat and in my mind absolutely rubbish fuel. Next you might want to sort one meal, so maybe lunches. Then the next easiest meal… and then your eating out strategies. 
It's simply a matter of moving at a pace that works for you, because everything counts and I guarantee you'll find it both easier than you expected and easier with every single passing day. 
For further research on Vegan Lifestyle Benefit Three: The Loss of Disease Risk, I recommend:
Dr Michael Gregers site: nutritionfacts.org
Also Dr Gregers book: How Not To Die and of course the documentary: What The Health.
As we draw to the close of todays show I'd like you to consider for yourself or for that loved one who is vegan curious yet fearful:
A) Which of the 3 Vegan Lifestyle Fears I've shared today is most concerning?
To recap that's: Connection. Taste. Convenience.
B) How does that fear rank next to the 3 Vegan Lifestyle Benefits that is most appealing?
To recap that's: The Loss of Excess Weight. The Loss of In-congruency. The Loss of Disease Risk.
That's it for another week in Healthification. Huge thanks to YOU for sharing this week with me.
The Healthification podcast is proudly bought to you by my FREE 'Easy Vegan' plan. It took me 25 years to transition from a meat eater to a happy, healthy Vegan! You can do it in just 3 days with  my simplified 'easy vegan' plan!  Get the fit, strong, and healthy plant based body you deserve… while avoiding ALL the mistakes I made along the way!
Till next time, remember Creating a body and life you love is Freedom. (If this ex-carb queen, NON-genetically gifted, naturally uncoordinated VEGAN-chick can do it – so can YOU!!!)
If you liked 'Vegan Lifestyle Fears And Benefits' you'll also like:  6 Step System To SILENCE SELF SABOTAGE (P.6).
If you're yet to share the Healthification love – just click here to zip over to iTunes and leave an honest rating and review. It'd help me out big time. With gratitude, Kate.