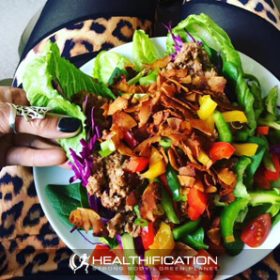 Podcast: Play in new window | Download
Subscribe: RSS
In todays month in review show I'm revisiting (and Vegan'ising!) a post I published almost 300 shows ago on
Creating The Most Effective Fat Loss Mindset. 
Then it was for vegetarians though absolutely applicable to vegans and truely, anyone struggling to make any significant change to their lifestyle and health.
It's all about creating the mindset that makes it easy to take the actions you need to take.  
The mindset you want supporting you – working on auto-pilot – when your initial ENTHUSIASM wears thin.
The mindset you want supporting you when making the lean body vegan choice is just really INCONVENIENT.
The mindset you want supporting you when making the lean body vegan choice is abnormal and draws JUDGEMENT.
Today I have 6 vegan'ised steps for you and if you're thinking "UGGG, Kate are there really 6 steps – can't I just do it?"
Well, you might be able to "just do it". And if that's already happened this part of the show likely isn't for you. If in contrast there's not as much DOING as you'd like. If you're yet to see the results you're seeking and if you're yet to maintain the results easily and consistently then these 6 steps to Create The Most Effective Fat Loss Mindset For Vegans are really worth the effort.
Step one: DEFINE Your Approach and Your Boundaries.
You need clarity. This is the WHAT part of the process. What you eat. What you don't. The more clear you get the easier you make it for other people to respect your choices. Perhaps more importantly clarity gets your unconscious mind on board hunting out the information that makes it easier for you to succeed rather than the reverse.
If you're unclear, you're sending unclear signals to your mind. More on that in…
Step two: ALIGN Your Approach with Your Values and Beliefs.
Step two gets emotion working for you. It's more than the emotion of "Wow that's a yummy looking pie!" It's utilizing your strong desire to live aligned with the values you are naturally attracted to. It's also utilizing your need to live aligned with that which you believe to be true about yourself. Your personal identity beliefs.
So this is the WHY part of the process. Why you eat what you eat. Why you don't eat what you don't eat. If there's an in-congruency between what you say you want to do and the actions you take then it's likely nothing will change. You'll feel in conflict – with YOU.
Step three: ELIMINATE the Obstacles That Could Sabotage Your Approach.
Even with clarity and alignment you still want to make it as easy for you to succeed as possible. To conspire for your success. So this is the HOW part of the process. How you make it easier to eat what you eat. How you make it easier to not eat what you don't eat. As with each step the power is in coming up with what works best for you.
However here are some suggestions of some obstacles to eliminate:
=> Rather than dining out at your previous fav steak house or burger and ribs joint and being stuck with the average vegan dish choose a restaurant that has more appealing vegan options.
=> If there are predictable times – like lunch time at work – or at the end of the day when you get caught short and the quick, more easily available processed crap-o-la option is ultra tempting then you need to plan your alternatives. Perhaps it's making meals on mass once or twice a week. Maybe it's sourcing the online solution or that less obvious cafe round the corner that does awesome vegan salads that you might want to enhance with an extra sprinkle of nuts or seeds for some more protein.
=> At the very first opportunity politely, respectfully yet resolutely announce your decision to anyone offering you food that is not in alignment with your goal.
Step four: EDUCATE Yourself So Far As All The Evidence To Support Your Approach.
Step four is a continuation of the HOW part of the process. How you make it easier to eat what you eat. How you make it easier to not eat what you don't eat. For many years I was ignorant with volition. I knew I could dig a little deeper and spur myself into action so far as not buying leather shoes or eating free range organic eggs.
If your choice is to be vegan and your goal is fat loss then there's so much value in consciously seeking out the information – the education – that makes it easier to take the actions that support your approach. And, the education that makes it harder – likely IMPOSSIBLE – to take the actions that don't support your approach.
Step five: STRATEGISE So That Your Approach Is More Often The Path Of Least Resistance.
You can ensure the quick, easy option is also the better option you want to take. It just means laying a little groundwork in advance.
A little strategizing here to save a lot of guilt, disappointment, frustration or just a lack of results there.
=> Perhaps this is the online research you do before you go away on holiday to find the restaurants that fit your eating choices and the local market / supermarket / whole foods store that you can stock up at when you first arrive.
=> Maybe it's the 3 easy Go2Breakfasts, Go2Lunches and Go2Dinners you take an afternoon to plan (or you borrow from my Free 3 Day Easy Vegan Plan) so that when you arrive home tired and with no decision making fuel left in the tank your high-protein-low-carb quick throw together option is easier than making avo on toast.
=> Possibly it's the cause you support financially with an automatic direct debit or even each every week or month with your time. That reminds you every time you see the debt or every time you invest your time of exactly Why you're doing it. On this note I super recommend Anonymous for the Voiceless vegan street outreach which operates in over 600 chapters globally and I attend weekly here in Sydney.
Step six: PRIORITISE So That Making Your Approach Work Never Falls Victim To The "I didn't Have Time" EXCUSE.
I believe you always make time for the things that are most important to you. It's a matter of priorities NOT time.
So you might need to take a little time from elsewhere in order to give it to creating the most effective Fat Loss Mindset For Vegans and  achieving a significant change in your lifestyle and health.
I favour the Stop : Start framework to help make this happen. In short it means find 3 things to STOP doing to save you time and also 3 things to START doing to save you time. I know you don't need any suggestions here and hope your mind is already percolating on your abundant options!
So far as FOOD, a conversation with my mum this week has inspired me to check out bacon alternatives.
Now my dear mum is not vegan. I thought she was also decidedly NOT even vegan curious until we chatted on Sunday and she was enthusiastically telling me about the batch of minestrone soup she'd made.
"Katie, it's just not the same without bacon!" she shared.
My hopeful curiosity was sparked. Why would she be leaving out the bacon? It's not like I'm home for the weekend and she was doing it so I'd be able to eat her soup. I tentatively asked: "Mum, why would you leave out the bacon?"
"Oh I'm just trying to make a start with some small changes towards plant based. I didn't use any (animal) stock either!"
I was beyond excited to hear this. Excited enough to give rarely seen "kitchen Kate" an opportunity to test out some new recipes.
There are so many delicious looking alternatives to the bacon that necessitates killing baby pigs. It's a little bit more work than picking a packet of flesh up from the supermarket however here's the truth that you might not know about bacon.
Here in Australia our pigs either get a knife across the throat or they are put in gas chambers. Yes, gas chambers are common day to day practice, RSPCA approved and deemed humane. The pigs (at around 6 months old) are burned from the inside out in the gas chambers. These peaceful, extremely social babies – commonly acknowledged to be more intelligent than dogs – scream as they die.
For bacon. Ham. Pork.
So, back to those alternatives… at onegreenplanet.org I found gorgeous looking options using: Tempeh, Coconut and Shiitake Mushrooms. At minimalistbaker.com there's a delicious looking eggplant bacon.
Because I love using tempeh as a mince substitute and the shiitake version doesn't keep beyond a meal I thought I'd try the coconut version first. Really, who was I kidding that I'd be able to store it for future use through out the week?
Again, credit to the team at onegreenplanet for this recipe as follows:
3 1/2 cups flaked coconut
2 tablespoons liquid smoke
1 tablespoon iquid aminos or soy sauce
1 tablespoon pure maple syrup
1 tablespoon water
1 teaspoon smoked paprika (optional)
First preheat oven to 325°F or around 160°C.
Next, combine liquid smoke, liquid aminos, maple syrup, and water in a large mixing bowl. Pour in flaked coconut, using a wooden spoon to gently toss the coconut in the liquid mixture. If adding smoked paprika, add and toss to coat evenly. Once the coconut is evenly coated, pour it onto a non-stick baking sheet and slide it the oven. Bake for 20-25 minutes, using a spatula to flip the 'bacon' about every 5 minutes so it cooks evenly. This stuff WILL burn if you're not keeping an eye on it and regularly flipping it. Coconut bacon can be stored in a sealed bag or container for up to a month, refrigerator optional.
So of course these are more like little bacon bits rather than the larger rasher size however that's perfect for my mum to be adding to her minestrone soup right? I'm going to try the shiitake mushroom version over the next week or so and will be sure to let you now how it goes.
Let's move onto EXERCISE and right now I'd like to discuss zero excuses.
I've recently just dragged myself out of a little hiatus where I really was not pushing too hard. Now I'm actually referring to business however I know this is the scenario with exercise for many people. There are some things in life that you know are good for you.
You know they are necessary to get the results you're seeking. You know they get easier with consistency and so much tougher when you Stop then Start. You know you feel better when you do them… and in the case of exercise, also look better and sleep better and often eat better. These are the things that deserve a Zero Excuse Strategy. 
I know I'm lucky that I work in a gym and I literally have to walk the talk to avoid being a total integrity lacking hypocrite (I use that language with volition to make it easier for me to do the exercising do!) however just incase your exercise excuse previously might have been gym access or time or money I have a 1 kettle-bell workout to share with you.
As a sidenote this will be the first of 3 live workouts I share in the next Live 3 Day Easy Vegan Plan. In the interest of zero excuses I'm committing to running the Easy Vegan Plan on the first 3 days of each month and add to the existing content each time. You can opt-in to follow the plan at any time of any month however there will be an extra push from me in the first 3 days of each month.
So this workout you'll see live at around 5.15 / 5.30am EST on Wednesday 1st August (no excuses right??!) and I'll link it up in the auto responder series that accompanies the easy vegan plan for your future exercising pleasure!
Alright here's that workout. I'll be using a 16 kilo kettle and my rough suggestion is if you don't have access to a gym and you're a beginner invest in an 8 kilo kettle. More intermediate strength would be 12 kilos. (it'll cost $10-15.00) A full length mirror for at home workouts is pretty valuable to check your form too.
No Excuses 1 Kettle-bell Workout:
Squat High Pull.
Kettle Swing.
Goblet Style Slider Reverse Lunge.(No fancy slider needed. On carpet you can use a piece of cardboard or a frisbee and on tiles you can use a face cloth)
Kettle One Arm Row.
Single Leg Deadlift. (hold the kettle in the hand on the side of the foot that stays grounded)
Kettle Oblique Tap. (start with feet grounded and progress to feet in the air)
To keep it simple let's go with 12 reps per exercise, completed circuit style for 3 circuits. For the unilateral moves like the lunge, the row and the deadlift it's 12 reps each side.
My recommendation and greatest inspiration this month is the documentary Dominion. A couple of months ago I traveled down to Melbourne for the largest animal rights march in Australian history in support of the release of Dominion which details animal exploitation here in Australia.
The documentary is now available for rent ($1) or purchase ($5) online via: http://www.dominionmovement.com
To quote the website: Exposing the dark underbelly of modern animal agriculture through drones, hidden & handheld cameras, the feature-length film explores the morality and validity of our dominion over the animal kingdom.
It's as horrific as you'd imagine. I had to watch it in 2 sittings however I strongly recommend you watch it if you or anyone you know still believes anything along the lines of: "It's done humanely here in Australia." It might not be what you want to see and it may not be what you want to hear however it's the truth and I believe the sentiment of Martin Luther King Jnr: "One has a moral responsibility to disobey unjust laws" 
Finally, my struggle-street to share with you this month is (perhaps again!) related to communication with non-vegans and the tight rope to walk between being effective and feeling weak. 
Effective is to lead with compassion. To create a space of zero judgement and curiosity. To be patient. To recognize everything counts and planting a seed is so much more valuable than bulldozing through the field of someones strongly held beliefs. 
However at the same time, I'm struggling with the fine line to walk between being effective in my communication with non-vegans and feeling like each time I bite my tongue my silence is letting down the 56 billion land animals that are slaughtered every single year.
Is it weak to be led by emotion? To have a single minded, passion fuelled yet ineffective focus?
I understand why many vegans gravitate towards only hanging with other vegans. Yet, in doing so they miss a multitude of opportunities to have a positive influence while respectfully infiltrating the ranks of carnivores.
To a degree I think for many people living in a world where so much seems beyond our control, the food we enjoy several times a day is a simple pleasure that we'll defend passionately.
Thankfully I got some awesome advice on how to handle this particular struggle street in my interview this week with Vegan Psychologist, author and animal activist Clare Mann. I look forward to sharing Clare's advice with you later this week – Yes, in the interest of zero excuses I'm also committing to both an interview podcast and a solo podcast each week – so long as I can line up enough interviews.
I'm making it a priority.
That's it for another week in Healthification. Huge thanks to YOU for sharing this week with me. I appreciate it with all my heart.
The Healthification podcast is proudly bought to you by my Free 3 Day Easy Vegan Plan. It took me 25 years to transition from a meat eater to a happy, healthy Vegan! You can do it in just 3 days with  my simplified 'easy vegan' plan!  Get the fit, strong, and healthy plant based body you deserve… while avoiding ALL the mistakes I made along the way!
Till next time, remember Creating a body and life you love is Freedom. (If this ex-carb queen, NON-genetically gifted, naturally uncoordinated VEGAN-chick can do it – so can YOU!!!)
If you liked 'Creating The Most Effective Fat Loss Mindset For Vegans PLUS Month In Review' you'll also like: Fat Loss Mindset For Vegetarians (Part 1).
If you're yet to share the Healthification love – just click here to zip over to iTunes and leave an honest rating and review. It'd help me out big time. With gratitude, Kate.