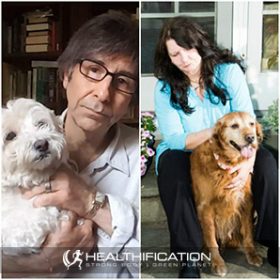 Podcast: Play in new window | Download
Subscribe: RSS
The more time I spend listening to the views of today's guests the more I whole-heartedly agree with their admittedly polarising assertions on the best way to advocate for total animal liberation. I've been on the record many times as believing "there is no best way to advocate" and "everything counts" and "as long as your intention is genuine" however I'm wavering.
What if your intention is genuine and yet the results are detrimental? An open minded human will change their mind when they receive better information.
Today I'm chatting with the authors of one of my most valued go to resources as an animal rights activist and I'm really excited to both share their knowledge with you and also to test my current beliefs around animal rights activism.
Board of Governors Distinguished Professor of Law, Rutgers University, and Honorary Professor of Philosophy, University of East Anglia, United Kingdom Gary Francione and Adjunct Professor of Law, Rutgers University Prof. Anna Charlton co-authored Eat Like You Care: An Examination of the Morality of Eating Animals.
Professors Francione and Charlton argue that if you think animals matter morally—if you reject the idea that animals are just things—your own beliefs require that you stop eating animal products. There is nothing "extreme" about a vegan diet; what is extreme is the inconsistency between what we say we believe and how we act where animals are concerned.
Eat Like You Care is just one small part of their huge contribution to the animal rights movement. Gary and Anna are unwavering proponents of the abolitionist approach to animal rights and are vocal in their opposition to animal welfare. Yes, you heard that right.
Francione writes extensively on the distinction between the abolitionist approach (seeking to end animal use altogether) and the welfarist approach (which is only concerned with improving conditions for the animals we eat and use), criticising the latter as not just meaningless but actively causing us to be complacent about eating and using animals.
Ok, enough intro – it's a long one – and I loved every moment of it. Let's chat with Gary Francione and Anna Charlton about Eat Like You Care: An Examination of the Morality of Eating Animals…
In this interview we discuss:
The 6 principles of the abolitionist approach.
The inconsistency between what we say we believe and how we act where animals are concerned.
What Gary and Anna see as the biggest threat to veganism globally?
The most effective types of activism to strengthen and grow the vegan movement. Including the 5 principles in vegan advocacy:
People are good at heart.
People are not stupid / they're educable.
Don't get defensive (they are engaging because they are interested so don't assume they're hostile).
Don't get frustrated.
Learn the basics.
Equality. To quote Gary: "We're never really going to be able to tackle speciesism in an effective way as long as we continue to ignore obvious and serious human discrimination. It's all connected."
New welfarism: the idea that promoting 'humane' exploitation will lead to no exploitation. 
If Gary and Anna had the millions donated to animal welfare groups: What would they like to see a large abolitionist group do so far as specific actions and campaigns? 
I'm back on my own and I really want to share with you that as much as Gary especially might have a reputation as polarising or any number of other adjectives meant to be less than favourable within the animal rights and of course animal welfare movement this conversation was one of the most enjoyable from the very first moment that I've had.
These are two incredibly generous, resilient, thoughtful yet also entertaining and fun individuals. It truly is such a unique skill to maintain their sustained level of advocacy over a period of decades and to still be genuine, patient and hopeful.
I know I'll go away and marinate on some of the things we covered today. Especially the idea that being concerned about "infighting" within the vegan movement and the animal rights movement presupposes incorrectly that we're a united front.
I see the truth in that. Yet I'm unsure what to do with it.
Currently I think I can respect, appreciate and feel gratitude for the work of many groups and individuals who may not (do not!) respect and appreciate each others work.
I will say, if I saw the value in jumping in and saying "Hey, I think Anonymous for the Voiceless or Animals Australia or Aussie Farms etc… do great work" if I thought it was the most valuable use of my time with Anna and Gary I would have done that. However either one of them has such a fountain of learning's to be absorbed and I had 1 hour with them both together. Which generously blew out to closer to 2 hours. I was constantly reassessing where the conversation should go given there was so much to explore.
I happy with the outcome and committed to continuing to challenge and reassess my own beliefs so far as: "The best way to advocate."
Regarding the fabulous book Eat Like You Care, we didn't get to cover any of the specific "But…" excuses we use and why they don't work. I had cherry-picked a few such as:
But… Aren't there laws that require the "humane" treatment of animals?
But… We're at the top of the food chain?
But… Isn't what I choose to eat a matter of my choice?
But…My family and friends will be upset if I stop consuming animals?
To read these plus all the other commonly used excuses to not adopt as vegan lifestyle I strong recommend you pick up a copy of Eat Like You Care: An Examination of the Morality of Eating Animals.
Each of us has the moral responsibility to educate ourselves and to then educate others about refusing to participate in the victimization of the vulnerable by going #vegan. So do it. Please. @garylfrancione #abolitionistvegan
Click To Tweet
Connect with Gary and Anna online via:
Their main site: www.abolitionistapproach.com/ and also How Do I Go Vegan:
Also via Facebook: Gary L. Francione: The Abolitionist Approach to Animal Rights and YouTube:
Purchase their books here:
Animal Rights: The Abolitionist Approach
Eat Like You Care: An Examination of the Morality of Eating Animals
Advocate for Animals!: An Abolitionist Vegan Handbook
That's it for this week in Healthification. Huge thanks to YOU for sharing this week with me. You rock and I appreciate your support!
The Healthification podcast is proudly bought to you by my FREE 'Easy Vegan' plan. It took me 25 years to transition from a meat eater to a happy, healthy Vegan! You can do it in just 3 days with  my simplified 'easy vegan' plan!  Get the fit, strong, and healthy plant based body you deserve… while avoiding ALL the mistakes I made along the way!
Till next time, remember Creating a body and life you love is Freedom. (If this ex-carb queen, non genetically gifted, naturally uncoordinated vegan chick can do it – so can YOU!!!)
If you liked "Gary Francione, Anna Charlton and Eat Like You Care: An Examination of the Morality of Eating Animals" you'll also like: Creating The Most Effective Fat Loss Mindset For Vegans PLUS Month In Review.
If you're yet to share the Healthification love – just click here to zip over to iTunes and leave an honest rating and review. It'd help me out big time. With gratitude, Kate.