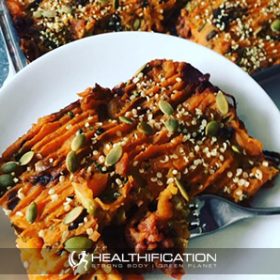 Podcast: Play in new window | Download
Subscribe: RSS
Todays show is inspired by the gents I work with banging on about the benefits of the Keto diet.
Originally I had planned to podcast about all the health risks associated with restricting your diet to align with the Keto guidelines of 70% of your calories coming from fat, 25% of your calories coming from protein and just 5% of you calories coming from carbs. Keto means you get to demolish all the steak, bacon, cheese and butter – with all the ethical and environmental repercussions associated with increasing your demand for animal agriculture. It also means you must stay clear of all fruit, legumes, grains and severely restrict your veg intake. 
I soon clicked it would be a fairly negative show and rather than just ranting I want to keep this content positive and actionable.
So let's not talk about the most restrictive, selfish and unsustainable diet on the planet (ok, rant over!) instead I want to share:
What I Eat In A Day To Stay Plant Strong and Lean. (2019 Vegan Food Upgrades) 
I hope that doesn't sound overly self indulgent, as I love to hear what other people eat!
I have 4 main points / tips today and I'll share my current day of #plantstrong deliciousness up top in point one however more importantly I want to also delve into the most effective mindset to cultivate around your eating choices.
What I Eat In A Day To Stay Plant Strong and Lean Tip ONE: Fibrous veg at every meal.
No green (or other fibrous) love in a meal genuinely feels like a missed opportunity to me.
This is one of the many reasons I'm still starting my day with a green smoothie. Although to be fair it's often got berries which leaves it #uglybutyummy and grey / brown!
I aim for 3 veg + 3 fruit in my smoothie: so often kale, spinach, Spirulina (it's algae and actually bacteria however I count it as veg) + perhaps mixed frozen berries, 1/2 apple and 1/2 kiwifruit. I sweeten my smoothie with 1/2 scoop of plant based protein powder and Prana Himalayan salted caramel is still by far my fav.
When at home for lunch I favour a huge salad 1/2 raw and 1/2 baked veg with homemade dairy free pesto and protein pimped hummus. This meal really is large-bowl-overflowingly-huge (!) and often I get up to 20+ different veg plus avocado. When eating at work I go for a 5 minute lunch which I'll cover in tip two.
I make a weeks worth of pesto and hummus over the weekend and 3 days worth of salad at a time.
Dinner is the meal that's changed the most recently. I'm loving my vegan shepherds pie which I serve with fibrous veg in the form of kale or brussel crisps however this is a much more starchy veg and #carbstrong meal than I've had regularly in, gosh a couple of decades! It's chocka block with mushies, carrot, canned tomatoes, onion, a can of brown lentils lots of flavourings and a huge sweet potato turned into mash to top.
I make a 4 serve batch over the weekend and I add extra hemp and pumpkin seeds to each serve.
The Mindset to cultivate: How can I get as much nutritional value for my body into this meal? This is in stark contrast to the strategy I used to run which was: How little calories can I get away with? To delve a little deeper…
It's really important to start the day as you mean to continue. With the best possible fuel for your body rather than whatever's quick and easy. Although of course a smoothie is quick and easy if you prep them on mass over the weekend.
For those of us who get huge pleasure from food, lunch time is a delicious little time-out before a productive afternoon.Accordingly, it makes sense to prioritise the food that leaves you feeling energised rather than in a food comma. I do my best to chew slowly and be more mindful though my natural tendency is to demolish like I haven't eaten for days not hours.
Focus on value (and taste) not calories. This mindset has seen me re-introduce so many foods back into my regular eating routine since adopting a vegan lifestyle a few years ago: fruit, lentils, soy and potatoes to name a few.It means your meals feel abundant rather than restrictive. Abundant is easy to stick to. It's the type of eating that you miss if you travel and have to make do with a few less than veg-rich meals.
Quick tip: Spirulina or Kale powder is an easy way to veg up your smoothies. Chlorella tablets are easy to consume after dinner. Why would you though? Sooooo, many reasons. I'm sold. You'll find out why in show E628: Algae, the most nutrient dense, sustainable food on the planet with Catharine Arnston from Energybits. It's coming up next.
What I Eat In A Day To Stay Plant Strong and Lean Tip TWO: Heat and eat meals on mass.
There's something that really appeals to the "little planner" in me when I have a huge batch of some plant based deliciousness prepped and ready for the week to come each Sunday. If you're a fan of certainty or see the value in modelling success then I strongly recommend you make time for a little meal prep in your week.
My current Go2 meal on mass after a long stink of smokey eggplant curry, followed by a brief obsession with tempeh mince is now my aforementioned vegan shepherds pie.
The Mindset to cultivate: I'm getting a head start on my best eating week. To delve a little deeper…
Back to the matter of "modelling success"any one I know with the results I want (who works and doesn't have a private chief) puts aside some time for meal prep each week. You could think of it as a necessary evil…
Or even better turn it into something fun and utiliswwe the term Katherine Milkman coined "temptation bundling" which means combining a habit you need to do (like food prep) with one you want to do (like listening to your fav podcast or audio book).
Don't start making excuses because if you start where do you stop? I completely understand sometimes you might want the weekend to be lazy, chillaxing time, however the one thing to have zero tolerance for is the awesome fuel you feed your body.
Quick tip: If brown rice and baked sweet potatoes are getting a tad old or time consuming try a new fast cooking noodle, seed or grain. I've recently discovered edamame spaghetti (they are amazing) with 7.5 grams of protein and 2 grams of carbs per 50 gram serve and they cook in just 4-5 minutes. This tip is a throw back to re-introducing foods I evicted from my regular eating routine during my carb-phobic years. I still favour whole foods over the processed stuff however these edamame are just edamame flour and water – I count that as one ingredient! Quinoa and buckwheat are other great options (actually both seeds) I used to steer clear of and now embrace.
What I Eat In A Day To Stay Plant Strong and Lean Tip THREE: 5 Minute Go2 Breakfast, Lunch and Dinner.
5 minute #plantstrong meals are just as doable as the animal based alternatives.
The 5 minute version of a breakfast smoothie is a few cubes of frozen spinach, a generous amount of frozen mixed berries a half teaspoon of Spirulina and a scoop of protein powder.
My 5 minute lunch is a pack of undressed kale-slaw, dressed with 1/2 an avocado mashed with a heaped tablespoon of Veganaise and topped with 2 supermarket bought black bean and beetroot burgers.
My 5 minute dinner is firm tofu cubes tossed in a tablespoon of tamari and a couple of tablespoons of nutritional yeast than baked till crispy on baking paper. 1/2 way through cooking I add whatever veg and herbs / spices are handy: perhaps sliced mushrooms, 1/2 a bunch of asparagus and 1/2 a zucchini in peels. Sprinkled with garlic and onion powder, seasoning and hemp plus pumpkin seeds.
The Mindset to cultivate: I'm committed and versatile enough to easily make quick, healthy, nutritious plant based meals in any situation. To delve a little deeper…
I almost look at this as a game. Especially when eating out.If a delicious, nutritious #plantstrong option isn't already available I scan the menu to see what I can jigsaw puzzle together.
Know that each time you make the choice aligned with your goal (whether it's the easy option or not) you're making it easier to make that choice again. The reverse is also true.
Your actions teach others how to treat you.If you make the effort to make the choice aligned with your goal – they (eventually) will likely be supportive of that choice.
Quick tip: When in unfamiliar territory carry simple protein pimps with you. It really can be as simple as a tablespoon or two of your fav seeds to add to a light weight or disappointing meal.
What I Eat In A Day To Stay Plant Strong and Lean Tip FOUR: Be Aware Of Liquid Calories.
For some people that might be the orange juice with breakfast or the smoothie with your breakfast out.
For me it was snackie little drinks like hot cacao and almond milk or plant based protein powder with almond milk and boiling water. The thing was I never consumed these because I was hungry. It was always just a "I want to consume" and equally after consuming I never felt satisfied. Likely because it wasn't a hunger gap I was looking to fill.
In brutal honesty alcohol can play a similar role in my life. As such I've 1/2'd my alcohol intake in 2019.
The Mindset to cultivate: What am I looking to avoid or block out with this consuming choice? To delve a little deeper…
Ask yourself, how will I feel after this consuming decision? I find this often gives me pause to reconsider. As much as I love a beverage it's never actually solved a problem or long term helped me deal with something that needs to be dealt with!
Further to the "gives me (you) cause" meditation is a daily habit that helps insert that little chance to think before a mindless reaction and I would also say before mindless demolishing. 
Rather than "looking to avoid or block" with either food or liquid calories a technique new and useful to me is to rather explore the emotion via journaling. Like meditation, journaling has its high praises sung by so many people because as tiresome and unexciting as it sounds it really does work. By work I mean it helps you process the thoughts that in your head swirl around in an overwhelming chaos and yet on paper can take on an approachable clarity.
Quick tip: If you struggle to consume enough water in a day try one or both of these strategies. Buy a water filterer so at least it tastes great. Train yourself to consume a glass of water before anything else you drink or eat.
As we near the end of todays show I have a couple of late to mind caveats:
First: When I mention 2019 Vegan Food Upgrades my intention is never to work towards "the perfect" day of eating. Rather it's to illustrate that you start where you start and you upgrade or evolve your choices as you feel necessary. For a couple of years I used to snack on a 400 gram bag of roasted, salted cashews and macadamias and they added oil in the roasting. Who adds oil to nuts?!!! Only this year have I dragged myself away from that addiction and swapped to natural unsalted mixed nuts which I roast (without oil) at home.
And yes, for those of you who know me well, those tempting trigger food nuts still must live at work because at home they will get demolished.
Second: It's normal to sometimes devolve in your eating choice too! I'm certainly not always progressing. Like every exercise session isn't your best, you're going to have the day(s) where everything eating does not go to plan. That's normal and natural and the important thing is how quickly you get back on track.
To get actionable today, I'd love to focus more on the mindset than the food. Do any of my mindset to cultivate examples sound beneficial to your current situation?
To recap:
The Mindset to cultivate: 
How can I get as much nutritional value for my body into this meal? 
I'm getting a head start on my best eating week.(in relation to meal prep)
I'm committed and versatile enough to easily make quick, healthy, nutritious plant based meals in any situation.
What am I looking to avoid or block out with this consuming choice? 
That's it for today in Healthification however I'd like to round out today's show with a suggestion from a lovely listener Karen, who recommended I share an iTunes review each week. It's a great suggestion however rather than just read what you think of my lil show (as much as that genuinely makes my day / week!) even more I'd love to know more about YOU! So, if you're yet to and you value this content please consider leaving a rating and review and please give me a little glimpse inside your life! What's working – what's a tad struggle street – what would you like me to cover in an upcoming show and also, who you like me to interview on the show? I'd love to hear from you!
Thanks so very much – sending you big gratitude across the pod waves.
The Healthification podcast is proudly bought to you by my FREE 'Easy Vegan' plan. It took me 25 years to transition from a meat eater to a happy, healthy Vegan! You can do it in just 3 days with my simplified 'easy vegan' plan!  Get the fit, strong, and healthy plant based body you deserve… while avoiding ALL the mistakes I made along the way!
Till next time, remember Creating a body and life you love is Freedom. (If this ex-carb queen, non genetically gifted, naturally uncoordinated vegan chick can do it – so can YOU!!!)
If you liked "What I Eat In A Day To Stay Plant Strong and Lean" you'll also like E571 [Day 1] 7 Day Plant Strong Jumpstart for a Lean, Fit, Healthy Body.
And, E547: The Ultimate Vegan Food Pyramid For Getting and Staying Lean.
If you're yet to share the Healthification love – just click here to zip over to iTunes and leave an honest rating and review. It'd help me out big time. With gratitude, Kate.