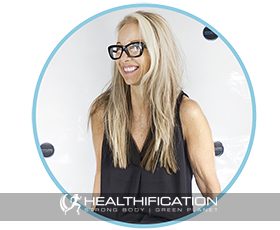 Podcast: Play in new window | Download
Subscribe: RSS
Friends we're in for a high energy ride today!
Energybits Founder / CEO and Chief Scientific Officer Catharine Arnston has spent the last ten years educating consumers and wellness professionals about algae. Now if the word "Algae" doesn't instantly fill you with excitement please hang on in there! I was merely a causal Spirulina consumer prior to prepping for todays interview and now I'm a huge fan of this cultivated one ingredient power algae known for aiding performance and energy. I'm an even bigger fan of the lessor known algae on the block: Chlorella. 
Don't just take my word for it though:
Algae is endorsed by NASA and the UN as the most nutritionally dense food in the world. It has 40 vitamins & minerals, the highest concentration of protein in the world and one ingredient.
Click To Tweet
As the most studied food in the world there are "over 100,000 studies documenting its benefits, some of which include increased energy, improved focus, strengthened immune system, reduced inflammation, removal of toxins, enhanced longevity, improved sports performance, removal of hunger and revitalised skin & hair health". (Energybits.com) In short Algae boasts:
High Plant Protein (3 x steak)
High Organic Iron (48 x spinach)
High Chlorophyll ( 1,000 x greens)
High Antioxidants (1,000 x cherries)
High Vitamins & Minerals (more than other vegetables) 
High Fatty Acids (Omega-3 , DHA, GLA)
High Vitamin K2 protects heart, brain, skin and bones.
All this goodness at what environmental cost you might be thinking? That's where algae gets even better! It's the most sustainable crop in the world. Catherine shares how algae protects our: Oceans, Air, Land, Fresh Water near the end of our chat.
Algae's only problem? It is virtually unknown outside of Asia. 
Catharine is super committed to changing that. Let's chat:
Algae, the most nutrient dense, sustainable food on the planet with Catharine Arnston from Energybits.
In this interview we cover:
Why Catherine started her company Energybits?
A quick overview of what Spirulina and Chlorella are and what they do differently in your body.
We discuss the extensive health and performance benefits of algae. 
Catherine shares the questions we need to ask when choosing our green supplements.
How to get more of these powerhouse superfoods into your diet.
How algae is the most sustainable crop in the world. It protects our: Oceans. Air. Land. Fresh Water.
I hope you found this conversation as fascinating as I did. Who'd have thought there'd be so much value in a little blue-green or green algae?
If you're keen to get some algae love in your life (like me!) then I have the details for Catherine's generous discount of 20% off linked up below. Or you could go directly to www.energybits.com and use the code Healthification. The awesome news is this discount will work always for any product via that site. Sadly though they don't ship to Australia and NZ however I'll hook you up with a site (eatcleanlivedirty.com) that does ship to the lands down under (!) however the discount won't apply. I'm getting my energybits algae on regardless though!
Connect with Catherine and purchase Energybits online:
Home website: https://www.energybits.com/ use the code "Healthification" for 20% off!
Website for Australian and NZ Energybits purchases: Vitality bits (Spirulina) and Recovery bits (Chlorella)
On another note: as comprehensive as the nutritional and health benefits associated with algae are it's the environmental sustainability I'm most excited about.
After my conversation last week in show E626 with Greg Litus where we discussed "What Is The Most Sustainable Way To Feed The World?" and following on from my brief spotlight on the sustainability and versatility of hemp in show 625 I'm so incredibly heartened at all the possibilities for fixing our broken food system and creating a fit, strong, happy healthy vegan world.
From just a purely land point of view: Acre per acre, algae produces 400 x more protein than beef, 200 x more protein than milk, 160 x more protein than wheat and 44 x more than soy. (Energybits.com)
As Catherine mentioned, the stats so far as water use, oceans and air are just as fab. I recommend you do your own research, though I expect you'll be as impressed – Hearted – HOPEFUL as I am.
Food choices that better for you, for the planet and for the animals. Surely that's a no brainer right?
And yet, it's not yet a no brainer for everyone.
If you find that as frustrating as I do then I have help for us both curtesy of an activist I have so much respect for. Next week excitingly I'm welcoming back my first repeat guest on the Healthification podcast in E630: Psychologist Clare Mann and The Myths of Choice: Why People Won't Change and What You Can Do About It.
I look forward to sharing that show with you.
That's it for this week in Healthification. Heart felt thanks to YOU for sharing this week with me. Your support means a lot and I do not take it lightly.
The Healthification podcast is proudly bought to you by my FREE 'Easy Vegan' plan. It took me 25 years to transition from a meat eater to a happy, healthy Vegan! You can do it in just 3 days with  my simplified 'easy vegan' plan!  Get the fit, strong, and healthy plant based body you deserve… while avoiding ALL the mistakes I made along the way!
Till next time, remember Creating a body and life you love is Freedom. (If this ex-carb queen, non genetically gifted, naturally uncoordinated vegan chick can do it – so can YOU!!!)
If you liked "Algae, the most nutrient dense, sustainable food on the planet with Catharine Arnston from Energybits" you'll also like  The Ultimate Vegan Food Pyramid For Getting and Staying Lean.
If you liked "Algae, the most nutrient dense, sustainable food on the planet with Catharine Arnston from Energybits" you'll also like  The Magical Health Benefits Of Mushrooms With Jeff Chilton.
If you're yet to share the Healthification love – just click here to zip over to iTunes and leave an honest rating and review. It'd help me out big time. With gratitude, Kate.