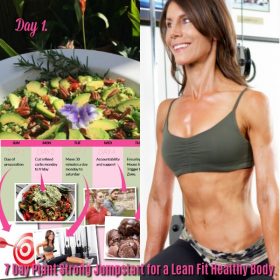 Podcast: Play in new window | Download
Subscribe: RSS
Happy 2019 #plantstrong friends!
Welcome to Day 1 of the 7 Day Plant Strong Jumpstart for a Lean, Fit, Healthy Body.
Over the next 7 days I'm going to share one easy to implement step a day to create a strong healthy body while following a Vegan (#plantstrong!) lifestyle.
Yes, I have your food and exercise covered however most importantly we'll sculpt the MINDSET that makes your best plant based food choices simple and sustainable. Whether you want to lose weight. To gain energy. To get healthier. Stronger. Fitter. Firmer.
To play your part in stopping inhumane and unsustainable animal agriculture.
You CAN eat plant based healthily. Without huge sacrifice. Or boredom. Or massive inconvenience.
You won't have to go hungry. We'll cover the common Vegan mistakes to avoid.
Know you're giving your body everything it needs to look, feel and function optimally.
Day 1 is where you will lay the groundwork for the results to come. There's a bit to get through today.
A few considerations before we getting rolling.
ONE: This podcast series details 7 days of the most important actions and habits to create in order to eat plant strong healthily and happily. My intention is that the next 7 days are just the foundation and that eating plant strong becomes something you want to continue.
Just as importantly..
TWO: Everything counts! Zero judgement. No right or wrong. The way you eat is a hugely personal decision and it's important to make changes at your own pace.
THREE: I have a super detailed Free PDF to help make everything we cover over the next 7 Days implementable. 
Next, I want your buy in. With YOU – not with me. Let's call it your, "Promise to Myself"
Today is the _____/_____/_______ and from today and for the next 7 days I, __________________________________________
am 100% focused and committed to doing everything within my power to ensure my personal health goal (we'll define it soon) becomes a reality.
I understand this will involve some short term sacrifices and changes that will push me beyond my comfort zone.
I'm willing to eat delicious, nutritious plant strong food. Whether I feel like it or not. For 7 days.
I choose to dedicate my focus to the long term benefits that my hard work will allow me to experience.
Now let's define your personal health goal. It's time to get undeniably clear on what you would most LOVE the 7 Day Plant Strong Jumpstart for a Lean, Fit, Healthy Body to set you on course to achieve.
Today you're also going to define your values. Everything that guides the decisions you make. What you do and what you don't do too.
Why? Rather than be limited by it, you're about to use that information to your advantage. So if you've ever experienced feeling frustrated at start,
stop exercise regimes and impossible to sustain food fads then you're in the right place.
Today you will create the extra time that you will need to accomplish everything the Plant Strong Jumpstart entails. Starting something new will invariably mean stopping something you're currently giving time and energy to. So right now, at the outset is the time to get clear on how exactly you're going to make the room in your schedule for all that you'll be doing for your health over the next 7 days and beyond.
First though, I'd love you find a quiet space for the next 30 minutes. To get comfy – with pen and paper – and most importantly to know that anything is possible. I'm going to walk (talk!) you through this bit now so if you're not in that quiet space then listen through and pleas come back to me when you are alone and able to focus on how you would love your health to be.
Now go out in your mind's eye to a time in the future when your body, your health, your energy is exactly as you would love it to be. Imagine your ideal body. It may not be 'perfect' however it is a body that you feel comfortable and confident in…and notice how amazing it is to experience everything that comes with the attainment of this goal. Go ahead and really picture all that you can see around you now, what things are you
hearing, what are people telling you, or what things are you telling yourself as a result of achieving this goal. Go ahead and really feel the feelings… the confidence, the control, the freedom, that satisfaction that Yes you can achieve this. The knowledge that you'll be looking and feeling great
both now and later in life too… an example and inspiration to all those you love.
And as you think about all that you'll be seeing, hearing and feeling when you achieve this goal become aware of exactly what you will gain – what it will mean for you and for all those you love. Because it's not the goal we want – it's the feelings and the experiences associated with achieving
that goal. Consider the Belief in yourself that will come with the achievement of this goal. Also how transferable and powerful that self belief is to everything else you aspire to do. I did this super challenging thing – so now what else can I do?
As well as absolute clarity on your goal and what achieving it will give you, also decide how you will measure your progress. Decide how you will know when you've achieved this goal? Perhaps it's a body fat %, fitting comfortably back into your favourite skinny jeans or maybe it's a
predetermined reduction in your girth measurements (such as chest, waist, hips). Possibly it's when you can easily, sustainably and joyfully (!) consume plant strong food without wasting time and energy thinking "Is this ok?" "Can I get away with this?" or "Will this make me fat?"
Let's move on to defining your values. If your goal is not aligned with your values, then what are you basing it on?
Somebody else's / society's expectations? Worse, if your goal conflicts with your values you'll be fighting a constant battle and you'll likely
never achieve let alone sustain your goal health. That's why we're going to ensure your health goal is congruent with your personal values.
Before you even pick up that dumbbell or chow down on that bunch of broccolini (sorta joking!) my goal is for you to have the solid foundations laid that will support the work you're going to be putting into your nutrition and exercise.
The super awesome thing is that choosing to eat plant strong has all the hugely emotive fuel you could possibly want. Whether you're doing it for health, for the environment or for the animals you have plenty to work with so far as value alignment. First things first though!
To determine your top 3-6 values think about:
The states and emotions you most seek out(Important: not the states / emotions you'd like to think you seek out but how it really is!)
How you spend your time?
How you spend your money?
What has meaning and heart for you?
Next. Order your values by placing them in a question. For example: "Do I seek Freedom or Love more?
There's no right or wrong, however I believe your will get the most benefit from eliciting your highest 'Ends' values rather than your 'Means' values that are instrumental in helping you achieve your Ends values.
As an example I never think of 'Health' as a personal value (and this would surprise some people) however it's simply that for me health is a 'means' of achieving 3 of my 'end' values which are 'Freedom', 'Passion', 'Integrity'.
Another example would be 'Family' as a 'means' to achieve 'Love' or 'Connection'.
Ok. Once you have your top 3-6 values – in order – it's time to get clear on how achieving your health goal by eating plant strong will support and enrich each of these values in your life.
It's absolutely fine to get creative. Throughout your Plant Strong Jumpstart I will be asking you to manufacture beliefs that are going to help you achieve your goal. Also to eradicate the beliefs that are in conflict with achieving your goal.
It's vital to know that a belief does not have to be real or true. It just needs to be effective. For what purpose would you hold onto a belief that is not getting you the outcome you desire?
Now let's move onto an all important time magic'ing technique: Stop. Start. Continue.
Time Audit. You're going to create 6 hours a week. Dedicated solely and non-negotiably to the attainment of your goal.
An important consideration here: You identified your goal and what achieving it will Give you AND also give all those you love, first because this is the fuel you need to keep at the forefront of your mind right now while you are making this Stop, Start time creating promise to yourself.
Step 1: Identify the Big Rocks in your life that you want to Continue. 
These are the essentials – likely aligned with your values – things that absolutely must happen each week for you to lead a happy, for-filling, congruent life.
Examples: Your required working hours. Time with your kids. Date night with your partner. Meditation time. Weekly Networking / Volunteer Group.
Step 2: Identify 3 things that you can Stop doing to magic yourself some time.
Examples: Limit email/social media/blogs/phone to set times such as 9am, 12pm, 4pm. Stop watching T.V. either completely or maybe 1 hour daily during the week and weekend evenings if you happen to be home. Quit with the multiple snooze and just set your alarm for when you need to get up (ideally 7-8 hours from when you went to bed).
Step 3: Identify 3 things that you can Start doing to find yourself some time.
Examples: Make multiple meals at a time, portion and freeze. Line appointments up after your scheduled training sessions' finish time to ensure
you power through it. Block tasks rather than multi-tasking. (bill paying, email, phone calls) After you've planned your meals – do a weekly shop rather than daily. Better yet order your weekly staples online. Get to bed 7-8 hours before the best time for you to wake up. Too often we hang about staying up when we're tired and ineffective and could instead be getting the great nights sleep that will see us bouncing outta bed first thing in the am!
3 things to stop and 3 to start are just a guideline so stick with it until you've been able to allocate your 6 hours to dedicate to exercise and meal planning / shopping / preparation.
Ok so we've now laid the foundation with your Goal Defining, your Goal and Value Aligning and your Stop, Start, Continue time Magic'ing now the final step in our day of preparation is to actually do your first Big Shop for the week to come.
You're going to be refining your nutrition over the days and weeks to come, but here are some guidelines to start with:
FREE FIBROUS VEG. (Will make up the bulk of your shop)
Broccoli, Cauliflower, Kale, Cabbage, Brussel Sprouts, Spinach, Rocket, Capsicum, Zucchini, Asparagus, Green Beans, Cucumber, Mushroom, Lettuce Varieties, Snow Peas, Tomato (fruit), Celery, Leek, Eggplant, Onion, Spring Onion, Peas etc.
Garlic, Ginger, Chilli, all fresh/dried Herbs.
STARCHY VEG AND OTHER ONE INGREDIENT CARBS. (Including Fruit and Legumes)
Sweet potato, Potato, Corn, Pumpkin, Carrot, Turnip, Yam etc.
Oats (steel cut not with added fruit or quick oats)
Legumes (such as various beans, lentils, chickpeas and tempeh / tofu)
Berries, Apples, Melon, Grapefruit etc.
PLANT BASED PROTEIN.
Vegan Protein Powder (no whey, no soy)
Hemp, Chia, Pumpkin seeds etc.
Nutritional yeast, Spirulina
Nuts and Nut butters (ideally nothing added)
Quinoa and all your legumes / soy etc also re-features here.
GORGEOUS GOOD FATS.
Coconut, Olive, Avocado, Macadamia, Flaxseed oil
Nut and Seed butters (ideally nothing added), Nuts, Seeds
Avocado, Olives.
I know we've covered A LOT today however all good (!) as mentioned at the top of the show I have you covered with all this information in PDF format that goes out to anyone already on my 3 Day Easy Vegan Plan list. If you've never subscribed for my Free 3 Day Easy Vegan Plan then do it now!
It also shares 3 of my all time fav easy, delicious breakfasts, lunches and dinners to sculpt a Lean, Fit, Healthy Body. Day 1 is perfect for making meals on mass.
In fact so far as all you need to do to make the most of this 7 Day Plant Strong Jumpstart for a Lean, Fit, Healthy Body here are 4 steps.
Subscribe to The Healthification Podcast in iTunes or wherever you listen so you'll know when Day 1 drops. (Ok, it'll be the 1st of Jan 2019 however I'd LOVE you to subscribe!)
      2. Forward The Healthification Podcast to a couple of friends / family members who you know would also love to rock a fit, strong, healthy body following a vegan lifestyle so that you'll have some extra support (beyond me that is – your virtual vegan health coach)… because for better or worse the people closest to you are going to either hold you back or propel you forward.
      3. Opt-in (or re opt-in) to my FREE 3 Day Easy Vegan Plan PDF as it gives you all the recipes you need to power deliciously though 7 Days of #plantstrong deliciousness and ideally well, well, beyond. It also comes with a shopping list so it's super useful to get that in advance.
That's it! Think of the podcast as me in your ear – your little accountability queen. The 3 Day Easy Vegan Plan PDF as your recipes PLUS an awesome supporting email series. And the 7 Day Plant Strong Jumpstart PDF as your tool to help make everything we cover over the podcast these next 7 Days implementable.
That's it for today. You rock and I appreciate your support. I really mean that, every single little download, review, email and comment counts for me and inspires me. I hope you can join me tomorrow!
If you liked "[Day 1] 7 Day Plant Strong Jumpstart for a Lean, Fit, Healthy Body" you'll also like: How To Prevent Weight Gain Over Christmas and New Year (6 step survival blueprint).
If you're yet to share the Healthification love – just click here to zip over to iTunes and leave an honest rating and review. It'd help me out big time. With gratitude, Kate.