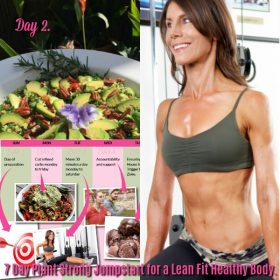 Podcast: Play in new window | Download
Subscribe: RSS
Over 7 days I'm sharing one easy to implement step a day to create a strong, healthy body while following a Vegan (#plantstrong!) lifestyle.
Yesterday we laid the foundations. You got crystal clear on exactly what achieving your health goal by adopting a #plantstrong lifestyle will mean to you and to those you love. Now it's my job to give you proof early on that this will work for you. I'm bringing out the big guns and we're avoiding common mistake to avoid as a vegan number one: Too HIGH PROCESSED CARB and LOW PROTEIN.
In any new eating strategy it's never about being perfect. It's about how quickly you course correct after a slight slip up.
It's the classic pizza or pasta or risotto dish… which perhaps you hold the cheese on?
And you can eat a HUGE amount because the protein and fat are what makes the dish satiating. If you're anything like me, you'll be able to demolish your own large pizza, some bread and then still find yourself eying off the scraps of those you're dining with.
You've over eaten yet you're still craving dessert And you're likely feeling guilty and lethargic to boot.
That's what Day 2 of the 7 Day Plant Strong Jumpstart is going to help you avoid!
Let's get your energy levels soaring and your body fat % plummeting by Cutting Refined Carbs Monday to Friday.
Aside from the tendency to over-eat – feel guilty – feel lethargic, that high processed carb eating can lead to, here are two other benefits you'll experience as a result of todays step.
One: You're going to counter any Hormone Imbalances related to insulin sensitivity. This leads to stubborn fat stores in the love-handles and also lower back fat. It results from years of (over) consuming highly processed carbs.
Two: You're going to utilize the Thermic Effect of Food. That's the amount of energy your body uses to metabolize food. Protein has the highest at up to 30%. A general rule is the more natural the food is, the harder your body will work to process it – and that's a good thing. Fake, processed, sugary and fatty foods elicit the lowest thermic effect at around 3%.
So, just to be very clear here's what I want you to do:
Ensure your only carbs come in the form of whole foods. So, fellow carb lover's we're not hating on carbs, we'll just muscling the crap-o-la processed zero value for your body ones out of your regular eating routine. You'll still be able to enjoy them if you choose on the weekend.
EAT: Non-starchy vegetables, your best source of micronutrients and fiber. Also, the carbs recommended in yesterdays shopping list. If you don't enjoy eating a particular carb then there's no need to include it. You'll get adequate carbs from increased veggies and also your treats which we include on the weekend. That means no processed, nutritionally void carbs Monday to Friday.
ELIMINATE: Cereal (except for steel cut oats), Bread (except for sprouted grain), Yoghurt (except for Vegan yoghurt) and all the usual super-processed suspects.
Utilise the to best times to eat carbs. The two times when your body is best primed to not store carbs as fat: First thing in the morning. Also, in the hour or two following an intense workout.
Want to take it to another level? Combine the two and enjoy your carbs after your intense morning workout, when your body is just waiting to suck them up for recovery, replenishment and to assist in muscle growth
Here's What You'll Shed and How Long It'll Take:
The more processed carbs you've been including in your diet the more dramatic your weight loss will be. Additionally you will loose some water weight as each 1gm of carbs allows your body to store 3 mls of water. It's important to remain well hydrated – this will help counter any headaches that you may experience.
Side note: Aim for at least 8 glasses of water a day (more as required when exercising).
Water helps your body function better and is also one of natures natural appetite suppressants. Dehydration can lead to water retention and bloating (as your body will hold onto whatever water it does get – similar to the starvation response with food) and also Slows Down Fat Loss via sub-optimal kidney & liver function.
Exactly What To Eat?
Day 7 has your Go2Dinners sorted. However to go directly to the deliciousness check out the Free 3 Day Easy Vegan Plan. You'll find whole food plant based recipes like: Kale-Cauliflower Tabouli / Blueberry Almond Chia Pudding / Kale Crisp Nacho's / Cauli-crust pizza with cashew sun-dried tomato cheese.
IMPORTANT CONSIDERATION: For the first couple of weeks you may feel lethargic as your body adapts to using fat for primary fuel rather than carbs. This will pass!
I have a final action for today for you: Start A Food Diary.
I'd like you to document both yesterday's and today's food and to decide on the system that will be most efficient for you to stick with through-out the 7 days. Via pen and paper or within an app or maybe via food photography? On mass at the end of each day or as you go? The 7 Day Plant Strong Jumpstart PDF that I've designed to support you through this podcast series has a Plant Strong Fuel Log on Page 4. Again, you get a link to that Free PDF if you've opted-in to the Free 3 Day Easy Vegan Plan.
Back to the food diary. You'll be recording your food, drink and emotions / energy levels surrounding both for 7 days.
You might be thinking: "Oh Kate, BUT a food diary is so tedious!"
Roughly 97.4% of my clients with a fat loss goal tell me they eat healthy. When we drill down on their nutrition the fact is they lie to themselves. They are far from as focused and disciplined at providing their body consistently with clean, quality fuel as they thought. You need to see it for yourself though.
A Food Diary filled in with accurate quantities will reveal those 'healthy' trigger foods that once you start eating you find it hard to stop.
As a closing heads up, todays email digs deeper with building delicious #plantstrong meals for a lean, fit, healthy body. To help you with the Day 2 step – Cutting Refined Carbs Monday to Friday – I share: The Ultimate Vegan Food Pyramid For Getting and Staying Lean. 
I split The Ultimate Vegan Food Pyramid into Free, Abundant, Generous and Mighty yet Moderate! That's sounding deliciously doable right?
See you tomorrow!
If you liked "[Day 2] 7 Day Plant Strong Jumpstart for a Lean, Fit, Healthy Body" you'll also like: How To Prevent Weight Gain Over Christmas and New Year (6 step survival blueprint).
If you're yet to share the Healthification love – just click here to zip over to iTunes and leave an honest rating and review. It'd help me out big time. With gratitude, Kate.