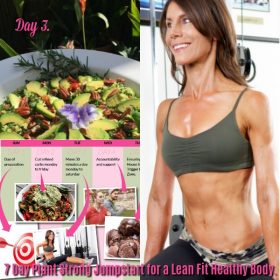 Podcast: Play in new window | Download
Subscribe: RSS
Welcome to Day 3 of the 7 Day Plant Strong Jumpstart for a Lean, Fit, Healthy Body.
Over 7 days I'm sharing one easy to implement step a day to create a strong, healthy body while following a Vegan (#plantstrong!) lifestyle.
Mindset and internal motivation are locked and loaded. That was the most important part of this 7 Day Jumpstart because, 95% of people with a fat loss (I like to call it Body Gain!) goal who focus on diet and exercise alone will fail.
You're filling in your food dairy and you've cut refined carbs. Now for the results that you'll soon be enjoying to be sustainable it's time to make exercising regularly part of your weekly routine. Yes, this is the 7 Day Plant Strong Jumpstart however exercise will make your best eating decisions easier.
Day 3's mission is to MOVE 30 minutes a day Monday – Saturday.
The most important thing is not the hours you spend moving rather the importance you place on making time to exercise daily.
It's about creating a lifestyle HABIT. Prioritising your health. Regardless of the circumstances that are happening around you.
I'm taking away the decision making process to make it easier. Too many times the "Will I, won't I?" leads to "I'll do it tomorrow."
So let's make it non-negotiable. Never base training on how you feel base it on the schedule that is propelling you towards your goal. Let nothing except a genuine emergency come between you and your scheduled exercise.
In the case of a genuine emergency, always make up the session you missed.
The way I see it, a good habit is hard to make yet easy to keep. While a bad habit is easy to make yet hard to keep. Your habits – those things you
perform automatically without much conscious effort or thought – need to support your ideal health.
So here's the plan: 6 days you move. 1 day you enjoy a well deserved rest.
We'll get to 'what' exercise exactly to do soon. For now, I'm happy for 30 minutes dedicated to anything active.
On day 1 you 'found' 6 hours. Now is the time to schedule in half of that as 30 minute exercise sessions, 6 days a week.
Think of them like important business appointments with yourself. They can't be moved and you must not run late for them. Also plan your strategies for obstacles such as bad weather or a cancelling training partner. In advance!
If you have the 7 Day Plant Strong Jumpstart PDF that I've designed to support you through this podcast series each day you complete your exercise tick it on your Plant Strong Calendar. Again, you get a link to that Free PDF here:
If you're curious regarding 'what' exercise exactly to do todays email reveals my strong recommendation and also shares 3 steps to optimise your #fatblasting routine. In addition the 3 Day Easy Vegan Plan has 3 equipment free workouts.
See you tomorrow!
If you liked "[Day 3] 7 Day Plant Strong Jumpstart for a Lean, Fit, Healthy Body" you'll also like: How To Prevent Weight Gain Over Christmas and New Year (6 step survival blueprint).
If you're yet to share the Healthification love – just click here to zip over to iTunes and leave an honest rating and review. It'd help me out big time. With gratitude, Kate.