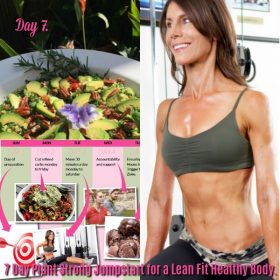 Podcast: Play in new window | Download
Subscribe: RSS
WOOHOO Welcome to Day 7 of the 7 Day Plant Strong Jumpstart for a Lean, Fit, Healthy Body. #plantstrong friends!
Over these past 7 days I've shared one easy to implement step a day to create a strong, healthy body while following a Vegan (#plantstrong!) lifestyle.
As Brain Tracy says Proper Prior Planning Prevents Poor Performance. All too often I hear of poor nutritional choices made purely out of convenience. Generally the choice that's going to propel you towards your ideal body tastes better than the quick-and-easy-salty-fatty-carby fix. It certainly leaves you feeling better after eating. We can agree on that even if we're not yet agreeing on the taste factor can't we?
So, the thing is to Come up with 3 'Go to dinners' that are just as easy, and at least as enjoyable – that you can throw together without a second thought. Let's make auto-pilot supportive of your goal.
I've included 3 examples for you to check out in both the 7 Day Plant Strong Jumpstart PDF and the 3 Day Easy Vegan PDF.
Perhaps they'll work for you as is or they might be a starting point to come up with your own 3 G2D.
Here are some quick points to consider:
Focus on a generous variety of fibrous veggies plus #plantstrong protein and some good fat.
Aim for the veggies to account for 2/3's of your plate.
Where ever possible make a meal on mass and stock up your freezer.
Choose meals that are satisfying as is and can have starchy carbs added easily for those in your family who may not want to lose fat. No need to cook 2 separate meals, make it easy on yourself.
Planning these 3 G2D is creating a friction-free environment. The less you have to think when you get home late from a hectic day the easier it will be to succeed. Putting the preparation time in now will save you time and frustration in the future.
Even the most disciplined person will be susceptible to a poor food choice if that's the only option.
As part of the 7 Day Jumpstart I'm also sharing some Easy Vegan Recipe Templates. Separate to the full recipes these are just some general guidelines of how you might build a delicious, nutritious #plantstrong meal. In today's show I'm covering the dinner template.
I'll share the Breakfast and Lunch templates in the email that goes out to everyone who has opted in to the Free 3 Day Easy Vegan Plan too. That'll being today (the 7th) if you're following along live or as part of the auto-responder series if you're following in the future.
Back to that easy vegan dinner template though…
Dinner is the meal where too frequently the wheels fall off.
Generally it's not dinners fault… it's more the fact that breakfast was skipped or lunch was light however hopefully the breakfast and lunch  templates have you set up with the first two main meals of the day so the remaining obstacles to tackle so far as dinner are:
A lack of preparation.
A lack of preparation.
3 factors to consider with regards to Proper Prior Planning Prevents Poor Performance:
One: The meals you plan before dinner that do not leave you crazy-starving-deprived-needing-to-DEMOLISH.
Two: The great staples you keep on hand at home so that throwing together a #plantstrong dinner is simple and quick.
Three: The rubbish crap-o-la that does not live at home to tempt you when you get home tired-late-irrationally-hangry.
Easy Vegan Dinner Recipe Template: Stuff-a-ble Veg + Beans + Nuts.
For example:
Portobello mushroom + black bean or chilli bean mix + cashew and sun-dried tomato cheese. (cheese recipe in 3 Day Easy Vegan Plan)
Half eggplant + edamame miso dip or red lentil dhal + roasted almonds.
Red Capsicum + 4 bean and corn mix + pecan-kale-basil dairy free pesto. (pesto recipe in 3 Day Easy Vegan Plan)
A few caveats (!):
For the dinner template I'd add a side of green such as: asparagus, brussels or zucchini.
Fruit didn't make the templates as it's perfect to snack on.
So far as swaps? Really anything goes as long as you stick to a veg (or 10) + a bean / grain / plant based protein + a good fat.
In just 7 days you've tackled the most vital and time consuming components of creating a fit, lean and healthy plant strong body.
You'll have heard that exercise is 20% of Body Gain and nutrition is 80%? I agree… however ONLY when you first have your mindset dialled in at 100%. Mindset is what allows you to easily DO what you know you should do so far as eating and exercising. 
It's not rocket science right? It's simple. (if not easy).
Perhaps you've known the simple actions for years and not yet stuck with them consistently enough to enjoy the results you deserve? Ok, lets now make 'simple' as easy as possible!
You've got some solid reference points for success, and they are worth feeling proud of.
You've implemented some fast-results focused FOOD upgrades.
You've made EXERCISE a regular non-negotiable part of your week.
You've found the TIME needed to prioritise both.
Now it's time to refine your approach. To get specific with your training and your nutrition. To cultivate the mindset that ensures the fit, lean and healthy plant strong body you're creating is permanent and sustainable.
Keep up the momentum with each new habit you've created. It will only get easier.
If you'd like me on your team for the full 30 Day Plant Strong Jump Start that'd rock!
It's not something I'm offering as a stand alone product anymore (so don't worry about the links in the 7 Day PDF) I have a much better offer for you. Basically you can pay what you want (even $1) because the 30 Day Plant Strong Jumpstart is ONE component of all the extra content you get access to if you choose to support me via Patreon.
I'll share more info in the outro very soon – however first I want to thank you so very much for joining me today and hopefully the past 7 Days and beyond.
As I've shared before my vision to create a fit, strong, happy, healthy, Compassionate VEGAN WORLD!
Yes, that's a HUGE vision. However every single day I see so many examples that strengthen my belief in a vegan world.
I believe one of the most impactful ways to be an advocate for the animals is to be fit, strong, happy and healthy.
I'll be back with normal programming next week – actionable solo shows and longer form interview shows.
Till then here's to a happy, healthy, love and compassion filled 2019 to you and to all those you love.
If you liked "[Day 7] 7 Day Plant Strong Jumpstart for a Lean, Fit, Healthy Body" you'll also like: How To Prevent Weight Gain Over Christmas and New Year (6 step survival blueprint).
If you're yet to share the Healthification love – just click here to zip over to iTunes and leave an honest rating and review. It'd help me out big time. With gratitude, Kate.