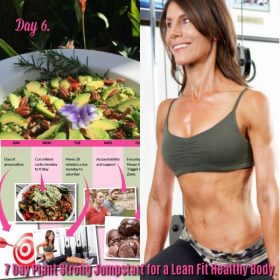 Podcast: Play in new window | Download
Subscribe: RSS
Welcome to Day 6 of the 7 Day Plant Strong Jumpstart for a Lean, Fit, Healthy Body.
Over 7 days I'm sharing one easy to implement step a day to create a strong, healthy body while following a Vegan (#plantstrong!) lifestyle.
We're delving deeper into the mindset side of healthy living today. Certainly one of my favourite tools when it comes to – well Life in general – for today's purpose, eating and exercising to create your best plant strong body is: 
The Reframe.
If your gut reaction is that's just airy fairy feel-good talk, my question to you is, Do you want to make keeping this hot, healthy body you're creating EASY on yourself or a Constant Battle?
I want to make it as easy as I can for myself.
To Clarify: the workouts aren't easy. Prioritising time to plan my meals Is not easy. However, the daily decisions I make to DO the workouts and the meal prep are easy. It wasn't always the case.
Reframes are one of the tools I use consciously to train my mind to think in the way that most supports me getting my workout groove on. Or eating awesome plant strong food. After making the conscious decision enough times it becomes unconscious.
So alone the learning curve you will progress from:
Unconscious Incompetence: I've just bumped you off that if you're starting to become aware of the self-talk you have that limits your inclination to eat and train as you would want to to get the best possible results.
Conscious Incompetence: Your reframes are going to feel a little contrived for a while. Stick with it!
Conscious Competence: You're becoming aware that the way you're consciously training your mind is really starting to benefit you.
Unconscious Competence: The End Game! You 'naturally' think in the way that supports your ideal health. Thoughts => Decisions => Actions => the Results you want.
Here are 2 questions to get the ball rolling:
"What is Exercise to me?"
(1st write your current natural response. Next reframe to a more helpful response.)
Reframe:
"What is Plant Strong Food to me?"
(1st write your current natural response. Next reframe to a more helpful response.)
Reframe:
In yesterdays podcast I mentioned I'd chat more about the Dairy Industry. I am however I'll keep it more focused on the nutrition side of things rather than the EXTREME cruelty involved in dairy. If you're interested in what made this vego for 23 years turn vegan please check out show E555 on: Feminism, The Dairy Industry and Separating Mums From Their Babies. (I'll link to it in the show notes or just cruise to E555 in your podcast app).
Onwards with, REFRAMING The Biggest "But" In Trying Vegan…. CHEESE. 
It's said the most common block – the biggest "But" in trying Vegan is…. cheese.
Not surprisingly cheese is also meant to be the most addictive food ever created. I want to address cheese – in fact all dairy and deliver a double barrelled solution to escaping the dairy addiction.
First: Let's first chat scrumptious substitutes. They are available and they ARE delicious. In fact they're getting better by the day and as easy to find as a quick "vegan cheese" google search away.
What about CALCIUM you might ask?
Here are some Easy Vegan Calcium Sources:
One: Fortified Milks like: almond, coconut, hemp and rice milks. 
Two: Nuts and Seeds like: Almonds and sesame seeds / tahini. 
Three: Greens like: Collard, bok choy, broccoli and kale. 
Four: Beans / legumes like: Edamame, chickpeas, pinto and navy beans.
Five: Tempeh and tofu.
Or, The Simple Scatter Solution for Vegan Calcium! 
Simply scatter any of these into your existing smoothies or over your breakfast bowls / oats:
25 grams almonds.
1 tablespoon tahini.
1 tablespoon chia seeds.
1 teaspoon kale powder.
50 grams figs. 
Simply scatter any of these into your existing curries or over your salads / stir fries / tacos / nacho's:
25 grams almonds.
1 tablespoon tahini.
50 grams roasted edamame.
50 grams roasted chickpeas. 
Next: The Reframe.
As I mentioned at the top of the show this is one of my fav mind games to play with yourself! It means finding the more beneficial way to view a situation. Or the way that will cause you to take the action you want to take.
Let's check out a few ways to reframe dairy and hopefully at least one will resonate with you:
If you're trying Vegan for the animals: rather than cheese being that supreme deliciousness that makes everything better see it as the reason calves are separated from their mothers at birth or at most a day or two after birth… and either (for the boys) slaughtered as veal or (for the girls) sold into slavery as a dairy cow where they suffer around 5 years in horrific conditions (instead of 20) before they get less efficient and are slaughtered.
If you're trying Vegan for the planet: next time you consider dairy also consider, a farm with 2,500 dairy cows produces the same amount of waste as a city of 411,000 people. And, 15x more protein can be produced on any given area of land with plants, rather than cows. And, 1,000 gallons of water are required to produce 1 gallon of milk.
If you're trying Vegan for your waist line: rather than milk being that thing your have to have in your coffee see it as the most perfect fuel to grow a baby calf from around 86 pounds at birth to 1,300 pounds or more in just 2 years!
It's not about giving yourself grief or feeling any guilt. Rather it's about finding the reframe that makes it easier on YOU to take the actions aligned with your values and beliefs. 
As a closing heads up, we just touched on vegan calcium, in todays email I share my fav Easy Vegan Iron Sources:
See you tomorrow!
If you liked "[Day 6] 7 Day Plant Strong Jumpstart for a Lean, Fit, Healthy Body" you'll also like: How To Prevent Weight Gain Over Christmas and New Year (6 step survival blueprint).
If you're yet to share the Healthification love – just click here to zip over to iTunes and leave an honest rating and review. It'd help me out big time. With gratitude, Kate.