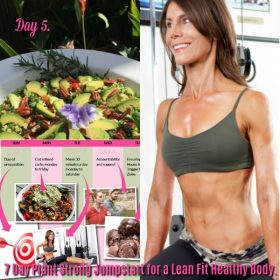 Podcast: Play in new window | Download
Subscribe: RSS
Welcome to Day 5 of the 7 Day Plant Strong Jumpstart for a Lean, Fit, Healthy Body.
Over 7 days I'm sharing one easy to implement step a day to create a strong, healthy body while following a Vegan (#plantstrong!) lifestyle.
Today is about ensuring your house is a Trigger Free Zone.
I'm talking about those foods that once you start you can't stop. We all have them. It's a simple case of if it's not in the house you can't demolish it! My intention is that you create the environment that makes it easy to succeed.
No trigger food in the house = Zero reason to feel guilt at eating aforementioned tricky trigger food.
If you have trigger foods at work they need to go too. Make it easy on yourself and take comfort in the knowledge that you can enjoy any of these foods on your weekly cheat day. Guilt FREE.
Whenever you reduce something (animal products and processed crap-o-la) it's important to ensure you don't feel deprived. I want you to still enjoy delicious, satisfying meals so amp up the volume with your fibrous veggies (those on your day 1 shopping list).
Veggies have a low caloric density (you can eat lots for few calories) and are also fibre rich which will keep you feeling fuller longer. Aim for a rainbow of colours as the micronutrients this will give you actually fight cravings. Yes, those cravings aren't because you need a sugar hit. It's your body telling you you're missing out on the vital nutrients it needs to stay healthy and function efficiently.
Your mind will literally scream at your stomach to eat more – and unless you chose nutritious fuel the same cruel craving cycle will continue.
The lactose (naturally occurring simple sugar) in dairy can cause bloating, cramps, water retention and puffiness dependent on how well your body tolerates / digest's it. Most of us don't digest it so well – as, well, WE'RE NOT BABY COWS! I'm going to chat more about the Dairy Industry in day 6 tomorrow. 
Even if you have zero or minimal lactose intolerance the simple carbohydrates in dairy are best kept to a minimum in favour of complex carbs (again, those on your day 1 shopping list).
As an example, this is the level I need to take it to as I'm an emotional eater and have lots of trigger foods. So even healthy, nutritious foods can result in excess consumption if I let them hang-out at home.
Cape-seed rolls. Eaten on the weekend – bought (only the amount I intend to eat) on the weekend.
Nuts. True trigger trouble! They're banished from home and I buy a weeks quota and keep them at work.
Nut butter. I can't trust myself to not attack the jar with a fork so I don't buy it anymore. Or I keep less fav, seedy tahini at home. This is also a good trick for anyone that has family / flatmates who choose to eat biscuits / chocolate. Find a flavour they still enjoy that you're less tempted by.
Red Wine. If I have an open bottle at home it's eyeing me off each night. Nagging at me. So I'll often take my open bottle to work. That's a little embarrassing to admit however I know I'm not going to drink it at work however 6pm at home when it's been a long, productive day… that's a different story!
With whatever YOUR tempting trigger foods are – that you still see value (and joy!) in eating I recommend deploying The Running Tally. This is where you have a set amount you consume in a week (I do this with bread, nuts, coconut yoghurt and wine) and then you roughly track it each day. A little extra today means a little less (or none) tomorrow so that by the end of each week you've stuck to your quota.
Essentially ensuring your house is a Trigger Free Zone is about making it as easy as possible for you to win the discipline game. It's something I write about a lot because as an emotional eater, I struggle with it a lot! I've collated my Top 5 Discipline and Willpower Podcasts / Blogs here:
See you tomorrow!
If you liked "[Day 5] 7 Day Plant Strong Jumpstart for a Lean, Fit, Healthy Body" you'll also like: How To Prevent Weight Gain Over Christmas and New Year (6 step survival blueprint).
If you're yet to share the Healthification love – just click here to zip over to iTunes and leave an honest rating and review. It'd help me out big time. With gratitude, Kate.