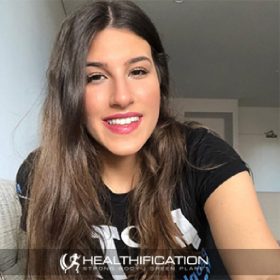 Podcast: Play in new window | Download
Subscribe: RSS
The killing of kangaroos in Australia is the largest wildlife slaughter anywhere in the world.
Australia has the worst mammal extinction rate in the world.
1 out of 3 mammal extinctions in the last 400 years occurred in Australia.
As shockingly horrific as these stats are, we still can make a difference for the remaining individuals we share this beautiful country with.
Today I'm chatting with PETA Australia's Media and Celebrity Manager, Aleesha Naxakis about PETA's plan to stop a proposed Victorian kangaroo processing facility.
Some of the propaganda surrounding kangaroo slaughter involve: over population, proving jobs, native roo's completing with livestock raised for food and the utter fantasy that there could be such a thing as sustainable slaughter or even, humane slaughter. 
I was not the least bit surprised to discover that the more I researched the more every single excuse / reason to continue or encourage the growth of the disgraceful kangaroo hunting industry came down to, Money.
Although beloved overseas and a mascot for so many Aussie sporting teams and business's as the subtitle of the documentary Kangaroo suggests it really is "A Love : Hate Story."
Kangaroo's are all too often seen as products to be used and abused. Especially if the roo industry keeps the actual process hidden and claims "nothing to see here" and "it's all good we have Codes of Practice."
Kangaroo flesh is made into pet food or sold for human consumption. Kangaroo skin is made into shoes. In yet another miraculously deceitful play by animal agriculture too many of us have been convinced that kangaroo meat is a lean, healthy option.
The logistics of slaughtering an individual in the hot desert and letting it sit for hours upon hours in an open truck before reaching any refrigeration  quickly paints an insane and unsanitary picture. 
This chat covers some distressing content and yet I think it's vital to know what's really happening to kangaroo's – so that we all feel compelled to help – please stick with me as PETA's Aleesha Naxakis and I discuss Stopping The Victorian Kangaroo Processing Facility.
In this conversation we cover:
PETA's Campaign to stop the Victoria Kangaroo Processing Facility.
The horrific / ineffective Codes of Practice for kangaroo slaughter here in Aus.
The public health risk – mid Covid 19 outbreak – of another facility that "processes" wild animals.
Consequences of the pet meat industry being unregulated.
Aleesha's solutions to stay positive when the extent of animal exploitation globally can be so daunting.
I'm so grateful there are organiz=sations like PETA and individuals like Aleesha committed to shedding light and STOPPING these atrocities.
If you're a PETA fan, or more importantly if you're not then please check out my chat in E638: with Ingrid Newkirk founder and president of PETA.
I have so much respect for Ingrid's relentless, uncompromising activism and her strength of focus to push forward fighting for the rights of animals without ever being derailed by either the misleading media or animal harming industry spin directed at PETA or the vocal opposition of other activists who disagree with her approach.
I think it's so perfect that when asked about ALL the other campaigns PETA Australia is focusing on Aleesha chose to talk about wool. We'd discussed how sheep are encroaching on the native habitat of kangaroo's and the roos are then labeled pests.
And yet of course those sheep are just as deserving of living their lives free from exploitation as the kangaroos and as the companion animals so many of us share our homes with.
In the world I'm dreaming of without Speciesism, the practice of treating members of one species as morally more important than members of other species will no longer happen.
Connect with PETA Australia via the Website:
Connect with PETA Australia across the socials: Instagram | Facebook | Youtube
Connect with Aleesha across the socials: Instagram | Facebook
That's it for this week in Healthification. If you're yet to subscribe wherever you're listening please do and equally awesome, please consider sharing the show with someone you think would find value in it. Big thanks to YOU for sharing this week with me.
The Healthification podcast is proudly bought to you by my FREE 'Easy Vegan' plan. It took me 25 years to transition from a meat eater to a happy, healthy Vegan! You can do it in just 3 days with my simplified 'easy vegan' plan!  Get the fit, strong, and healthy plant based body you deserve… while avoiding ALL the mistakes I made along the way!
To learn more check out: strongbodygreenplanet.com
Till next time, remember Creating a body and life you love is Freedom. (If this ex-refined-carb queen, non genetically gifted, naturally uncoordinated vegan chick can do it – so can YOU!!!)
If you liked "PETA's Aleesha Naxakis and Stopping The Victorian Kangaroo Processing Facility." you'll also like 638: PETA's Ingrid Newkirk | Animals Are Not Ours To Experiment On, Eat, Wear, Use For Entertainment or Abuse In Any Other Way.
If you liked "PETA's Aleesha Naxakis and Stopping The Victorian Kangaroo Processing Facility." you'll also like Photojournalist Jo-Anne McArthur Brings Visibility To Hidden Animals Worldwide.
If you liked "PETA's Aleesha Naxakis and Stopping The Victorian Kangaroo Processing Facility." you'll also like Animals Australia's Live Export Investigations with Shatha Hamade.
If you liked "PETA's Aleesha Naxakis and Stopping The Victorian Kangaroo Processing Facility." you'll also like Hogwood: A Modern Horror Story with Viva!'s Juliet Gellatley.