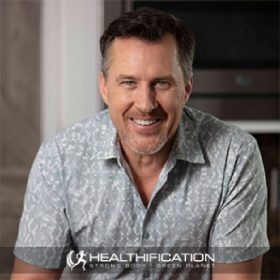 Podcast: Play in new window | Download
Subscribe: RSS
Todays conversation is all about creating incredible plant based proteins.
I'm chatting with founder of Before the Butcher, Danny O'Malley about his huge goal to make plant based proteins the norm.
Danny and team Before the Butcher would like you to think of them before you go to the butcher for "CUT" animal meats. In fact, UNCUT™ is the brand name of their products and a natural extension of the company name.
Needless to say, I LOVE the vision and mission of this company. As you will hear Danny is passionate and competitive in the best possible way. He spent several years with market leader Beyond Meat before going out on his own and has been bold in focusing on a variety of products and an improved nutritional profile to most plant based meat alternatives especially focusing on less sodium.
One of my fav parts of this chat is when Danny shares the strategy behind and massive benefits to scale rapidly allowed by taking on investors who also own a meat company. It's heartening to hear the big meat companies know the future is vegan and want in on the action.
Vegan friends, I hope you trust me enough to listen before you freak out. It's also a simple fact that if we want to transform our broken food system and make plant based proteins the norm SOONER, MUCH SOONER rather than later that is only going to happen in cooperation with existing market leaders and with the help of existing infrastructure.
In this conversation we cover:
Danny's personal journey to veganism and the health benefits he experienced. 
Danny's experience with early days Beyond Meat.
The evolution of Before the Butcher.
The learnings as a small start-up acquired by investors who own a meat company. 
Scaling up to meet consumer demand – Danny speaks to the challenges.
Busting myths about plant based food and the value of soy as a high quality plant protein.
There are so many reasons for consumers to support plant based meat alternatives like Before the Butcher.
Removing animal exploitation from our food chain is my top reason however environmentally these products also mean less water, less land, less greenhouse gas emissions… not to mention less waste, like no literal ponds of faeces sprayed out over surrounding communities and seeping into our waterways.
I'm excited that the plant based proteins of our future are committed to human health as well as the health of the planet and the animals. In fact, improved personal health and TASTE have to be primary drivers as the target market demographic is not vegan and that's a good thing.
That said, I'm sold and by mid 2022 fingers crossed those of us down under might be able to enjoy some of the amazing Before the Butcher products.
A solution to feeding the world delicious proteins before the butcher is necessary. #plantprotein @B4theButcher
Click To Tweet
Connect with Before the Butcher via the Website:
Connect with Before the Butcher across the socials: Instagram | Facebook | Pinterest | Twitter | LinkedIn
Connect with Danny across the socials: Instagram
That's it for this week in Healthification. If you're yet to subscribe wherever you're listening please do and equally awesome, please consider sharing the show with someone you think would find value in it. Big thanks to YOU for sharing this week with me.
The Healthification podcast is proudly bought to you by my FREE 'Easy Vegan' plan. It took me 25 years to transition from a meat eater to a happy, healthy Vegan! You can do it in just 3 days with my simplified 'easy vegan' plan!  Get the fit, strong, and healthy plant based body you deserve… while avoiding ALL the mistakes I made along the way!
To learn more check out: strongbodygreenplanet.com
Till next time, remember Creating a body and life you love is Freedom. (If this ex-refined-carb queen, non genetically gifted, naturally uncoordinated vegan chick can do it – so can YOU!!!)
If you liked "Danny O'Malley and Before the Butcher Are Making Plant Based Proteins The Norm." you'll also like Meat The Future of Cultivated Meat and a Sustainable Way To Feed The World with Liz Marshall and Annie Osborn.
If you liked "Danny O'Malley and Before the Butcher Are Making Plant Based Proteins The Norm." you'll also like Turning Dairy Farms Into Animal Sanctuaries with Geraldine Starke and Refarm'd