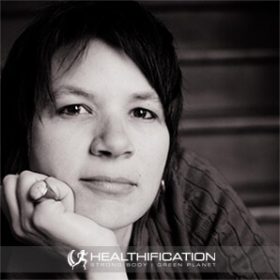 Podcast: Play in new window | Download
Subscribe: RSS
As a vegan and animal rights activist I have zero hesitation in being hugely excited for and supportive of the future of Cultivated Meat.
You might know this new food technology as: Clean meat. Cultured meat. Cell meat. Possibly even "fake meat" or "lab grown meat." We'll get into terminology and the actual process involved in growing real meat from animal cells in a controlled environment, free from disease and infection without the need to breed, raise and slaughter animals soon.
I've invited award-winning filmmaker Liz Marshall on the show to discuss her upcoming documentary, Meat the Future which follows Dr. Uma Valeti, co-founder and CEO of Memphis Meats, over 3 years and across the birth of a revolutionary industry, and the mission to make cultivated meat delicious, affordable and sustainable.
To ensure we do justice to this important conversation I've also asked Annie Osborn University Innovation Specialist from think tank organisation The Good Food Institute to join Liz and I and to share her expertise as it relates to the rapidly-growing alternative protein space and specifically the sustainability and health aspects we will discuss.
Annie comes from a background of development economics and sustainable food systems. She holds an M.S. and a B.S. with Honors in Earth Systems from Stanford University.
Back to Liz: her visionary feature-length films explore social justice and environmental themes through strong characters. After her critically acclaimed documentary The Ghosts In Our Machine (2013) which "illuminates the lives of individual animals living within the machine of our modern world" Liz was looking to follow a visionary, solution-focused story, and in 2015 came across the emergence of cellular agriculture.
Enter Dr. Uma Valeti, a former cardiologist, and the co-founder and CEO of Memphis Meats, an American food-tech start-up company. There's so much here right? We've barely even touched on the HUGE benefits to cultivated meat beyond the obvious to those of us who are ethically opposed to animal exploitation. 
In this chat we'll discuss sustainability, climate change, health, antibiotic resistance and of course the question I know my animal rights activist friends are eager to have answered: Can the process be made 100% vegan?
Let's, Meat The Future of Cultivated Meat and a Sustainable Way To Feed The World with Liz Marshall and Annie Osborn…
In this interview we cover:
Terminology. Opponents working in the conventional meat industry attempt to brand the products as either "fake" or "lab-grown" what's the reality and the actual process?
The potential for cultured / cultivated meat to help meet future demand in a sustainable way with a much smaller environmental footprint. 
The promise that cultured / cultivated meat will also be better for our health.
The fear around the intersection of food and technology. 
The timely potential to prevent future health pandemics like COVID-19 given growing meat from cells does not require breeding, confinement, and slaughter of animals. 
Given it will still be a while before cultured meat hits stores, what can individuals do to help spread the word / fast track the progress? The 2021 impact campaign. 
I'm back on my own and WOW, we covered a lot right?
The longer I've been vegan… and the more hugely compelling reasons I come to understand for us as a society to move away from animal agriculture and animal exploitation as a whole the more I also learn – and disappointingly must admit:
That perhaps rather than seeking to change peoples minds – to compel someone to become vegan – instead the more effective solution is surely to innovate how meat is produced?
Years ago I might not have been interested in cultivated meat. Like Liz, I don't really have an ethical issue with eating it given the zero animal exploitation that will be standard when the products finally come to market. It's more that I have no desire to consume flesh, and no problem being the odd one out not consuming flesh.
However, I'm not the norm. I'm grateful that a film like Meat The Future is making the future of real meat produced without the need to breed, raise and slaughter animals accessible to everyone who does want to eat meat. The majority. If a product can be produced that:
Taste the same or better. Cost the same or less. With ALL the benefits. 
Feeding the 800 million people globally who are malnourished.
Avoiding the end of modern medicine via antibiotic resistance.
Minimising the existential threat of climate change.
It's a no brainer right?
Gosh I hope so. As with anything new and innovative. With any change, education is key. Transparency is key. That's actually a vital point of difference between current animal agriculture and as Annie would say, the rapidly-growing alternative protein space.
Yes there is intellectual property to be protected in this new food technology however as a whole the companies producing cultivated meat want radically transparency so far as how their products are produced. Compare that to the need for zero transparency that our current broken food system depends on to survive.
To learn more about Liz Marshall, her previous films and of course how to get to a screening of and support the impact campaign for The Future Of Meat I'll have you linked up below. You'll also find details for Annie Osborn and The Good Food Institute.
Watch the trailer for Meat The Future here:
Follow Meat The Future on Facebook | Twitter | Instagram.
Connect with Liz via her main website:
Check out The Good Food Institute: and their Student Guide to Navigating the Alternative Protein Space: (useful for us all not just students)
Also, further viewing from Bruce Friedrich founder of GFI:
Bruce Friedrich: The next global agricultural revolution | TED Talk
Meat Without Animals: The Future Of Food | Bruce Friedrich | TEDxGateway
That's it for this week in Healthification. Huge thanks to YOU for sharing this week with me. If you've enjoyed this show and gotten value out of it I'd super appreciate it if you pop over to iTunes or wherever you listen to the show and leave me a review. It really counts in helping this little show achieve some visibility in the HUGE world of 1,000,000+ podcasts and it really counts in making my week! Thank you.
The Healthification podcast is proudly bought to you by my FREE 'Easy Vegan' plan. It took me 25 years to transition from a meat eater to a happy, healthy Vegan! You can do it in just 3 days with my simplified 'easy vegan' plan!  Get the fit, strong, and healthy plant based body you deserve… while avoiding ALL the mistakes I made along the way!
Till next time, remember Creating a body and life you love is Freedom. (If this ex-carb queen, non genetically gifted, naturally uncoordinated vegan chick can do it – so can YOU!!!)
If you liked "Meat The Future of Cultivated Meat and a Sustainable Way To Feed The World with Liz Marshall and Annie Osborn." you'll also like  Greg Litus and What Is The Most Sustainable Way To Feed The World? (Veganic vs. Animal Agriculture)