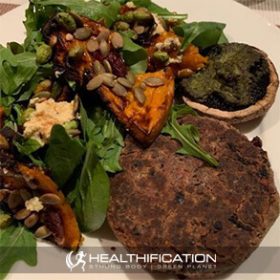 Podcast: Play in new window | Download
Subscribe: RSS
As an emotional eater who gets HUGE joy from food, one of the excuses I'm a little (lot!) tired of hearing is: "Yeah, but I love food too much!"
This statement is often delivered with a side of: "Unlike you trainers" which implies I'm some robot like creature focused purely on shovelling in the best quality fuel for the out-put I desire.
WOW, this could not be further from the truth… perhaps about from the shovelling part, I'm really working on slowing down and chewing more!
Anyway, the food that gets you the best results, and by best – let's call it the health, the energy, the body YOU would most love, has nothing to do with a lack of passion for food.
It's really isn't so much a matter of discipline either.
It's a matter of EXPERIMENTATION and PLANNING.
With that in mind, in todays show I'm sharing:
5 of my Fav Healthy Vegan Substitutes.
For each substitute I've got 3 boxes to check, otherwise it won't last:
A: Does it TASTE awesome?
B: Does it GIVE my body something of value?
C: Is it SUSTAINABLE, from a cost, availability and time point of view?
One. Cauliflower.
Cauli is one of my Go2-refined-carb-cutters… however it's so much more than that. Yes, cauliflower rocks as mash. Or as cauli-rice, cauli-tabouli, cauli-pizza crust. However, to me it's also a super-veg of it's own right… more of that in the value section.
A. On Taste, cauli is a super adaptable flavour base. It'll jell with whatever you fancy, all crispy with olive oil, chill and rosemary or perhaps creamy and comforting mashed with avocado or veganaise and rock salt. Or because I believe it's also "healthy" to enjoy slightly more indulgent treats from time to time how about some: Cauliflower Buffalo Wings? I've made these for guests and family a couple of times now and they were a HUGE success. The recipe I use is from previous podcast guest Lauren Toyota from Hot For Food and I'll link to both the amazing Cauliflower Buffalo Wings recipe and our chat in the show notes!
B. On Value, cauliflower is one of the cruciferous family of veg. What's so super about cruciferous you might ask?
Well, stress and toxics in our day to day life can send your estrogen levels outta whack. There's nothing wrong with estrogen, however when your levels are too high it'll lead to extra fat storage in estrogen sensitive ares. That's the hips and thighs for ladies. So, back to our cruciferous friends – these super-veg are the natural way to get your estrogen levels back in balance.
C. On Sustainability, cauli gets a thumbs up from me as it's one of the cheaper veg and even when not in season you can still get it cheap frozen. If you're weary of frozen, it's often frozen fresher than the fresh stuff siting on supermarket shelves – or in transit – for weeks. In fact my fav Cauli and lentil curry works perfectly with frozen cauliflower.
Healthy Vegan Substitute Two. Nut Cheese and Nut Pesto.
This is such a delicious and versatile upgrade. Years ago I loved cheese until I learnt – to my horror – the dairy industry IS the meat industry. Now rather than cheese being that supreme deliciousness that makes everything better I see it as the reason calves are separated from their mothers at birth or at most a day or two after birth… and either (for the boys) slaughtered for veal or (for the girls) sold into slavery as a dairy cow where they suffer around 5 years in horrific conditions (instead of 20) before they get less efficient and are slaughtered for low grade meat.
I also loved pesto and was first gutted to learn it has parmesan in it then thrilled to discover how easy the home made healthy vegan substitutes are.
A. On Taste, I would say it's super awesome… and the varieties of cheese and pesto are limited only by your imagination. My current weekly pesto has pecans, broccoli stem, kale, basil as well nutritional yeast, avocado oil, salt and garlic.
B. On Value, take your pick of the high value nuts you chose and the one ingredient foods you partner them with:
=> walnuts are the richest in omega-3 fatty acids which fight inflammation and also contain the most antioxidants to help protect your body from the cellular damage that contributes to heart disease, cancer, and premature ageing.
=> almonds have the most calcium and fibre and are also richest in vitamin E.
=> cashews are high in iron and zinc and are also a good source of magnesium.
=> macadamias contain the greatest amount of heart-healthy monounsaturated fat: this 'good fat' lowers LDL 'bad' cholesterol levels and blood pressure.
C. On Sustainability, the bought stuff (both cheese and pesto) can be expensive so I generally make my own with either whatever nuts happen to be on special or need to be used up. It's quick, easy and actually super cost effective because a little goes a long way.
Here's a basic cheese recipe, it's more the consistency of shaved parmesan however I'm sure you could play with more liquid to get it smoother…
1 cup raw cashews (soak for 2 hours and drain)
3 tablespoons fresh lemon juice
1/2 teaspoon fine sea salt
1 tsp chili flakes
1/4-1/3 tablespoon water
Optional: natural sweetener like Natvia.
My current Go2 is a macadamia nut cheese from Minimalist Baker. I love it with a roast pumpkin and rocket salad (also adapted from Minimalist Baker) which features baked edamame, toasted pumpkin seeds, craisens and balsamic glaze.
Three. Zucchini.
This humble veg used to be on my most boring list. It's now a weekly staple on my most versatile list. It's a super adaptable base, for flavours and again, if you're willing to experiment the potential is limitless.
A. On Taste, this really only comes down to how you treat your zuc… boil the life outta it, or chuck it on it's lonesome in the microwave and Yeah, you'll likely be disappointed. Conversely you could:
=> grate it into your salad, chilli, muffin or bean burger mix.
=> bake it in peels with other "sheet veg" like sliced mushroom and broccolini and to serve dollop it with veganaise.
=> substitute it 1/2 and 1/2 with chick-peas in hummus, with potato in rosti or sneak it into vegan corn fritters as a great way to encourage your non green veg loving fam / friends to embrace a little more diversity.
=> stuff it abundantly with lentils / beans and some of that nut cheese and nut pesto (!) or make it into mini pizza bites.
B. On Value, our green friend packs a decent punch of fibre, magnesium, potassium and antioxidants such as Vitamin A and Beta Carotene.
C. On Sustainability, this veg is available all year and certainly in Aus one of the more cost effective veg. It's also quick to cook and requires minimal preparation.
Four: Almond Milk.
I've long been a fan of almond milk over cows milk. This was first vital for me from an ethical point of view and then also for my own health when I started to learn about the culture of hormones, antibiotics and mono-crop-pesticide-ridden-grain-fed cow slaves. Not to mention lactose intolerance (65% of the world are lactose intolerant) and saturated fat. Cutting dairy has absolutely also meant less bloating for me. Bonus right?
A. On Taste, it's important to choose the no sugar added varieties… and to know that not all milks taste equal, some are definitely more yum! If you're making a smoothie and need a sweet hit just add or a Medjool date. Some of my clients who can't quite get into almond or soy milk LOVE oat milk. In fact I'm yet to meet the person who does not like Oatly oat milk.
As a side note on taste: with plant milk and all new plant based foods or recipes you might be trying, please take into account these 2 key points:
First, don't right ALL variations off because of a bad first experience or recipe flop. You've had plenty of bad meat meals right? It's important to be patient with your plant based options too.
Second, your taste buds do change. Both naturally as you age, also as they adapt to your eating choices and even as they are no longer dulled by the intense, sugary-fatty-salty processed crap-o-la that so many of were or still are addicted to..
B. On Value, it's also about the NON-value you're not getting here… if that makes sense! Almond milk is great if you are lactose intolerant, or have a casein or gluten allergy. It's also high in vitamins and minerals such as vitamin E, magnesium, phosphorous, potassium, selenium, iron, fiber, zinc and calcium. I recommend always making sure you plant milk is calcium fortified.
C. On Sustainability, it's getting easier and cheaper to source dairy alternatives. I buy whichever of my few Go2 brands happen to be on special at the supermarket. Most cafes now have the non-dairy option, and as WE continue to ask for even more options they'll only become more available.
Five. Seed Mix.
This is such a welcome substitute. I tend to not keep nuts at home – as when roasted they are a trigger food that I can devour vast quantities of. However, so far so good with natural seeds!
I love seeds for their texture and crunch – that little flavour hit with some protein and good fat – that is a great substitute for bread crumbs or croutons. Equally a heaped teaspoon each of ground flaxseed and chia seed makes such a noticeable improvement to the texture of your morning oats. Just sit the oats, seeds and nut milk for at least 10 minutes before cooking and adding berries to serve.
On Taste, pretty awesome… just pick your favs. I'm obsessed with a mix of pumpkin and hemp seeds. Up the deliciousness anti of your pumpkin seeds by toasting them (oil free) in a pan for a few minutes.
On Value, like nuts these little morsels are chocka-block high value with micro-nutrients. In addition, at 5.3 grams per tablespoon, hemp seeds have more protein per gram than beef! 
On Sustainability, if you're adding these rather than snacking by the handful then they are passable on the value-for-money scale. Especially if you buy in bulk or on special. Talking quick? A tablespoon of hemp seeds added to any light-weight salad, or dip, or smoothie is as easy as it gets.
As recap these 5 Healthy Vegan Substitutes That Are Easy and Delicious…
Healthy Vegan Substitutes #One. Cauliflower.
Healthy Vegan Substitutes #Two. Nut Cheese and Nut Pesto.
Healthy Vegan Substitutes #Three. Zucchini.
Healthy Vegan Substitutes #Four: Almond Milk.
Healthy Vegan Substitutes #Five. Seed Mix.
I realise 4/5 make the perfect base or template for that obvious yet often begrudged "healthy option" the salad.
Here's how that NON BORING salad would look!
Start with a couple of generous handfuls of your fav mixed green leaves and some other raw veg like carrot, beetroot, red cabbage, asparagus and of course our fruit friends avo and tomato. Plus a splash of balsamic. Now to add our easy, delicious substitutes: bake some cauliflower and whatever other more substantial veg you love: like broccoli, onion and mushroom. Toss the baked veg in dairy free nut pesto and serve over the raw veg. Add a generous dollop or few of 1/2 and 1/2 zucchini and chickpea hummus and finish with a protein pimped sprinkle of your fav seeds.
I guess if we were being particular your could serve that super substantial, diverse and delicious salad with a side of almond milk!
I'd love to know your #one fav Healthy Vegan Substitute?
You can share the substitute love either in the show notes via strongbodygreenplanet.com, simple search 696. Or of course, most fabulously via an iTunes review.
That's it for this week in Healthification. Just a solo show this week however I have some amazing guests coming in the next few weeks including Animal Justice Party MP Emma Hurst, film make Liz Marshall and photojournalist Jo-Anne McArthur.
The Healthification podcast is proudly bought to you by my FREE 'Easy Vegan' plan. It took me 25 years to transition from a meat eater to a happy, healthy Vegan! You can do it in just 3 days with my simplified 'easy vegan' plan!  Get the fit, strong, and healthy plant based body you deserve… while avoiding ALL the mistakes I made along the way!
Till next time, remember Creating a body and life you love is Freedom. (If this ex-carb queen, non genetically gifted, naturally uncoordinated vegan chick can do it – so can YOU!!!)
If you liked "5 Healthy Vegan Substitutes That Are Easy and Delicious" you'll also like: E670: Healthy Vegan Eating Out Tips.
If you liked "5 Healthy Vegan Substitutes That Are Easy and Delicious" you'll also like What I Eat In A Day To Stay Plant Strong and Lean. (2020 Vegan Food Upgrades)
If you liked "5 Healthy Vegan Substitutes That Are Easy and Delicious" you'll also like How To Stay Motivated To Eat Healthy Plant Based Meals. (Part 1)
If you liked "5 Healthy Vegan Substitutes That Are Easy and Delicious" you'll also like  The Ultimate Vegan Food Pyramid For Getting and Staying Lean.