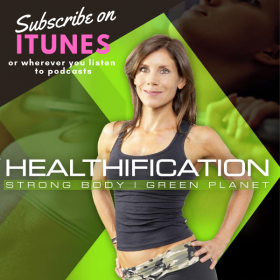 If you're looking to live a Healthy Vegan Lifestyle The Healthification Podcast is for you! Build a strong, healthy body that's sustainable for you and the planet. Here are just a handful of my fav short, actionable solo shows where we cut through all the complicated, conflicting and confusing health advice and make living a healthy plant based lifestyle simple and fun.
Search "Healthification" wherever you listen to #podcasts!
6 Steps To Easy Plant Based Eating.
If you're new'ish to The Healthification Podcast I have a couple of confessions:
A). I'm absolutely an EMOTIONAL EATER and I expect to get a huge amount of pleasure from every single meal.
B). I'm a lazy cook.
The reason I share this is I want you to know whatever type of eating approach you choose to follow you can make it easy on yourself. Even if you subscribe to emotional eating and lazy kitchen'ery.
There are just a few steps to follow. Perhaps you've naturally covered some already however let's take it from the top…
The Ultimate Vegan Food Pyramid.
If you can relate to a little confusion so far as how best to feed yourself and your family then podcast E547 on:
The Ultimate Vegan Food Pyramid For Getting and Staying Lean is for you!
For my fellow vegans / vegan curious who just want to get or stay fit, strong, lean and healthy I split The Ultimate Vegan Food Pyramid into Free, Abundant, Generous and Mighty yet Moderate! That's sounding super doable right? Let's get rolling with the deliciousness…
How To Stay Motivated To Eat Healthy Plant Based Meals.
One thing guaranteed to sink your motivation to eat healthy plant based meals?
A lack of HOPE.
When you try and fail – repeatedly – each attempt eats away a little more of your belief that it can be any different for you.
As hope diminishes so does your resolve to give it 100%.
When really that is ALL you need. The resolve to Back Yourself and to give it 100% beats any and every quick-fix-silver-bullet-over-promising-hope-eroding-MYTH!
This 2 part post / podcast covers How To Stay Motivated To Eat Healthy Plant Based Meals and my fav tip is #10….
Healthy Vegan Eating Out Tips.
This solo show is dedicated to #plantstrong deliciousness in those situations you previously might not have felt you're in total control of.
I'm also getting my acronym on for the E.A.T.I.N.G. O.U.T part. Here's a taste,
ONE: Embrace / Enjoy Whole Foods.
TWO: Ask for Adjustments To The Menu.
THREE: Teach Others How To Treat You.
FOUR: Incorporate Intermittent Fasting If Necessary.
FIVE: Never Be Swayed By Peer Pressure.
SIX: Get Extra Sides.
SEVEN: One Slip Up Is Never Failure – just refuse to spiral!
EIGHT: Unlimited Fibrous Veg.
NINE: Take The To Write Positive Reviews, Share Online, Spread The Vegan Love.
I go into much more detail in the podcast and blog post…
Listen to E670 via the Blog | iTunes | Spotify | TuneIn | Stitcher | Acast
11 P.L.A.N.T. S.T.R.O.N.G. Standards For A Fit, Healthy, Mind & Body.
I'm a bit of a rules girl. As long as I set them myself.
Having rules or standards as I prefer to call them just makes the daily decision making process easier. I actually find it freeing.
In this solo post /podcast I get my acronym on and discuss: 11 P.L.A.N.T. S.T.R.O.N.G. Standards For A Fit, Healthy, Mind and Body.
I'm sharing my #plantstrong standards with you not because they are the only way. They are certainly effective for me, however your personal standards will need to account for the following 3 keys specific to YOU:
Key 1. They will be aligned to your goal. 
Key 2. They will be aligned with your core values and beliefs. 
Key 3. They will need to allow room for fun, indulgence, VICE!
Are you curious…?