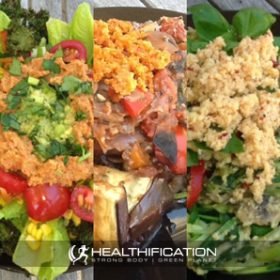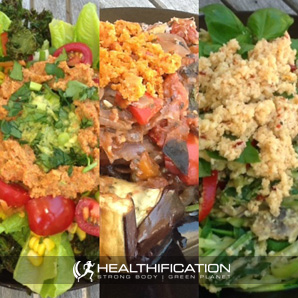 Podcast: Play in new window | Download
Subscribe: RSS
In todays show I'm covering Part 2 of:
6 Steps To Easy Plant Based Eating.
To quickly recap in Part 1 (the #423 show) we covered:
Step One: Define Your Why and the Emotion Behind Your Why.
Step Two: Align This Chosen Approach To Eating With Everything Else That Is Dear To You.
Step Three: Eliminate Your Limiting Beliefs Surrounding Eating Plant Based. 
Before we launch into steps 4-6 I want to frame todays content with the notion that: Structure is FREEDOM.
As much as I may appear to be a rules and guidelines loving freak (!) it's only partially a result of my desire for control. It's equally a response to my desire for freedom.
Whether we're talking food, exercise or even work – knowing what actions to take when to get a desired result – that's got to be freeing right? A super-huge-lot more freeing than taking unstructured, indiscriminate, ineffective action and constantly getting disappointed with ZERO RESULTS.
In short: I LOVE food and also love not ever wasting time or energy thinking "Will this make me fat?" and "Can I get away with this?" 
With that in mind (!) let's get rolling…
Step Four: Educate Yourself So You'll Well Equipped To Win At Plant Based Eating.
There are a few components here. My top three are: Healthily. Happily. Sustainably.
Let's start with eating plant based healthily. That means you've got all your macro and micronutrients covered. Yes, Protein of course yet also calcium, iron, zinc, B12 and omega 3's. I take this super seriously.
I will not give up on plant based eating for health reasons. And I don't want you to either. I have you covered in show #339 on Healthy Vegetarian Eating (Step by Step). Despite the title the super-vast-majority of the options I provide are Vegan.
Let's move on to eating plant based happily. This will involve brain storming everything you love about eating meat, dairy and eggs and finding an alternative. Not just any first-glance-lazy-alternative. Hunt down an alternative you love. 
A couple of personal examples: Pesto made me happy and vegan pesto makes me just as happy.
Free Range Eggs made me happy until I wrestled my head out of the sand and instead dug deep with the life of a baby boy chick. In truth I didn't have to dig deep to uncover that gone-in-a-blink minced-alive-on-mass life. My first attempt at an egg free omelet – think sloppy, slimy chia seed and veggie mess – didn't make me happy. Then I found my smoked eggplant, capsicum and cauli curry, served over zoodles, topped with coriander, pepitas, dulse flakes and hemp seeds with a side of kale crisps and it certainly ticks the love box until I work up the courage to give an eggless omelet a whirl again!
Finally, eating plant based sustainable. This is where time and money factor in. If prepping your food is a part time job it won't last. Equally if you're having to sacrifice too much to afford all organic or to buy your lunch from that cool plant based cafe near work… it won't last. To prematurely conclude eating plant based is unsustainable because it's too hard, time consuming or costly is short changing yourself. It will simply take a little more self-education.
A matter of again, hunting down those more cost effective, and quick meals on mass that you love. Perhaps prioritizing what is organic and what is not. Maybe (as I have) deciding that some things are worth a little more time, energy and cash-o-la paid now – in advance – to save yourself time, energy, cash-o-la and sickness in the future.
Step Five: Strategize To Your Plant Based Eating Advantage.
This is where you take all the plant based eating education you've uncovered and set in place strategies to ensure it's as easy as possible for you to take the actions you want to take.
I break this down as: Daily Goals. Weekly Rituals. Situational Standards.
Daily Goals. To hit my macro and micronutrient goals I aim for all my plant based deliciousness to also include at least:
4 scoops of Vegan Protein powder | 2 tablespoons of hemp seeds | 2 tablespoons of chia seeds | 1 tablespoon of pumpkin seeds | 1 tablespoon of nutritional yeast | 250 mils of calcium fortified almond milk | 1 teaspoon each of Spirulina and Dulse flakes.
I hope I'm not freaking you out. Your goals might not be quite as specific. I did say I take this super seriously!
Weekly Rituals. This is where you lock and load meal planning, shopping, preparation. Remember, Structure is FREEDOM.
For example I currently make 6 morning smoothies on mass on a Sunday. Sunday morning I buy the fresh fruit and veg in one of 2-3 weekly shops and they freeze just fine. I also make my vegan pesto and protein pimped hummus once a week. And my curry on mass plus salads on mass twice a week.
If that sounds like a lot? I guess it's more work than eating every meal out. However that approach would cost a fortune and is guaranteed to not deliver the results I want. Equally, I think it's less energy than every single day – perhaps every single meal thinking: What do I want?
Do I have to shop?
Now that I'm shopping – do I want that more?
It's a good deal – but is it a better deal?
And… Will it make me fat? 
Situational Standards. These are the standards you decide for yourself – in advance – before you're smack bang in the middle of an UN-ideal situation. Chances are, if your don't choose your standards before you need them you'll default to low (or no!) standards.
It's so much easier to make the decision aligned with your goal when you've already thought a challenging situation through.
So perhaps when you end up at a new restaurant that does not cater to plant based eating… or when a colleague bakes a dairy-laden cake… or when the plane or venue runs out of your specially pre-arranged vegan options?
It's a matter of deciding your personal standards however a few of mine are: I'll never let the food I choose to eat be influenced adversely by convenience, laziness, lack of planning, peer pressure or even politeness. 
Step Six: Prioritize To Your Plant Based Eating Advantage.
By prioritize I mean focus only on what is most important and progress at the pace that is manageable for YOU. As I've said before, everything counts. For your health. For the environment. And, for the animals.
23 years ago when I first became vegetarian it was a decision made in an instant and committed to unwaveringly.
However that next leap to eating 100% plant based… did not happen for years (like 20+ years). Although in my heart I knew I was "meant to be vegan" I held myself back by expecting the same all or nothing, absolute commitment. It felt daunting.
Like anything else, it only started to feel possible, manageable and Yes, easy as I progressed one step at a time.
Early on and easily I swapped to a Vegan protein powder and almond milk.
Then I cut dairy from my regular weekly routine yet ate it out occasionally.
Next I reduced my excessive daily egg white consumption from 12 to 8 to ZERO egg whites a day and just 2 whole eggs.
Next I started making my own dairy free pesto and eliminated dairy even when eating out and most challenging, when eating at mum and dads.
The final step was to ditch those 2 whole eggs. The hardest part of that? I felt guilty alsoditching the lovely lady at the farmers market whose free range organic eggs I'd bought on mass for years!
To get actionable able today, What's your next most important ONE step to take? Perhaps it has something to do with one of the Steps To Easy Plant Based Eating we covered today. To recap:
Step Four: Educate Yourself So You'll Well Equipped To Win At Plant Based Eating.
Step Five: Strategize To Your Plant Based Eating Advantage.
Step Six: Prioritize To Your Plant Based Eating Advantage.
In closing if you're a long time Healthification listener…
First, A HUGE Thank You! and,
Second, You may recognize this 6 step format?
It's a format I designed as my 6 step system to creating your best body gain mindset. 
I've covered the: Define | Align | Eliminate | Educate | Strategize | Prioritize system in previous podcasts and blog posts with a lot more detail and made it specific to your goal as a whole.
I'll link to the 6 part blog series in the show notes for today which you'll find by searching #424. Where to search?
Good question! I'm completely overhauling my website currently… so, if you're listening in the week or two after I release todays show simply cruise to strongbodygreenplanet.com and search 424. If you're listening a little later then the new site will be strongbodygreenplanet.com and again please search 424.
If you liked 6 Steps To Easy Plant Based Eating (Part 2), you'll also like: 5 Ways To Eat Less Meat Without Sacrificing Protein.
If you're yet to share the Healthification love – just click here to zip over to iTunes and leave an honest rating and review. It'd help me out big time. With gratitude, Kate.