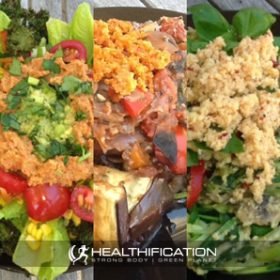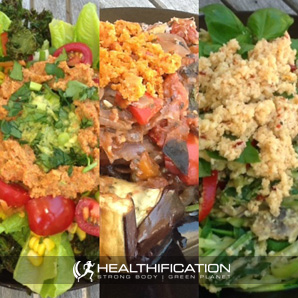 Podcast: Play in new window | Download
Subscribe: RSS
Can you recall the last thing you thought would be really super challenging?
You stalled for days. Perhaps months. Maybe years!
Possibly you expertly reasoned yourself out of the need to take that first step with any number of seemingly reasonable excuses. It's not that important. It's not the right time.
It's too much of a commitment. A sacrifice.
And where to even start??
Of course the reverse is also often true. I'm guessing like me you have a fair few examples of that thing you expected to be easy that just down right wasn't! Cutting back an escalating coffee or wine habit.
Implementing a mere 5 minute meditation habit.
In todays show I'm covering the last thing I thought would be really super challenging – that actually – honestly, wasn't.
Today Part 1 of:
6 Steps To Easy Plant Based Eating.
Now if you've been hanging with me for any period of time you might know I'm not blessed with a natural lack of attachment to food!
If you're new'ish to Healthification I have a couple of confessions:
A). I'm absolutely an EMOTIONAL EATER and I expect to get a huge amount of pleasure from every single meal.
B). I'm a lazy cook.
The reason I share this is I want you to know whatever type of eating approach you choose to follow you can make it easy on yourself. Even if you subscribe to emotional eating and lazy kitchen'ery.
There are just a few steps to follow. Perhaps you've naturally covered some already however let's take it from the top…
Easy Plant Based Eating Step One: Define Your Why and the Emotion Behind Your Why.
"I want to eat more plant based because I've heard it's healthy." Or,
"Because I love animals." Are not especially defined or emotive.
One of the easiest things about deciding to eat plant based (either exclusively or primarily – because everything counts) is the huge amount of emotional fuel for the utilizing.
Perhaps HEALTH is your primary motivator. 
I'm not huge on stats. So the fact that here in the land of Aus 8 out of the top 10 causes of death are lifestyle related. Preventable diseases such our number one killer, heart disease. Also strokes and type 2 diabetes that's not as impactful to me as perhaps it should be. Because it's natural to assume with naive optimism / delusional ignorance that you (and I!) are beyond the stats and facts right?
The thing that really stuck in my mind were the horrific images of hormone and antibiotic fuelled, malformed and mutated animals destined to become dinner. I'll save you the details beyond: as far as I know avocado doesn't get abscesses.  
When I dug a little deeper and started to research the anatomy of carnivores vs herbivores vs humans it got pretty fascinating.
All the info you might want is just a google search away however I'll link to a great article (mostly in easy to read chart form) by Milton R. Mills, M.D. titled "The Comparative Anatomy of Eating." A few highlights:
Nails
CARNIVORE / OMNIVORE: Sharp claws
HERBIVORE: Flattened nails or blunt hooves
HUMAN: Flattened nails
Jaw Motion
CARNIVORE / OMNIVORE: Shearing; minimal side-to-side motion
HERBIVORE: No shear; good side-to-side, front-to-back
HUMAN: No shear; good side-to-side, front-to-back
Teeth: Incisors
CARNIVORE / OMNIVORE: Short and pointed
HERBIVORE: Broad, flattened and spade shaped
HUMAN: Broad, flattened and spade shaped
*Note this human mimicking herbivore pattern is also reflected in the canine and molar teeth.
Chewing
CARNIVORE: None; swallows food whole
HERBIVORE: Extensive chewing necessary
HUMAN: Extensive chewing necessary
Saliva
CARNIVORE / OMNIVORE: No digestive enzymes
HERBIVORE: Carbohydrate digesting enzymes
HUMAN: Carbohydrate digesting enzymes
And the one that really got me?
Length of Small Intestine
CARNIVORE / OMNIVORE: 3 to 6 times body length
HERBIVORE: 10 to more than 12 times body length
HUMAN: 10 to 11 times body length
That might sound inconsequential?
It's really not.
It's impossible for carnivores to get cancer or heart disease from high cholesterol and clogged arteries.
Although humans? Sadly not so…
A carnivore's or omnivore's small intestine is short and perfectly designed for rapid elimination of meat that rots quickly. In contrast a herbivore and a human's small intestine is much longer. It winds back and forth in random directions. The perfect design to keep plant based food for long enough periods of time to extract the valuable micronutrients before the food enters the large intestine.
A carnivore's or omnivore's large intestine is also relatively short and simple. Because it's relatively smooth and runs fairly straight fatty wastes high in cholesterol easily slide through before they rot. A herbivore and a human's large intestine is not smooth and stream lined. It runs in ascending, traversing and descending directions. Substances high in fat and cholesterol that have been rotting for hours during an extended long stay in the small intestine tend to get stuck in the pockets lining the large intestine.
However what if you'd rather live happy and die a little younger? I totally relate to that. I'll resolutely disregard any evidence to support the notion I should indulge a little less frequently in Shiraz.
It really doesn't matter the source of your emotion. As long as you find it. Emotion is fuel to help you stick to your why.
Talking hugely-emotionally-charged…. maybe like me the ETHICS and CRUELTY of every part of the crate to plate process (because it's rarely pasture to plate) disgust you.
I'm not going to dig in all deep and disturbing here I think Paul McCartneys famous quote is enough:
"If slaughter houses had glass walls we would all be vegetarian."
Potentially the ENVIRONMENTAL IMPACT is of most concern to you.
Again, rather than dig deep let's go rapid fire with some hard hitting environmental facts.
(I will get link'y with my sources in the show notes for today)
Starting with Climate Change:
Estimates range hugely however let's go SUPER conservative and the UN Food and Agriculture Organization estimates livestock production is responsible for 18% of greenhouse gas emissions.
Moving to Water Use:
The meat and dairy industry uses 1/3 of the entire planet's fresh water.
Land Use:
Livestock covers 45% of Earths total land and a meat eater requires 18 times the amount of land necessary to feed someone eating plant-based.
Deforestation:
Animal agriculture is responsible for up to 91% of Amazon destruction.
And Species Extinction:
Animal agriculture is a leading cause of species extinction with up to 137 plant, animal and insect species lost every day due to rainforest destruction.
I think it's well and truely time to move on to step two…
Easy Plant Based Eating Step Two: Align This Chosen Approach To Eating With Everything Else That Is Dear To You.
Namely your values and beliefs. You already have values that guide the decisions you make and beliefs (especially your personal identity beliefs) that you will defend ruthlessly. So why not put them to use?
I've devoted an entire post to: How To Use Your Identity Beliefs To Fuel Your Fat Loss which I'll link to in the show notes.
To recap, an identity belief is anything that follows: "I am"
Stuff like, "I am a personal of integrity" "I am willing to do whatever it takes to achieve my ideal health and body" "I am committed to living a lifestyle that is a great example to my children"
Align the way you want to eat with everything you believe to be true about YOU.
The value here is that taking the right eating actions will feel congruent. It'll feel right. Natural. So the longer you do it the more entrenched and tougher to break the approach will be.
You will fight to prove your identity beliefs and values right. Rather than fight against some imagined restriction or lack. Momentum is in your favour.
Easy Plant Based Eating Step Three: Eliminate Your Limiting Beliefs Surrounding Eating Plant Based. 
These things relentless eat away at your willpower. They're the excuse conveniently on hand to be waved at the first sign of discomfort or inconvenience.
"Oh, gosh that steak looks amazing and I really feel like my iron levels are a bit low"
"Ice-cream, that's calcium right?"
Your tool of effective elimination here is the concept that: What you focus on expands.
For every limiting belief – and for the purpose of today let's define limiting as to your detriment. Something that makes it tougher to take the desired action and get the desired outcome – hunt down and then focus on 2-3 more effective beliefs.
Let's by-pass a couple of the more common plant based limiting beliefs as covered in show #417 on 7 Myths About A Plant Based Diet and have some fun with the Plant Based is B.O.R.I.N.G. limiting belief.
It's been a while since I got my acronym on (!) and I couldn't resist so here goes:
(again I'll link to my sources of delicious'ness inspiration in the show notes)
B.lack bean and quinoa burger with fresh avocado and maple tempeh bacon.
(3.bunnies on Instagram)
O.rganic caramelised tempeh, shiitake mushrooms & kale dumplings with chilli and miso spicy sauce.
(devoured by me at my local Vego/Vegan restaurant Dandylion in Bondi)
R.aw vegan raspberry cheesecake slice drizzled with salted caramel chocolate. 
(rawspirations on Instagram)
I.cecream… yet really Nicecream. Specifically, peanut butter chocolate mango nicecream. Curtesy of (crunchygreenie on Instagram) To quote crunchygreenie: "I simply put peanut butter, chocolate sauce and mango puree in a jar and filled it up with plain nicecream (so that's just frozen banana blended till super creamy like soft serve) topped with more chocolate sauce, shredded coconut and a raw chocolate bliss ball… never say again being vegan is boring…"
N.ourish Bowl. (momentsofdi_ on Instagram) With, organic sweet potato chips with fresh rosemary and salt flakes + oven baked asparagus, organic broccoli, leek, kale + activated tamari almonds + toasted lime and coriander coconut + black miso and garlic kimchi. 
G.olden Gaytime cake. International friends, you have heard of the Aussie classic Golden Gaytime ice-cream I hope?
(for a mind-blowingly stunning vegan version check out rainbownourishments on Instagram and prepare to salivate…)
So although my B.O.R.I.N.G. acronym might not seem as actionable as usual I hope it does have you focusing on 2-3 effective beliefs surrounding eating plant based 
Perhaps: "WOW anything is possible if you're willing to get creative"
Or maybe: "What is my fav old treat food that plant based or not is actually full of processed rubbish and could really do with a crafty-creative-makeover?"
Mine would 100% be a dark chocolate Pixie Caramel.
To recap, today in Easy Plant Based Eating steps 1-3 we covered:
Step One: Define Your Why and the Emotion Behind Your Why.
Step Two: Align This Chosen Approach To Eating With Everything Else That Is Dear To You.
Step Three: Eliminate Your Limiting Beliefs Surrounding Eating Plant Based. 
In next weeks show I'll cover steps 4-6 in Part 2 of: 6 Steps To Easy Plant Based Eating.
If you liked 6 Steps To Easy Plant Based Eating (Part 1), you'll also like: Fibrous Friends: Quick and Easy Fat Fighting Vegetables.
If you're yet to share the Healthification love – just click here to zip over to iTunes and leave an honest rating and review. It'd help me out big time. With gratitude, Kate.